Modern Warfare: Update 1.14 mit Season 2 Inhalten (Maps, Operator, etc..) steht bereit; Patch Notes
Infinity Ward hat heute das erste Inhaltsupdate für Season 2 in "Call of Duty: Modern Warfare" veröffentlicht. Die Aktualisierung hat eine Downloadgröße von 51 GB auf PS4, 68 GB auf Xbox One und 67 GB auf PC. Mit dem Update erwarten euch neue Karten für den Mehrspieler Modus und ein neuer Battle Pass, der zwei neue Waffen, einen neuen Operator und diverse kosmetische Items beinhaltet. Ebenfalls wurde ein Playlist Update vorgenommen. Es wurden eine CDL Playlist, eine Season 2 Moshpit und der Feuergefecht-Turnier-Modus hinzugefügt. Darüber hinaus werden mit dem Patch auch zahlreiche Fehlerkorrekturen vorgenommen. Nachfolgend findet ihr eine Übersicht aller Inhalte und die vollständigen Patch Notes zu Update 1.14.
Season 2 Patch Notes – Update 1.14
Grund für die umfangreiche Dateigröße ist laut Angaben von Activision, dass man diverse Spieldaten im Zuge von Fehlerkorrekturen und weiteren Optimierungen ersetzt hat. Außerdem scheinen Daten für den Battle Royale Modus integriert worden zu sein.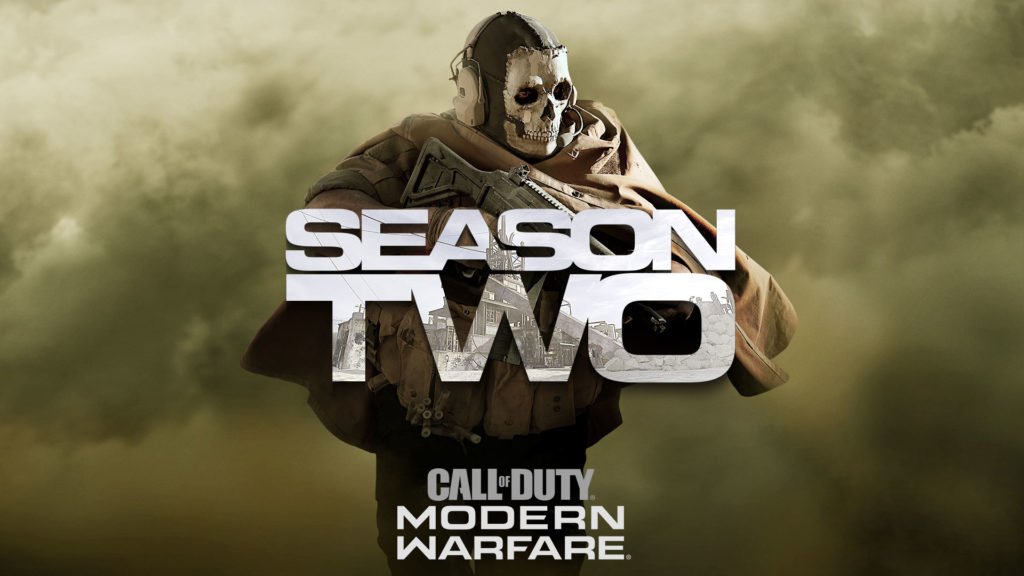 In Season 2 haben Al-Qatala-Agenten einen sowjetischen Atomsprengkopf gestohlen und in die Stadt Verdansk geschmuggelt. Al-Qatala ist fest entschlossen, Verdansk vom Rest der Welt abzuschneiden. Ghost von Captain Price losgeschickt, um die Position des Sprengkopfs zu ermitteln und so eine globale Katastrophe abzuwenden.
Neue Inhalte:
Multiplayer Maps

Rust:

Mit 'Rust' kehrt eine der beliebtesten Multiplayer-Maps aus Call of Duty: Modern Warfare 2 zurück, auf der Spieler in einen intensiven, schnellen Kampf bei einer Ölquelle in der Wüste gestürzt werden.

Atlas Superstore:

Im neuen 'Atlas Superstore' betreten die Spieler ein riesiges Ladengeschäft mit einzigartigen Sichtlinien, das von Al-Qatala-Streitkräften besetzt gehalten wird. Im weiteren Verlauf der Saison wird dann noch 'Khandor Hideout' in die Rotation aufgenommen. Dieses abgelegene Wüstenschlachtfeld ist auf verschiedene Taktikten und diverse Spielstile ausgelegt.
Bodenkrieg Karte

Zhokov Boneyard:

Auf 'Zhokov Boneyard', einem gewaltigen Flugzeugschrottplatz in Verdansk, können die Spieler mit einem Panzer durch Gebäude walzen, sich die perfekte Scharfschützenposition suchen oder mit gezückten Waffen ins Getümmel stürmen.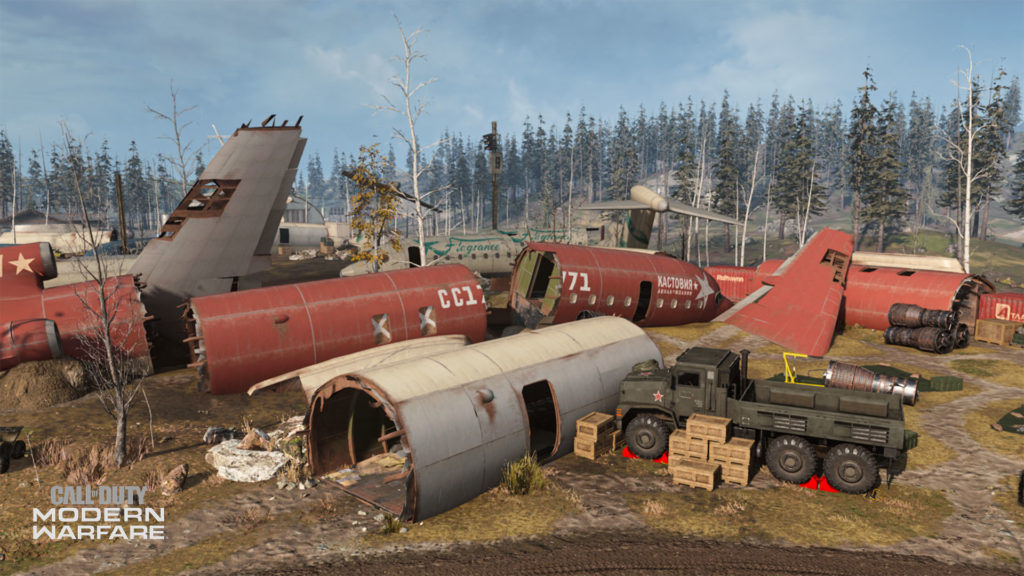 Feuergefecht Karten

Rust:

Der Modern Warfare-Klassiker 'Rust' macht auch als Feuergefecht-Map eine gute Figur mit einem neuen Setting für intensive 2v2-Nahkampfgefechte.

Bazaar:

Auf der Map 'Bazaar', die im weiteren Verlauf der Saison veröffentlicht wird, erleben die Spieler packende Feuergefechte auf den engen Straßen von Urzikstan.

Playstation 4 exklusive Inhalte
Azur Cave in Survival verfügbar: Die Gestaltung von Azhir Cave bietet verschiedene Möglichkeiten, den Wettkampf zu erleben und ums Überleben zu kämpfen. Spieler können sich ins karge Wüstenland begeben und gegnerische Horden bekämpfen oder in der Höhle Feinde ausräuchern, Fallen stellen und die Einstiegspunkte blockieren und kontrollieren. Der High Ground im Südwesten der Karte bietet die Möglichkeit, Feinde unten ins Tal zu locken, um für schnelleres Ausscheiden zu sorgen.
Exklusive Waffenblaupause "Lucky Strike". In einer Exklusivmission kann ein legendärer LMG-Bauplan erworben werden. Wie in der ersten Saison beim Jack Frosty-Bauplan müssen Spieler zur Registerkarte Missionen in Barracks navigieren, um die Mission Lucky Strike zu aktivieren. Sobald alle Schritte der mehrstufigen Challenges abgeschlossen sind, kann Lucky Strike zum Arsenal hinzugefügt und nebenher XP gesammelt werden.

Neue Prüfungen:
Saison 2 wird vier neue Prüfungen enthalten, in denen die Spieler ihr Können auf die Probe stellen, um eine 3-Sterne-Bewertung und EP zu verdienen. Im 'Quad-Rennen' gilt es, den Kurs in der schnellsten Zeit zu meistern. 'Scharfe Granate!' ist die Trainingseinheit, um die Wurffähigkeiten mit Primärausrüstung gegen Ziele zu verfeinern. In 'Prices Schießstand' wird das Urteilsvermögen geschärft, indem die Spieler gegen Wellen antreten, in denen sich neben Feinden auch Zivilisten befinden. In der Neuauflage von 'Hinter feindlichen Linien' müssen alle feindlichen Kämpfer im Einsatzgebiet so schnell wie möglich aufgespürt und ausgeschaltet werden.
Neue Playlist
24/7 Rust
Realism Ground War (previously Realism Mosh Pit)
Feuergefecht Turnier: 32 Teams treten gegeneinander an, nur ein Team kann siegen. In diesem Modus könnt ihr wieder einige Rewards freischalten.
CDL Playlist: 

Hier spielt ihr nach Ligaregelwerk. Außerdem wurden hier die verfügbaren Waffen, Modes und Karten angepasst. Die genauen Regeln könnt ihr hier nachlesen. Liga-Regeln-Übersicht
Boneyard in Bodenkrieg Rotation hinzugefügt
Gunfight Snipers 3v3
Anmerkung
Rust: verfügbar in 2v2 und 6v6
Atlas Superstore: verfügbar in 6v6 und 10v10 playlists
Akimbo Weapon Perk hinzugefügt (verfügbar in Klasseneditor)
Battle Pass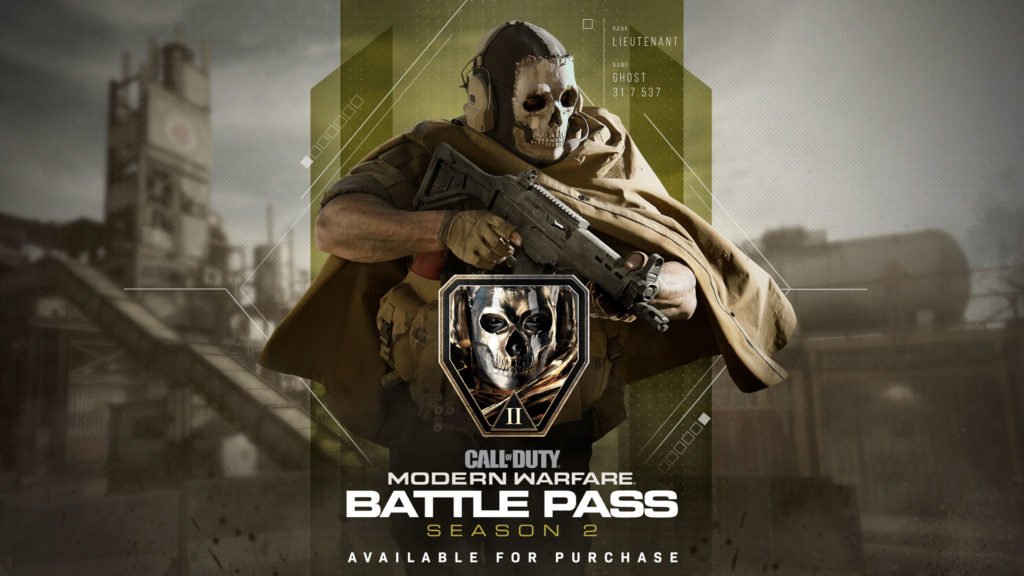 Der Battle Pass ist wieder in einer kostenlosen Variante erhältlich, in der ihr alle Gameplay-relevanten Inhalte (zwei Waffen) sowie ausgewählte Items (Skins, Glücksbringer, Waffenbaupläne, Rufzeichen etc.) und 300 CP frei spielen könnt. Das Sturmgewehr Grau 5.56 ist verfügbar ab Stufe 15 und die SMG, Striker 45 erhaltet ihr mit dem Erreichen von Stufe 31.

Daneben erwarten euch wieder zwei Premiumvarianten für 1000CP und 2000CP. Letztere ermöglicht euch wieder einen sofortigen Aufstieg von 20 BP-Stufen. Insgesamt bieten euch beiden Varianten 100 Stufen mit diversen zusätzlichen kosmetischen Items und die Möglichkeit, bis zu 1300 CP zu verdienen. Durch den Kauf des Battle Pass erhaltet ihr darüber hinaus auch Zugriff auf den neuen Operator "Ghost".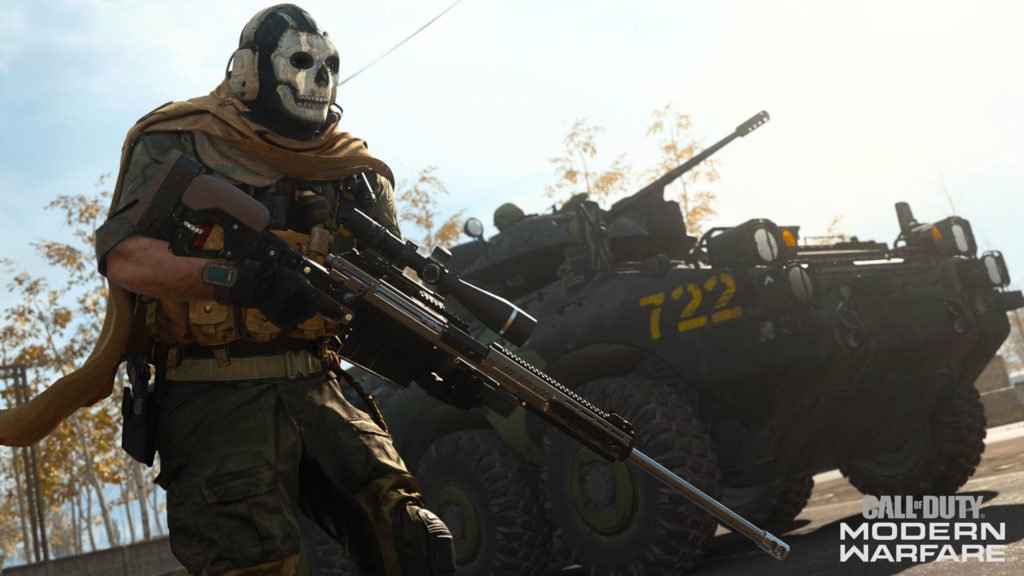 Call of Duty: Modern Warfare - Season 2 Battle Pass Trailer | PS4
Battle Royale Modus offenbar in Spiel integriert
Im Hauptmenü von Modern Warfare ist ein neuer Modus gelistet. Dieser steht noch auf geheim. Daher ist anzunehmen, dass es sich hierbei um den Battle Royale Modus handelt.
Fehlerkorrekturen, Anpassungen und mehr
GENERAL FIXES:
Fix for the "Focused" challenge not tracking properly
Krovnik Farmland
o Added back into rotation
o Removed access to the second floor in a handful of centrally located houses
Fixes for various exploits across Ground War maps
Fixed an issue where players could team kill Care Package owners and teammates capturing Care Packages
Fix for Platinum and Damascus camos sometimes having a blinding glare when in certain areas that contain sunlight
Fix for a rare bug that could prevent players from accessing the barracks, weapons, and/or Operators tabs after matches
Disabled the "Copy Loadout" feature
Field Upgrades:
o Trophy System: Deploy time has been reduced by about half a second
o Fixed a bug that allowed players to get infinite Weapon Drops by cancelling Killstreaks. Killstreaks are no longer usable when the Weapon Drop grenade is equipped
o Fixed a bug where objectives were not giving Field Upgrade progress
Perks – Rebalancing
Perk 1 Slots
Overkill: Switched places with Killchain and will now be in Perk 2
E.O.D.: Removed hacking ability (added to Spotter perk
Double Time: Double the recharge rate of Tactical Sprint
Quick Fix: Reduced health regeneration delay – any kill will immediately start regeneration
Perk 2 Slots
Ghost: Remove Snapshot grenade immunity (moved to Battle Hardened)
Restock: Change the equipment recharge rate from 30 to 25 seconds
Killchain: Switched places with Overkill In Perk 1
Pointman: Increase the score gain for Scorestreaks across all modes
Perk 3 Slots
Tune Up: Increase Field Upgrade cost reduction
Spotter: Added hacking ability (from E.O.D.); we're currently working on the ability to hack through walls.
Battle Hardened:
• Added Snapshot grenade immunity (moved from Ghost)
• Added Gas grenade resistance:
o Cough is no longer played when a player enters gas
o Reduced slowdown under gas effect
o Reduced blur when under gas effect
Weapons:
Crossbow:
Fix for some kills not tracking properly when attempting to unlock the Crossbow
 Fixed explosive Fury crossbow bolts to not kill Juggernauts in one hit
Very slight tuning to the reload speed. We're still fine tuning this one, so more adjusting is in the works!
Fixed a bug where the Crossbow did not do any melee damage to Deployable Cover
SA87– Smoothed out recoil, increased damage
Increased RAM-7 extended mags ammo count from 45 to 50
*A note from the weapons team! The Solozero NVG Enhanced is supposed to see through smoke, but a rendering bug broke this one optic temporarily. We'll have it fixed shortly!
Special Operations:
 Operation Harbinger: Fixed an issue with a checkpoint that could cause players to spawn under the map
Keyboard and Mouse
Added Change to Loadout keybinds for Custom Loadouts 6 to 10, allowing players to quickly switch to any of their favorite Loadouts with the press of a button
Fixed a visual issue where highlighting the usernames of multiple people in a lobby with the mouse cursor could lead to multiple Emblem/Player Card/Level UI elements appearing and overlapping each other.
Call of Duty League:
 Removed Specialist restrictions
COD Caster
 For Keyboard & Mouse Codcasters, it is now possible to bring up player Field Upgrades by pressing a key in the same way as they can with Killstreaks. This also shows the exact progress until each player unlocks their respective Field Upgrade.
Player health levels are displayed in the background of their portraits
Player numbers are now displayed in the minimap and are larger when viewed on the full map
PC
 When using the Tracker perk, footprints are now visible even when the Bullet Impacts & Sprays option is disabled in the Graphics tab
Several fixes to prevent crashes and improve stability
Weitere Inhalte folgen
Im Verlauf der zweiten Saison sind weitere Inhalte zu erwarten. Die gestern veröffentlichte Roadmap lässt auf die Veröffentlichung von fünf weiteren Updates schließen. Diese werden ebenfalls neue Karten, eine neue Geheime Waffe, neue Operatoren, Spielmodi und mehr beinhalten. Mit dem kommenden DLC Update erhaltet ihr unter anderem  folgende Inhalte:
Neue MP Map:
Neue Operator:
Neue MP Modes:

Infected Ground War
NVG Reinforce
Feuergefecht Varianten
und mehr

Neue Waffe:
---
---
Stay in touch
Weitere Leaks, Patch Notes und Infos zum Spiel findet ihr in unserer Themenübersicht (hier klicken). Folgt uns gerne auf Facebook, Instagram und Twitter, um künftig keine News mehr zu verpassen. Wer auf der Suche nach einer Community ist, kann gerne in unserer Facebook Partnergruppe "Call of Duty Germany" vorbeischauen. Hier findet ihr Hilfestellungen, neue Mitspieler und vieles mehr.