The Division 2: Erste Details zu Titel Update 10; Start der PTS am 22. Mai
Massive hat im aktuellen SOTG einen weiteren Einblick zu den kommenden Änderungen von Titel-Update 10 für "Tom Clancy's The Division 2" gewährt. Die Testserver gehen morgen, am 22. Mai 2020 um 14:00 Uhr online. Den Preload könnt ihr aber bereits heute um 18:00 Uhr starten. Um teilzunehmen, benötigt ihr eine Vollversion des Spiels auf dem PC. Es werden mehrere Testphasen für TU10 stattfinden.
Phase 1
In der ersten Phase geht es um das Finden und die Behebung von Fehlern, Waffen- und Gear Balance nach TU 10, PvP Waffenschaden und Time-To-Kill-Anpassungen.
Allgemeiner Fokus von TU10
Mit TU 8 und der Erweiterung "Warlords of New York" hat Massive ein völlig neues Endspiel, neue Ausrüstung, neue Fortschritte eingeführt. Mit TU 10 geht man weiter diesen Weg. Seit der Veröffentlichung von Warlords of New York erhielten die Entwickler viele Rückmeldungen dazu, was funktioniert, was Spaß macht und was nicht. Dieses Feedback führte zu den ersten Anpassungen und Verbesserungen, die mit TU9 und TU9.1 gemacht wurden.
Der kommende Patch soll hier anschließen. Allerdings in einem viel größren Umfang. Der Fokus des Updates liegt auf zwei Hauptbereichen:
Qualität des Spiels und die Behebung von so vielen Fehlern wie möglich.
Balancing-Anpassungen und Spielspaß. Die Entwickler möchten den Spaß wieder zurückbringen.
Die Anpassungen in den beiden Bereichen wirken sich auf alles aus. Balancing, Ausrüstung, Waffen, Ausrüstungssätze, Belohnungen, Schwierigkeitsgrad und PvP. Im Bezug auf PvP soll die größeren Probleme angegangen werden. Massive möchte zwar den Schwierigkeitsgrad anpassen, aber keines Falls das Spiel einfacher machen.
Die Verfügbarkeit von Exoitics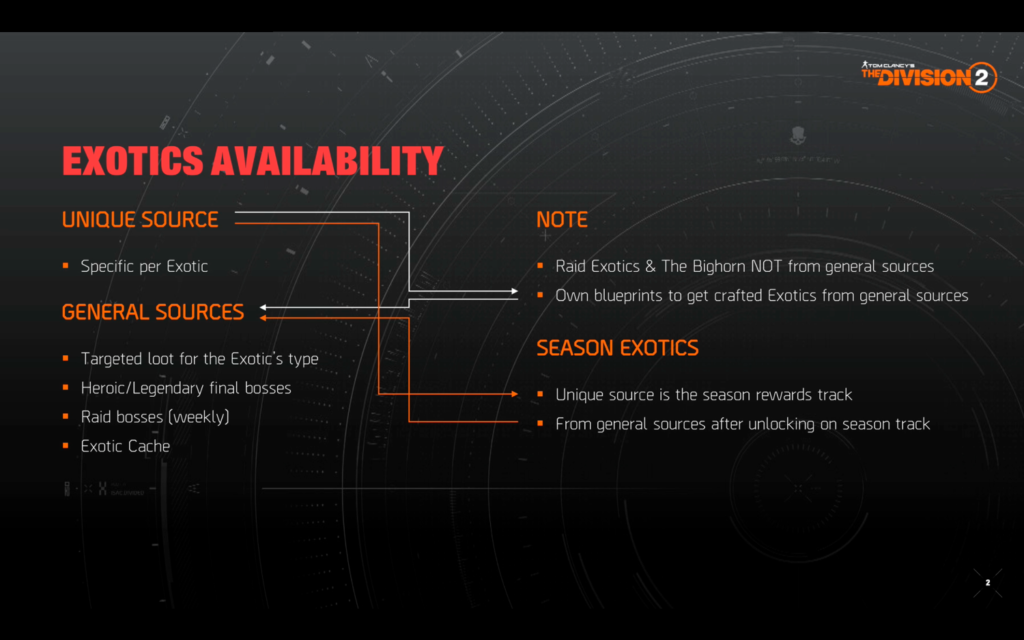 Es gibt Exotics, die nur über einzigartige Quellen bezogen werden können. Bspw. Chamaleon von Bounties, Diamondback von Kenly Colledge etc. Manche sind an Fraktionen gebunden, andere im allgemeinen Lootpool. Derzeit haben alle WONY Exotics ihre ganz eignen Loot-Quellen. Mit TU10 werden diese allgemeinen Quellen hinzugefügt.  Das bedeutet gezielte Beute, heroisch, legendär, finale Bosse, Raid Bosse (wöchentlich), exotische Behälter.
Es wird aber auch Ausnahmen geben:
Raid Exotics und Bighorn bleiben exklusiv legendärer Content und Raid-gebunden.
Einige Exotics haben eine Crafting-Qquest. Diese Quest müsst ihr zuerst abschließen. Danach wird das Item zu den oben aufgeführten allgemeinen Quellen hinzugefügt.
Exotics, welche dem Season Reward Track zugewiesen sind, müssen im Verlauf der Saison darüber freigeschaltet werden. Nach der Saison werden sie in den allgemeinen Quellen verfügbar sein.
Alle neuen Exotics, die mit Raid 2 ins Spiel integriert werden, können auf den PTS getestet werden. Es wird auf den PTS einen Händler geben, über den ihr diese beziehen könnt.
Weitere Anpassungen
Die vollständigen Patch Notes folgen in Kürze. Die wichtigsten Punkte findet ihr nun hier.
Waffen, Waffenschaden, Waffenhandhabung erhalten allgemeine Anpassungen.
Mehr Power für die Spieler.

U.a. bekommen alle SMGs und Sturmgewehre bekommen einen Buff.
Gearset-Mechaniken werden verbessert.

M1A wird leicht abgeschwächt.
Überarbeitung der Exotics
Legendäre Schwierigkeit wird Belohnender. Auf den PTS heißt das, erhöhte Drop Chance bei Veteran- und Elite-Gegnern.
Allgemeine Loot Rolls werden für alle Schwierigkeiten untersucht.
Kontrollpunkte haben nur noch eine große Lootkiste. Diese Box gewährt mehr Loot und wird mit der Schwierigkeitsstufe nach oben skaliert.
Mission Crates werden mit PTS Phase 2 angegangen.
Anpassungen an PvP Waffenschaden und der TTK.
Händler Pass

Keine Lila Items mehr ab Level 40
Höhre Item-Stärke
Namhafte Items werden bei Händlern verkauft. Sie sind aber teurer.
DZ Händler bieten auch namhafte Items und darüber hinaus DZ exklusive namhafte Items.

Projekte

SHD-Anforderungsprojekte sind auf Stufe 40 verfügbar und sind jetzt wöchentliche Projekte (Exotic Cache Reward).
Zudem gibt es auch ein wöchentliches Projekt, das erst nach Abschluss einer legendären Mission verfügbar ist. Als Belohnung erhaltet ihr eine exotische Kiste.
Field Proficiency Caches werden nach einem Level-Up nach Abschluss der Saison erneut vergeben.

Crafting

Es werden Anpassungen vorgenommen, damit ihr bessere min/ max Rolls bekommt. Dies wird aber erst in Testphase 2 angegangen.
---
Mehr Infos zum Spiel, wie Patch Notes zu verfügbaren Updates, geplante Änderungen, Raids, Clans und mehr, findet ihr in unserer Themenübersicht (hier klicken). Folgt uns gerne auf Facebook, Instagram und Twitter, um künftig keine News mehr zu verpassen.
---
Assassin's Creed Rabattaktion Ubisoft-Store [Anzeige]
---

---