Modern Warfare/Warzone: Weitere Bann-Wellen angekündigt; Kampf gegen Cheater geht in die nächste Runde
Infinity Ward hat heute weitere Bann-Wellen in "Call of Duty: Modern Warfare und Warzone" angekündigt. Damit geht das Studio weiter gegen Cheater im Online-Modus des Spiels vor. In der Meldung verweisen sie unter anderem darauf, dass die unerlaubte Manipulation von Spieldaten nicht gestattet sei. Darunter fällt Cheat- und Mod-Software von Drittanbietern wie Hex-Editoren, Aimbots, Wallhacks, Trainers, Stats-Hacks, Textur-Hacks, Leaderboard-Hacks und andere Software, die eine Manipulation der Spiel- oder Profildaten sowie des Speichers ermöglicht. Auch die Nutzung von Anbietern, die euch versprechen, alle Tarnungen freizuschalten, fällt unter eine Manipulation von Spieldaten.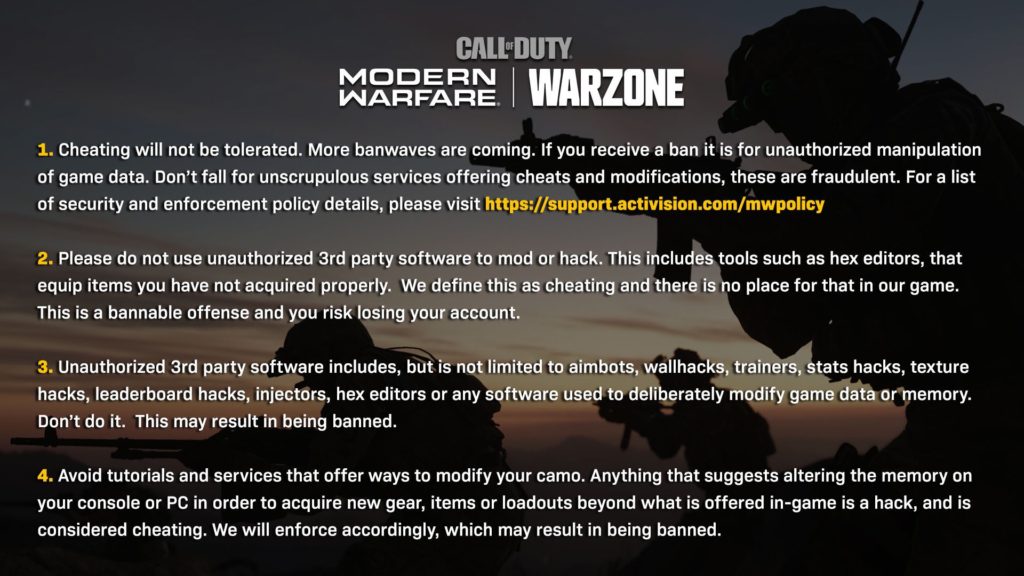 Konsequenzen für die Nutzung von Mods und Hacks
Die Nutzung unautorisierter Software von Drittanbietern (Mods und Hacks) führt zu einem dauerhaften Bann. Der Account des Cheaters wird dauerhaft vom Online-Spielen ausgeschlossen, seine Statistiken, Embleme und Waffenanpassungen werden zurückgesetzt. Zudem wird dauerhaft für die Bestenlisten geblockt. Dies gilt sowohl für Konsolen, als auch für PC Spieler.
Konsequenzen für die Nutzung von nicht autorisierter Peripherie Geräte und Apps
Spieler, die nicht unterstützte externe Hardware oder nicht unterstützte externe Anwendungen zum Cheaten verwenden, wird gebannt. Nicht unterstützte Peripheriegeräte und Anwendungen umfassen, ohne darauf beschränkt zu sein, modifizierte Controller, IP-Flooder und Lag-Switch*. Bei einem einmaligen Verstoß müssen die Cheater mit einem temporären Bann rechnen. Zudem werden ihre Statistiken sowie Embleme zurückgesetzt und die Einträge in den Bestenlisten gelöscht. Bei mehrfacher Nutzung der Hard oder Software folgt ein dauerhafter Bann. Auch hier wird der Account dauerhaft gesperrt, Statistiken, Embleme und Waffenanpassungen zurückgesetzt. Zudem wird der Cheater dauerhaft für die Bestenlisten geblockt. Dies gilt sowohl für Konsolen, als auch für PC Spieler.
*Bedeutung: Lag Switch & IP Flood
Durch einen Lag-Switch werden gegnerische Spieler vom Hacker in eine Rubberbanding Situation gezwungen. Dadurch können sie sich leicht hinter den betroffenen Spieler bewegen und ihn ausschalten. Unter einem IP-Flooder versteht man einen DDOS Angriff. Dabei werden durch den Cheater manipulierte Datenpakete in hoher Abfolge an den gegnerischen Spieler gesendet. Dadurch folgt eine Überlastung, die dazu führt, dass die Kommunikation zwischen Client und Server nicht mehr ordnungsgemäß stattfinden kann.
Konsequenzen für Boosting, Griefing und Nutzung von Exploits und Glitches
Des Weiteren geht Infnity Ward gegen Boosting, Griefing und die Nutzung von Glitches/Exploits vor. Hier folgt bei einmaligem Verstoß ein temporärer Bann. Wer Mehrfach auffällig wird, muss mit einem dauerhaften Bann rechnen. Auch hier werden Stats und Embleme zurückgesetzt, Leaderboard Einträge gelöscht und der Account dauerhaft gesperrt.  Weitere Informationen erhaltet ihr in der MWPOLICY.
---
Masken mit Filterfach – [Anzeige]
---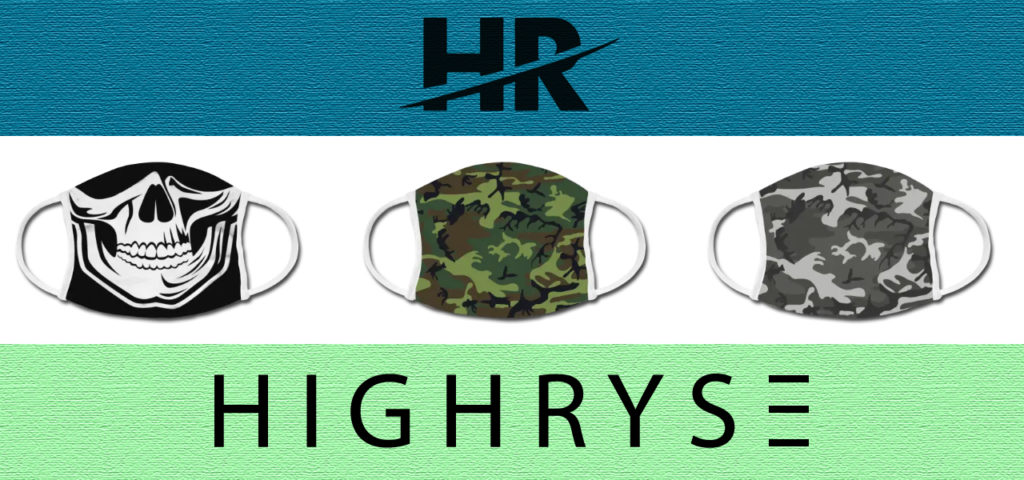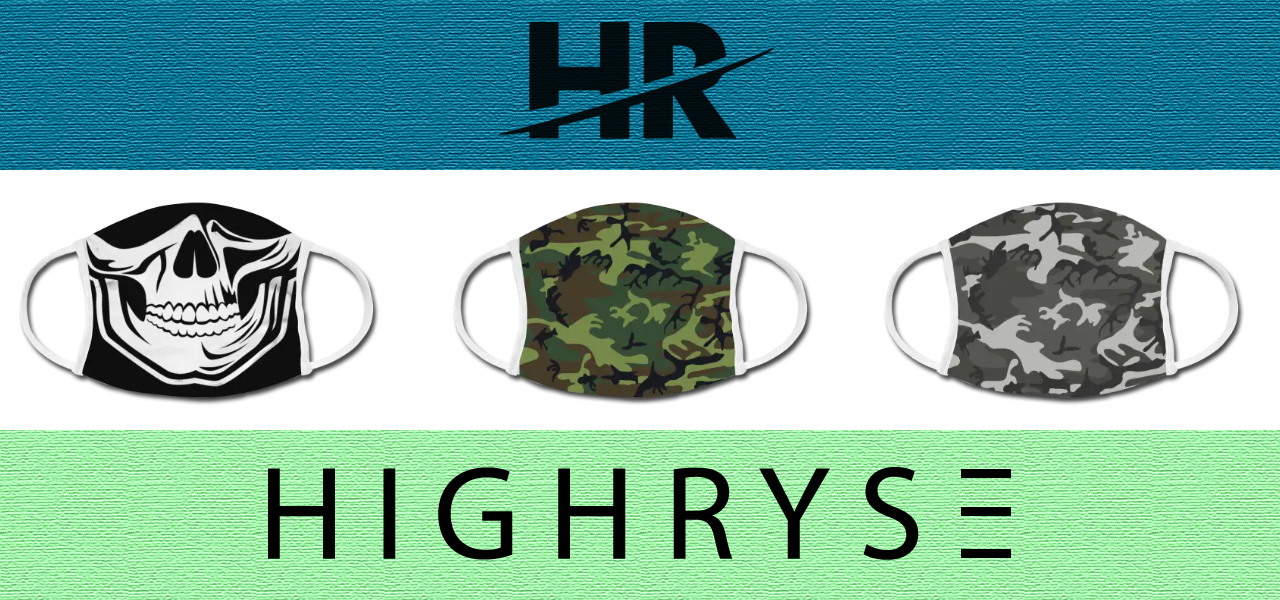 ---
Stay in touch
Weitere Leaks, Patch Notes und Infos zum Spiel findet ihr in unserer Themenübersicht (hier klicken). Folgt uns gerne auf Facebook, Instagram und Twitter, um künftig keine News mehr zu verpassen. Wer auf der Suche nach einer Community ist, kann gerne in unserer Facebook Partnergruppe "Call of Duty Germany" vorbeischauen. Hier findet ihr Hilfestellungen, neue Mitspieler und vieles mehr. Wir suchen außerdem Content Creator (M/W) und Sprecher*inen für künftige Projekte. Wer Teil des Trippy Leaks Network werden möchte, kann sich gerne bei uns melden (hier klicken).
---