The Division 2: Roadmap für TU11, neues "Appearance Mods" System & mehr
Im heutigen State of the Game hat Massive eine Roadmap für Titel Update 11 enthüllt. Über die nächsten 2 Wochen wird das Studio genauer auf die Inhalte des kommenden Titel-Updates eingehen. Den Anfang machten sie heute und gewährten einen ersten Einblick in das neue Appearance-Mod-System, welches mit dem Update seinen Weg in "Tom Clancy's The Division 2" finden wird. Ebenfalls gibt es eine aktualisierte Liste bekannter Fehler.
Bekannte Fehler
PS4 Bluescreens

Das Problem wurde behoben und soll mit einem Update am 25. August behoben werden. Dieser Patch erscheint nur auf PS4. Mit dem Patch soll die Hauptursache für die Bluescreens behoben werden. Vereinzelt können andere Probleme weiter zu Bluescreens führen.

Pistolen Schaden in Re-Kalibrierungsbibliothek wird untersucht.
Neuer Damage Glitch wird untersucht.
---
TU 11 Roadmap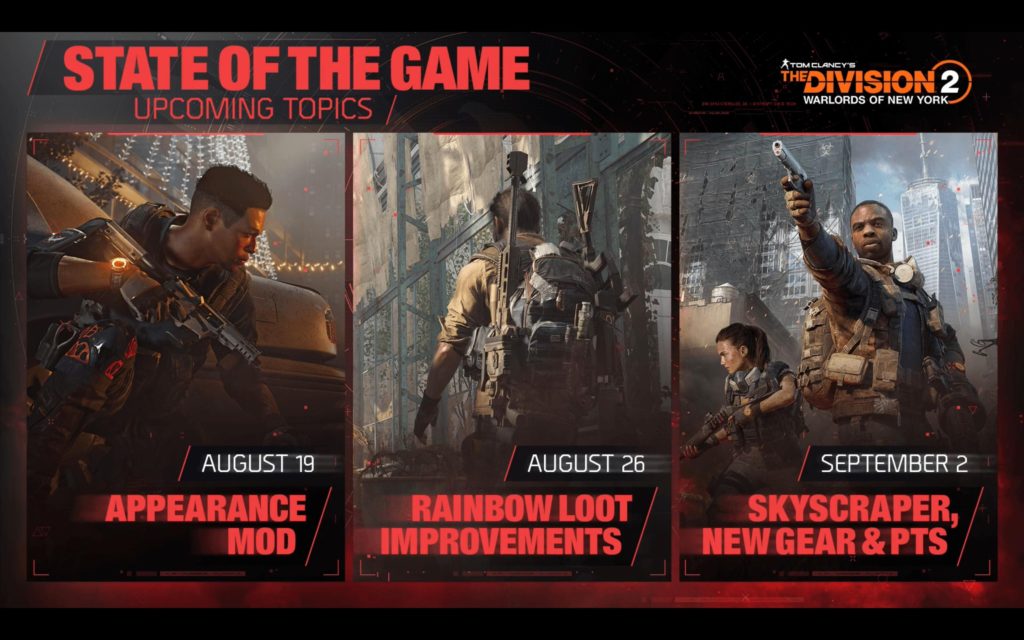 19. August: Appearance Mods

26. August: Rainbow Loot Verbesserungen

Wie es geändert und gefixt wird

Generische Ausrüstungs-Mods

2. September: Skyscraper, Neues Gear, PTS
---
Guthaben, Gamecards & mehr [Anzeige]
---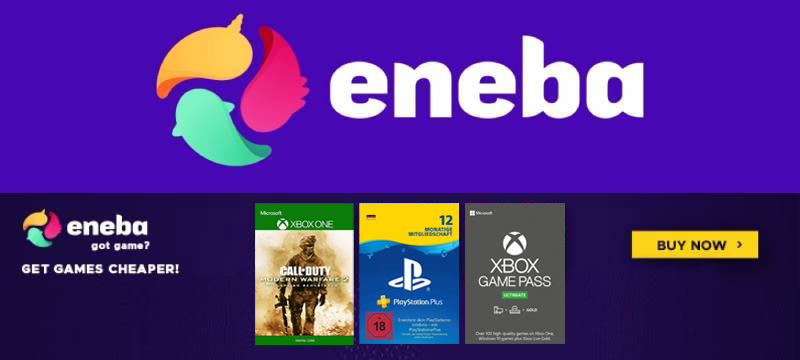 ---
TU11 – Gear

Transmogrifikation / Appearance Mods
Diese Funktion wird nur für Ausrüstung, nicht für Waffen verfügbar sein.
Mit Titel-Update 11 wird das lang erwartete Transmogrifikation- oder Appearance-Mods-System in das vorhandene Charaktermenü für The Division 2 implementiert. Mit Appearance-Mods könnt ihr das Erscheinungsbild eurer Ausrüstung über die normale Farbgebung hinaus ändern. Jetzt können alle Masken, Rucksäcke, Rüstungen, Knieschoner, Handschuhe und Holster so angepasst werden, dass sie wie ein ähnliches Teil einer anderen Marke aussehen.a
Alle Rüstungsteile von gewöhnlichen Grau- bis hin zu hochwertigen seltenen Gold-Teilen sowie Gear-Sets und namhafte Items können in ihrem Aussehen geändert werden. Mit den Mods für das Erscheinungsbild könnt ihr endlich das gewünschte Erscheinungsbild erhalten oder den Stil des Set-ups ändern.
Spezielle Ausrüstungsteile wie Exotics können nicht in ihrer Erscheinung angepasst werden. Auf das System haben alle Spieler von Level  bis Level Zugriff.
Vorschau auf das Menü zum Ändern des Aussehen
Um das Erscheinungsbild zu ändern, müsst ihr das Ausrüstungsteil auswählen und inspizieren. Ihr seht dort eine neue Option "Mod Appearance". Unter diesem Menü werdet ihr eine Vielzahl von Auswahlmöglichkeiten finden. Alle Appearance-Mods, die ihr mit einem Charakter freischaltet, sind später für alle eure Agenten verfügbar. Es wird auch eine Möglichkeit geben, Favoriten abzuspeichern. Die Performance der Ausrüstung wird nicht durch das Ändern des Aussehens beeinflusst.
Sichtbarkeit der Gear Transmogrifikation
Euere Änderungen am Erscheinungsbild eurer Gear Sets sind sowohl für euch als auch für andere Spieler sichtbar. Die anderen Spieler haben ebenfalls die Möglichkeit zu schauen, was unter eurem veränderten Ausrüstungsteil steckt. Also wie es original aussieht.
Appearance Modifikationen bleiben bestehen
Eure Änderungen bleiben bestehen, d.h. wenn ihr das Ausrüstungsteil ablegt, bleibt die Anpassung des Items weiterhin aktiv, genau wie bei Skins für Waffen etc. Also müsst ihr euch keine Sorgen machen, dass ihr etwas verliert. Die Modifikation bleibt auch beim Loadout gespeichert.
Verfügbarkeit / Freischaltprozess
Appearance Mods stehen allen Spielern auf allen Ebenen beim Start von TU11 zur Verfügung. Neue und alte Charaktere, Standard und Hardcore haben alle Zugriff auf die Bibliothek. Die visuellen Optionen der Ausrüstung müssen freigeschaltet werden, aber alles, was ihr dafür tun müsst, ist den Gegenstand zu looten.
Wenn ihr z.B. ein Paar Grupo Sombra S.A.-Handschuhe aufsammelt, schaltet dies den Look der Grupo Sombra S.A.-Handschuhe für alle anderen Handschuhe frei. Diese Option bleibt auch dann bestehen, wenn das ursprüngliche Paar Handschuhe verkauft, weggeworfen oder zerlegt wird. Die Appearance Mods haben also keinen Footprint in eurer Vorratskiste.
---
Andere Infos
Ausblenden / Anzeigen der Maske: Diese Funktion ist etwas, über das intern diskutiert wurde, und Massive möchte diese Option gerne hinzufügen.
Hardcore Updates: Hierzu gibt es aktuell keine neuen Informationen.
---
Ubisoft Sommer Sale [Anzeige]
---

---
Mehr Infos zum Spiel, wie Patch Notes zu verfügbaren Updates, geplante Änderungen, Raids, Clans und mehr, findet ihr in unserer Themenübersicht (hier klicken).  Folgt uns gerne auf Facebook, Instagram und Twitter, um künftig keine News mehr zu verpassen.