The Division 2: Vorschau auf TU11.1 mit diversen Verbesserungen für "The Summit"; Release voraussichtlich am 20. Oktober
Massive hat eine erste Vorschau auf Titel Update 11.1 gewährt. Sofern alles nach Plan verläuft, möchten die  Entwickler den Patch am 20. Oktober 2020 auf allen Plattformen bereitstellen. Mit dem Update erwarten euch diverse Verbesserungen für den neuen PvE Modus "The Summit". Nachfolgend erfahrt mehr dazu.
The Summit Update Übersicht
Mit dem Update wird Massive weitere Feedback-Punkte umsetzen.
Hauptpunkte des Updates
The Fantasy of Climbing von Etage 1 bis 100 mit anpassbaren Herausforderungen und Belohnungen.
Die Schwierigkeit
Die Direktiven
Gezielte Beute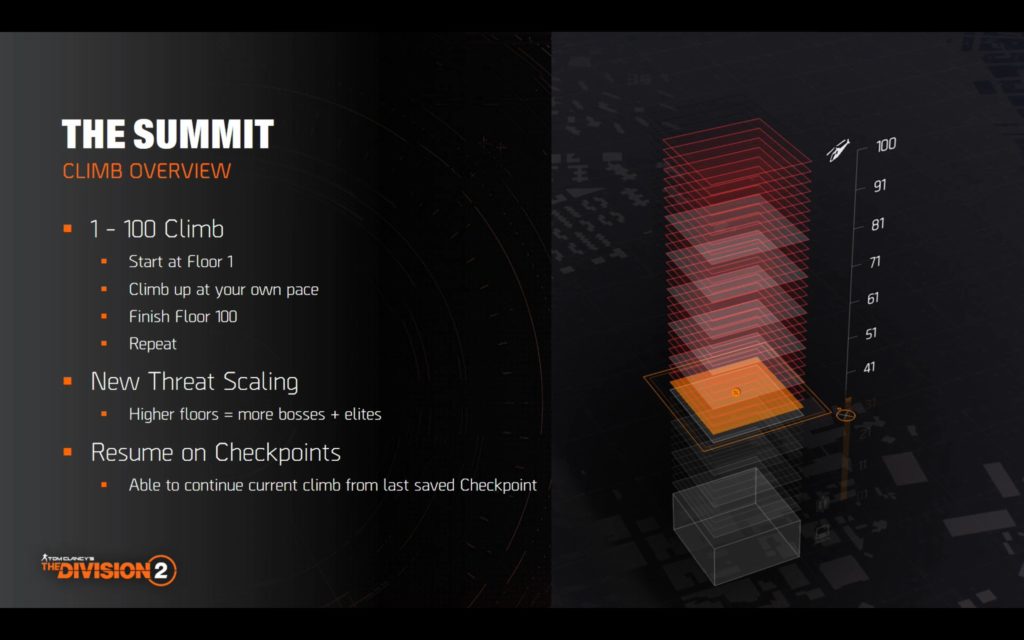 Rally Punkte werden entfernt
Mit TU11.1 werden die Rally Punkte entfernt. Das bedeutet, wenn ihr den Aufzug ruft, öffnet sich nicht mehr das derzeitige Menü.
Nach Update 11.1 wird sich ein neues Menü öffnen, wenn ihr den Aufzug betretet. Dort könnt ihr dann auswählen, ob ihr euren Aufstieg fortsetzen möchtet oder ob ihr die Einstellungen ändern wollt.
Im hier gezeigten Beispiel wurde bis Etage 34 gespielt und zwei Direktiven waren dabei aktiv. Und ihr könnt nun wählen, ob ihr dort mit diesen Direktiven weiter spielen wollt oder auf die Spielerfahrung anpassen, die ihr spielen möchtet.
Z.B. könnte das euer  Fortschritt von 1-100 mit verschiedenen Teamkombinationen und Schwierigkeitsstufen sein: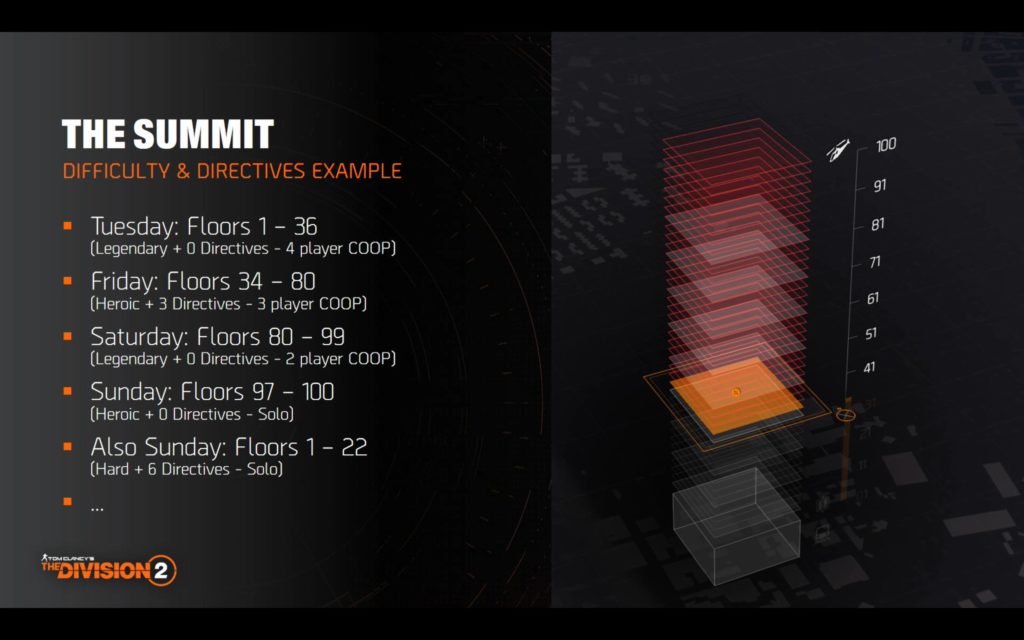 Auswahl der Schwierigkeit und Direktiven
Über das Einstellungsmenü des Aufzugs könnt ihr zu jederzeit und so oft ihr möchtet die Schwierigkeit und die Direktiven anpassen.
Die verfügbaren Schwierigkeitsgrade beginnen bei Normal und gehen bis legendär.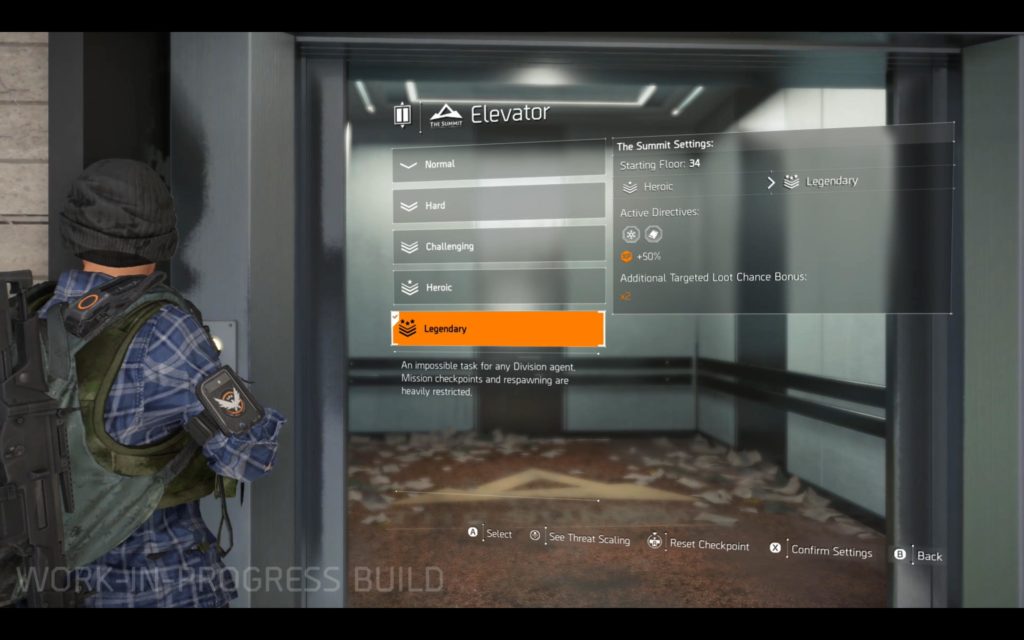 Bei den Direktiven könnt ihr aus allen bislang für den Modus verfügbaren Direktiven wählen. Derzeit gibt es insgesamt 9. Wenn ihr euch wirklich herausfordern möchtet, könnt ihr alle 9 Direktiven gleichzeitig aktivieren und das Ganze auf der Schwierigkeitsstufe legendär starten.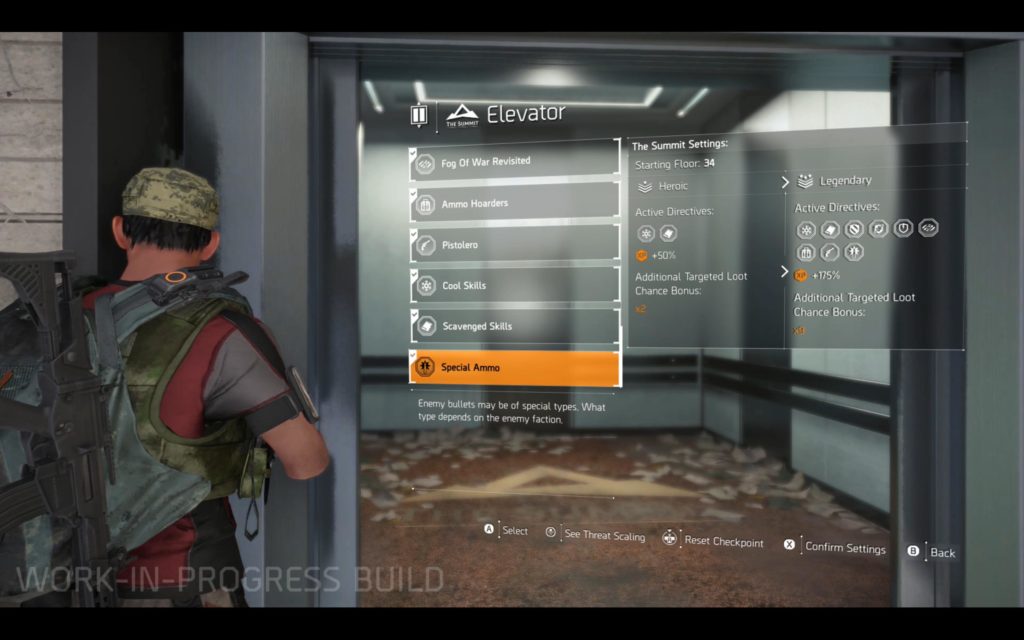 Direktiven erhöhen Dropchance bei gezielter Beute
Mit TU11 werden Direktiven auch die Drop-Chance auf gezielte Beute erhöhen. Dies gilt nicht nur in "The Summit", sondern wird auf das gesamte Spiel angewendet. Zwar ist es weiterhin so, dass eure gewählte Schwierigkeitsstufe bestimmt, wie viel gezielte Beute gedropped wird. Die höchste habt ihr also weiterhin auf legendär. Allerdings wird das Auswählen von Direktiven einen Bonus hinzufügen. Habt ihr also 9 Direktiven gleichzeitig bei Schwierigkeitsstufe legendär aktiviert, heißt das: Direktive gezielte Beute Chance Bonus x 9. Hinweis, nur in The Summit können 9 Direktiven gleichzeitig aktiv sein, im normalen Spiel sind es nur 5. Daher habt ihr also auch nur einen 5-fachen Bonus statt wie in The Summit einen 9-fachen.
Bedrohungsskalierung
Wenn ihr eine Schwierigekit für alle Stockwerke (1-100) ausgewählt habt, wird es dennoch eine Skalierung der Schwierigkeit geben, während ihr in höhere Stockwerke vordringt.  Wie ihr dem Bild entnehmen könnt, wird die Anzahl der mini Bosse in den Boss-Etagen erhöht, je weiter ihr nach oben kommt.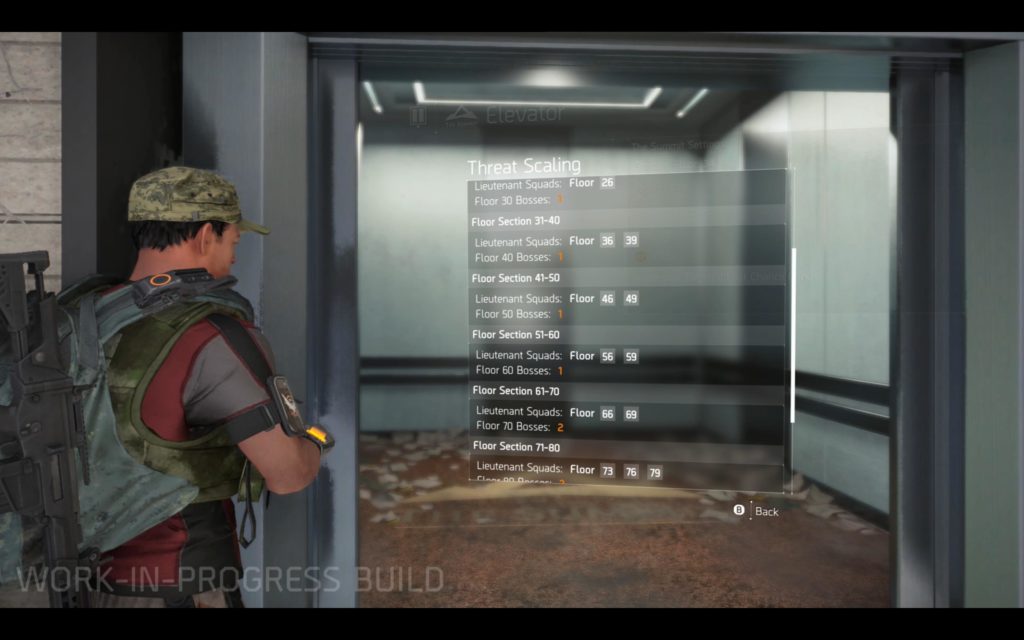 Auswahl der gezielten Beute
Wenn ihr die Summit Karte aufruft, seht ihr die gezielte Beute unten Links.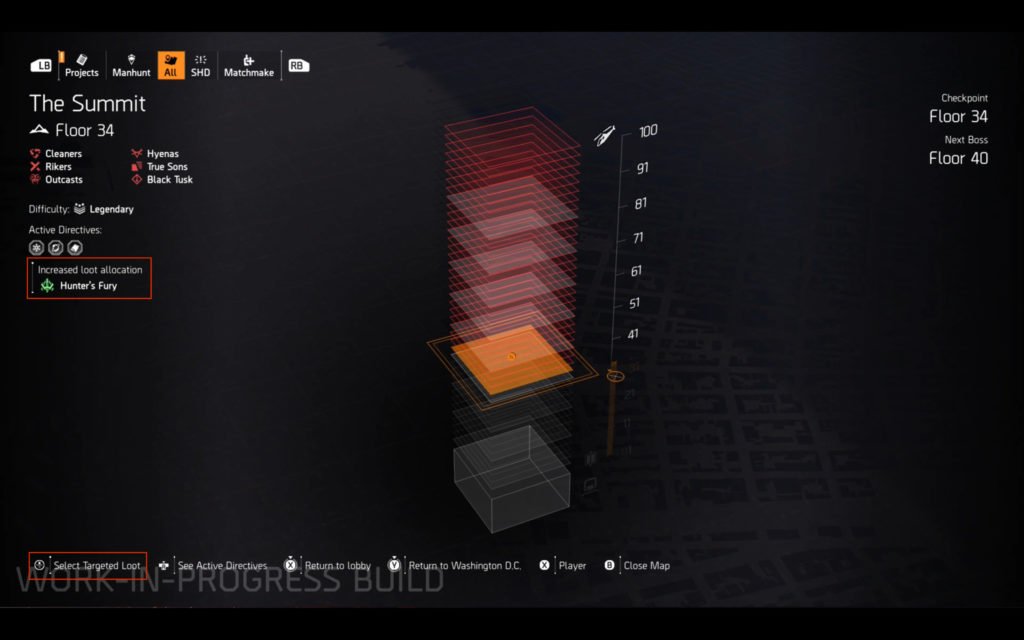 Dort könnt ihr dann im Menü die gezielte Beute auswählen, nach der ihr sucht. Eure Auswahl wird auch nur für euch droppen. Andere Team Mitglieder erhalten die gezielte Beute, die sie ausgewählt haben.
Waffen Archetype

Gear Slot

Gear Mod

Skill Mod

Brand Set

Gear Set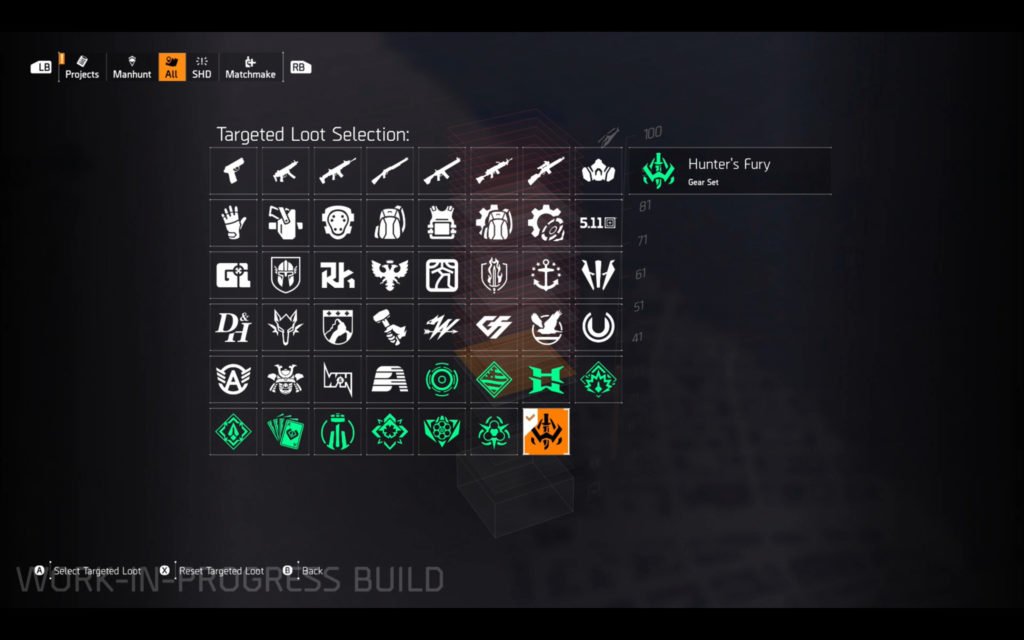 Die Auswahl kann jederzeit geändert werden.
Neues wöchentliches Projekt
Es gibt ein neues wöchentliches Projekt, dass ihr in The Summit abschließen könnt. Es ist an keine Schwierigkeitsstufe gebunden.  Folgende Belohnungen werdet ihr durch den Abschluss erhalten;
Exotischer Behälter

Blaupausen

Spezialisierungspunkte
Ridgeway's Pride Exotic
Basierend auf dem Feedback der Spieler gibt es einen Buff für Ridgeway's Pride. Und um die Quest abzuschließen, müsst ihr nur noch zwei Hunter / Abtrünnige Agenten ausschalten. Die Items droppen basierend auf der Etage.
Reichweite auf 15m erhöht (zuvor 10m)
Reperatur Rate wurde ebenfalls erhöht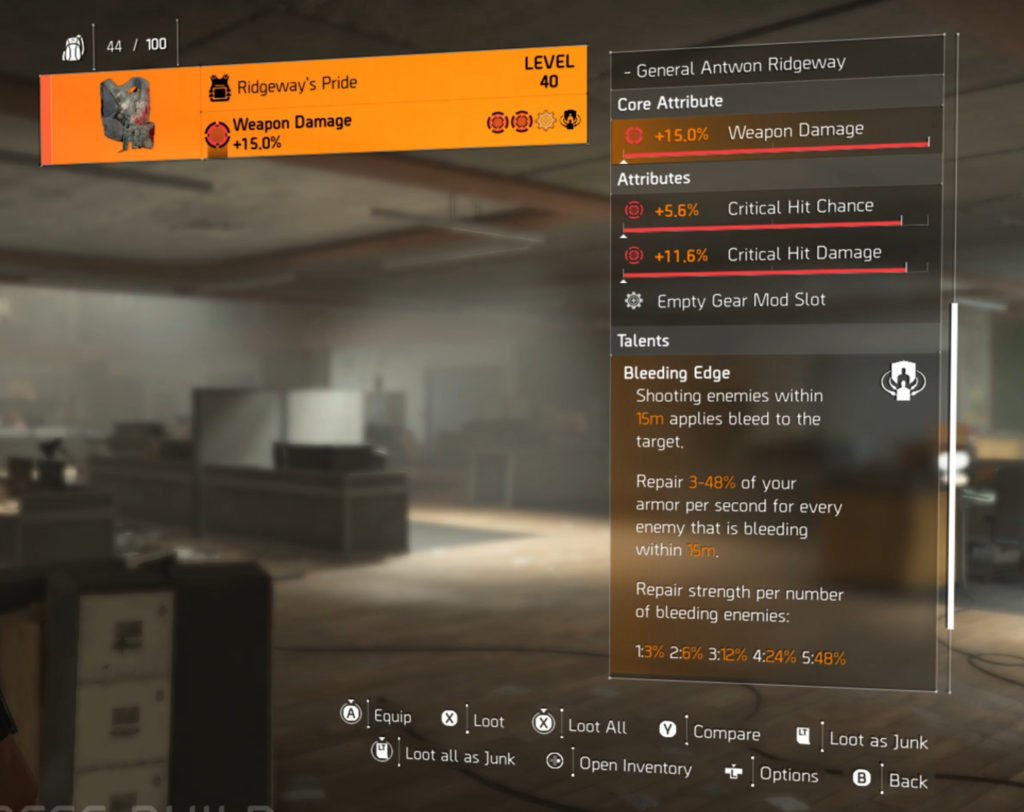 Weitere Verbesserungen
Mit TU11 werden auch zusätzliche Verbesserungen vorgenommen. Hierzu zählen:
Mehr Objectives
schnellere Interaktion mit Laptops
NPC Spawn-Anpassungen
Halten von SHD Crates wird mehr belohnt. Es gibt schnellere Skill Spawns und bessere Skills.
Neue Benachrichtigungen zu Bossen, exotischen Feuerwaffen etc.
Fehlerkorrekturen
Loot Crate Reset
Diverse UI und Map Fixes
Mega-Map hat nun korerkte Tabs (Project / Manhunt / SHD)
verbessertes Loot in Etage 100 bei Gegnern.
Matchmake kann nun gewählt werden, ohne nachzuladen.
Firewall Bug in Konflikt wird behoben.
---
Ubisoft Deals [Ad]
---

---
Mehr Infos zum Spiel, wie Patch Notes zu verfügbaren Updates, geplante Änderungen, Raids, Clans und mehr, findet ihr in unserer Themenübersicht (hier klicken).  Folgt uns gerne auf Facebook, Instagram und Twitter, um künftig keine News mehr zu verpassen.