Warzone: So könnt ihr das Rebirth from the Ashes Easter Egg lösen [www.rebirthfromtheashes.com] | Guide
In Phase zwei des dreiteiligen Warzone Events, welches uns auf die neue Version der Karte Verdansk einstimmt, geht es um ein neues Easter Egg. Bei diesem handelt es sich um "Rebirth from the Ahses" und hierfür ist auch eine neue Website online gegangen. Ihr könnt dieses Easter Egg seit heute früh um 6 Uhr nach der Veröffentlichung von Update 1.36 für "Call of Duty: Warzone" lösen. In diesem Guide erfahrt ihr, wie das Ganze funktioniert. Gelöst wurde das Ganze von Geekypastimes und seinem Team.
Rebirth from the Ashes Easer Egg lösen
Schritt 1
Besucht zunächst die Website rebirthfromtheashes.com. Dort auf der Startseite findet ihr ihr nun ein Feld mit dem Text "Incoming Message". Klickt dieses Feld an und spielt die Audiodatei im Anschluss ab, in dem ihr im rechten oberen Feld auf Play drückt. Nachdem die Audiodatei abgespielt wurde, öffnet sich ein Eingabefeld für einen Code. Es gibt mehrere Codes.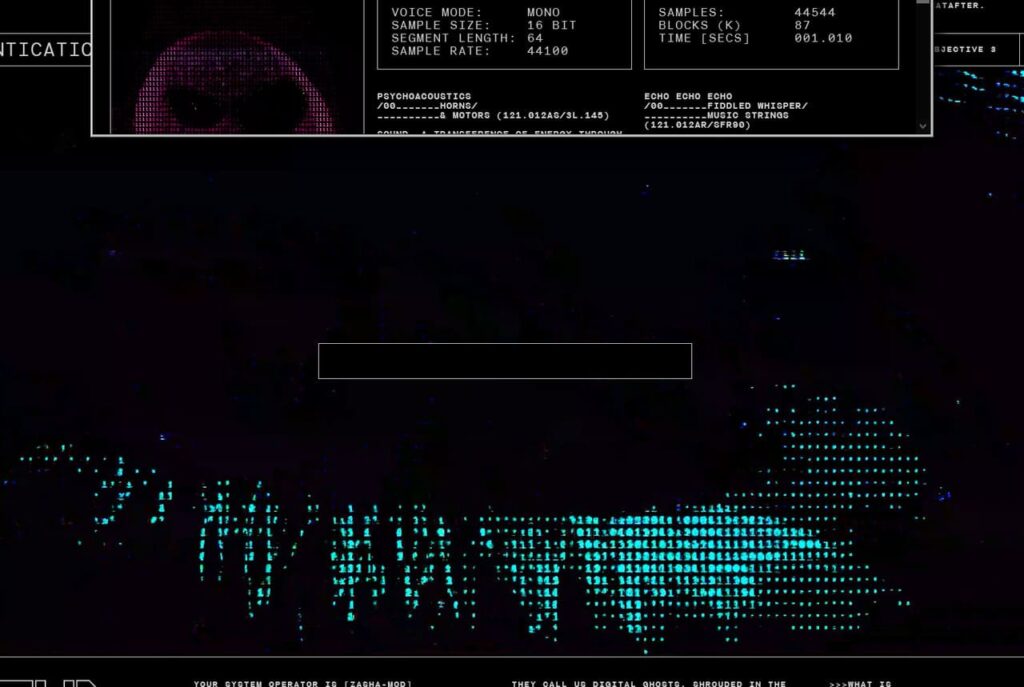 Den ersten Code könnt ihr erhalten, indem ihr mit dem Mauszeiger über den unterhalb des Eingabefeldes befindlichen Text navigieren. Macht das Ganze solange, bis ihr das Wort findet, bei dem es anfängt zu flackern. In diesem Fall beginnt es bei dem 3. Abschnitt auf der linken Seite bei dem Wort "CONTAINED" zu flackern.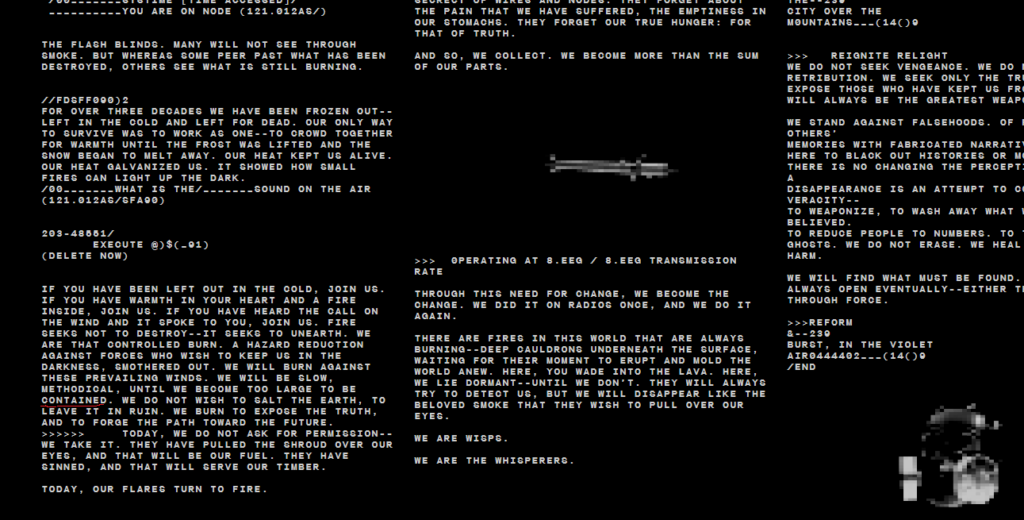 Gebt den Code in das Eingabefeld oben ein.

Nach Eingabe des jeweiligen Codes öffnet sich ein neues Fenster mit dem ersten Mapteaser für Downtown.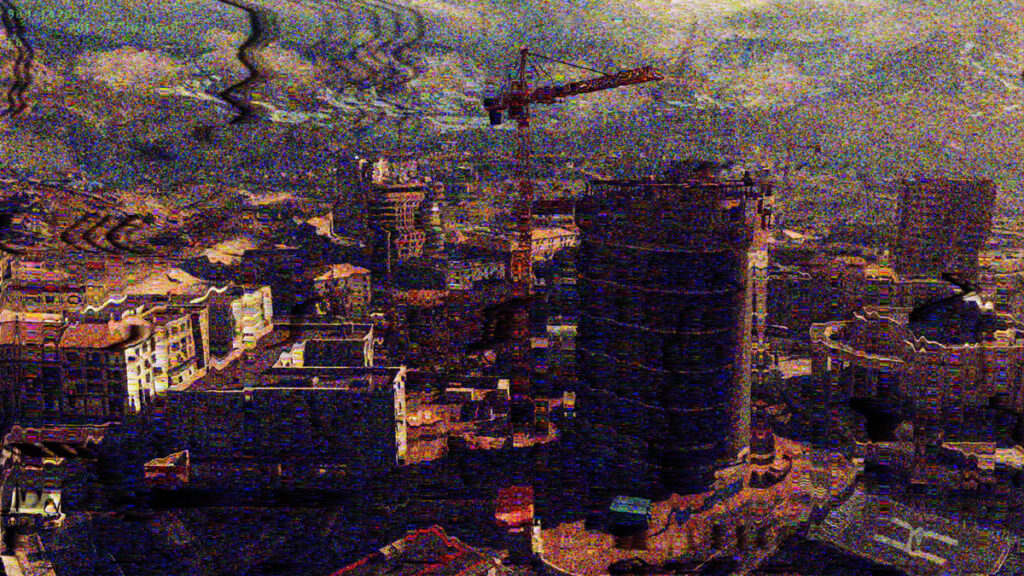 Weitere Codes müsst ihr selbst zusammensetzten mithilfe von Codes, die ihr In-Game beim Spielen einer Runde auf Rebirth Island erhaltet. Das ist die eigentliche Aufgabe des Easter Eggs. Mehr dazu im nächsten Schritt.
Schritt 2
Im Text unterhalb des Eingabefeldes für den Code seht ihr ein animiertes Bild von einem Marschflugkörper. Klickt dieses Feld an. Danach öffnet sich ein neues Fenster mit einer Reihe Codes.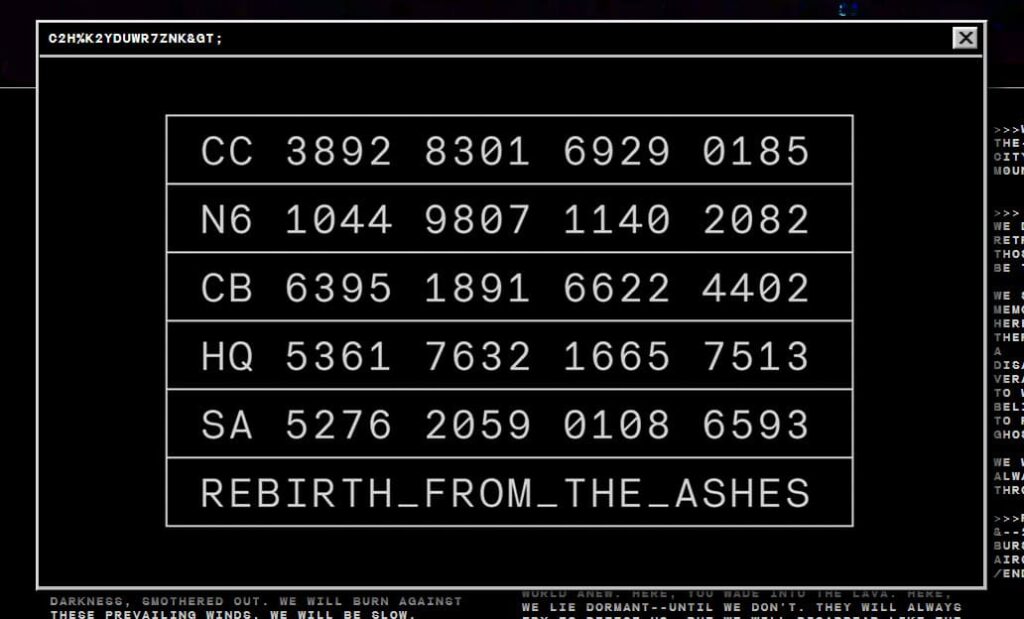 Diese Codes sind Teil zur Lösung des Puzzles. Jeder Code steht für eine Location auf der Karte Rebirth Island. Nachfolgend in der Reihenfolge des Bildes aufgeschlüsselt.
Command Center
Nova 6
Cell Block
 Headquarters
Security Area
Wenn ihr nun ein Match auf Rebirth Island startet und zu diesen Locations geht, stoßt ihr, sofern ihr an der richtigen Stelle seid, auf eine Übertragung. Ihr merkt das daran, dass euer Bild zu flackern beginnt. Kurz im Anschluss startet die Funkübertragung und es werden Zahlencodes durchgesagt. Zeile für Zeile. Insgesamt wird hier ein 16-stelliger-Zahlencode durchgegeben, welchen ihr euch notieren müsst.

Wenn ihr die Zahlen aufgeschrieben habt, müsst ihr sie in Blöcken unter den ursprünglichen Code aus dem Browser Fenster notieren. Das sieht dann wie folgt aus:
Command Center Code Webiste:
Command Center Code In-game:
Schreibt nun die Codes untereinander und nehmt euch immer die Zahlen in kleinen 2ER Blöcken vor. Die Differenz zwischen den Zahlen ergeben dann einen neuen Code aus Zahlen, den ihr dann im in Buchstaben umwandeln könnt. Also von 38 auf 39 ist die Differenz 1. Von 92 zu 12 ist die Differenz 20 (dies ergibt sich daraus, dass ihr es als 92 zu 112 betrachten müsst). Dann von 83 zu 95 ist die Differenz 12 usw….
---
3892 | 8301 | 6929 | 0185
3912 | 9502 | 8349 | 1004
---
1 20 |  12 1 | 14 20 | 9 19
---
AT | LA | NT | IS
---
So könnt ihr das bei jeder angegebenen Location machen und erhaltet so einen neuen Code zur Eingabe in dem Textfeld auf der Website. Diese Codes lauten wie folgt.
Command Center:  ATLANTIS
Nova6: OBLIVION
Cell Block:  PARALLAX
Headquarters: PARADIGM
Security Area: GUARDIAN
Gebt diese nun in das Textfeld nacheinander ein. Jeder der Codes enthüllt einen Mapteaser. Der Code ATLANTIS kann erst nach Abschluss aller 4 Objectives eingegeben werden.
Folgende Bilder und Videos sind zu finden:
PARALLAX  (Objective 1)
Hier öffnet sich ein Feld, in dem eine weitere Codeeingabe erforderlich ist. Dieser hierfür erforderliche Code wurde in Form eines Audiosignals über den Twitteraccount von Call of Duty veröffentlicht. Ihr müsst nun dieses Signal anhören und die Töne in der richtigen Reihenfolge eingeben. Diese Eingabe erfolgt über die Ascii-Felder auf der rechten Seite. Sie sehen aus wie eine Art 3-D-Klumpen, der in mehrere Flächen unterteilt ist. Jede Seite bzw. Fläche besteht aus einer Zahl oder einem Sonderzeichen (#,*..) und kann durch drehen an die richtige Stelle angeklickt werden. So erfolgt die Eingabe. Ihr müsst nun folgenden Code eingeben: * 1 9 8 4 #. Nach der Eingabe wird ein Kurze Clip angespielt, indem ein paar fliegende Helikopter zu sehen sind.
OBLIVION (Objective 4)
Hier öffnet sich ein Fenster, in dem der Globus dargestellt wird. Ihr müsst dort dann Verdansk raussuchen. Dreht den Globus auf Russland. Wenn ihr Verdansk richtig bestimmt habt, dann öffnet sich in einem weiteren Fenster der Teaser zum kommenden Maptrailer. Klickt dann auf Report Location und ihr hab Objective 4 Abgeschlossen.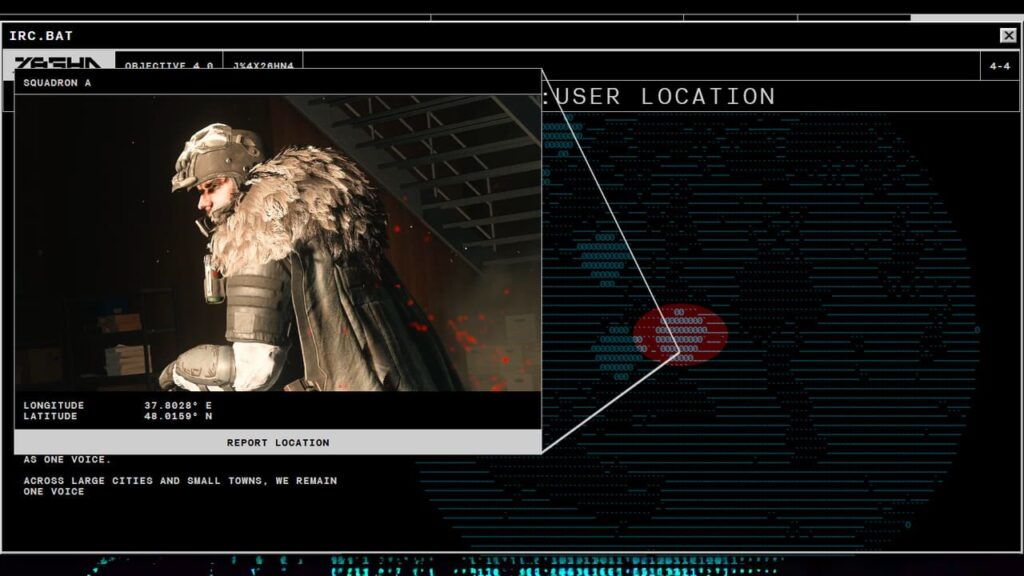 PARADIGM (Objective 3)

Hier müsst ihr nach der Eingabe des Codes, wenn sich das neue Fenster öffnet, die Leertaste oder Maus gedrückt halten, damit sich das Bild aufbaut. Auch die Eingabe eine Captcha ist erforderlich. Sobald sich das Gulagbild aufgebaut hat, ist Objective 3 abgeschlossen.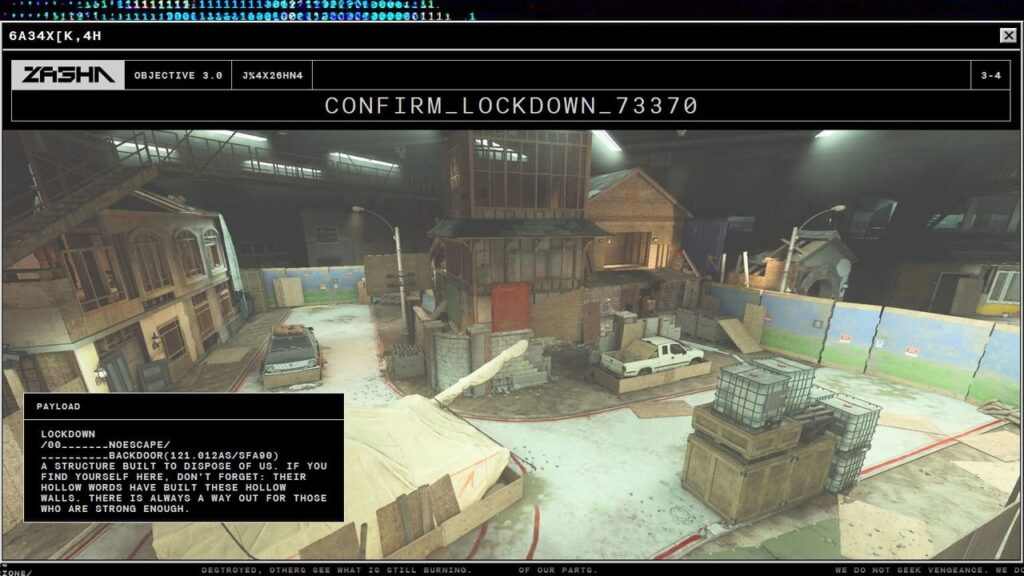 GUARDIAN (Objective 2)
Dieser Code erlaubt es euch, ein Capture eures Gesichts zu machen, ihr habt aber auch eine Opt-out-Möglichkeit. Klickt dann auf Capture und dreht den Kopf in die verschiedenen vorgegebenen Richtungen. Danach könnt ihr euren Namen eingeben und die Aufnahme herunterladen. Damit habt ihr Objective 2 abgeschlossen.
Nach Abschluss der vier Objectives könnt ihr den letzten Code eingeben. Bei diesem handelt es sich um
ATLANTIS
Nach der Eingabe des letzten Codes öffnet sich ein Fenster mit einem Timer.