CoD: Warzone | Season 2 Update 1.53 steht bereit | Patch Notes & alle wichtigen Infos
Heute startet Season 2 in "Call of Duty: Vanguard und Warzone". Während SHG bereits in der vergangenen Woche das notwendige Inhaltsupdate ausgerollt hat, wurde der Patch für "Warzone" erst heute von Raven Software bereitgstellt. Update 1.53 bringt neue Areale für die Karte Caldera, neue Features und eine Menge Fehlerkorrekturen für "Call of Duty: Warzone und Modern Warfare". Nachfolgend haben wir für euch eine Übersicht mit allen wichtigen Informationen zum Season 2 Patch. Die Downloadgröße von Update 1.53 beträgt 14.139 GB auf Playstation und dürfte auf Xbox und PC ähnlich groß ausfallen.
Warzone – Season 2 – Update 1.53 – Patch Notes
Für Warzone bringt das Update 1.53 neue Features, neue Modes, neue Areale zum Erkunden und eine Vielzahl an Fehlerkorrekturen und einiges mehr.
Search and Deploy
Die Produktionsquelle von Nebula V wurde identifiziert. Operators müssen das Gebiet auf eigene Gefahr infiltrieren.
Das Event ist in verschiedene Phasen unterteilt, die über die kommenden Wochen stattfinden werden. Zum Start könnt ihr folgendes erwarten.
Der neue Modus Caldera Clash – Limited-time Mode
Erkundbare POIs wie die Chemical Factory und verschiedene Untergrund  Chemielabore zur Herstellung von Nebula V
K.I. Gegner, welche die neuen POIs beschützen
Neue Gameplay-Elemente wie die Portable Decontamination Station und Nebula V Muntion.
Neue Features:
Nebula V Munition und Bomben schaffen neue Offensivtaktiken, während tragbare Dekontaminationsstationen vorübergehende Zuflucht bieten. Außerdem könnt ihr mit Redeploy Ballons und Bomberflugzeugen in die Lüfte steigen.
Nebula V Bomben und Munnition
Nebula V ist für größere Bewaffnung gedacht, kann aber für Kleinwaffenmunition und Bomben verwendet werden, die beide in äußerst geringen Mengen in der Umgebung von Caldera zu finden sind.
Munnition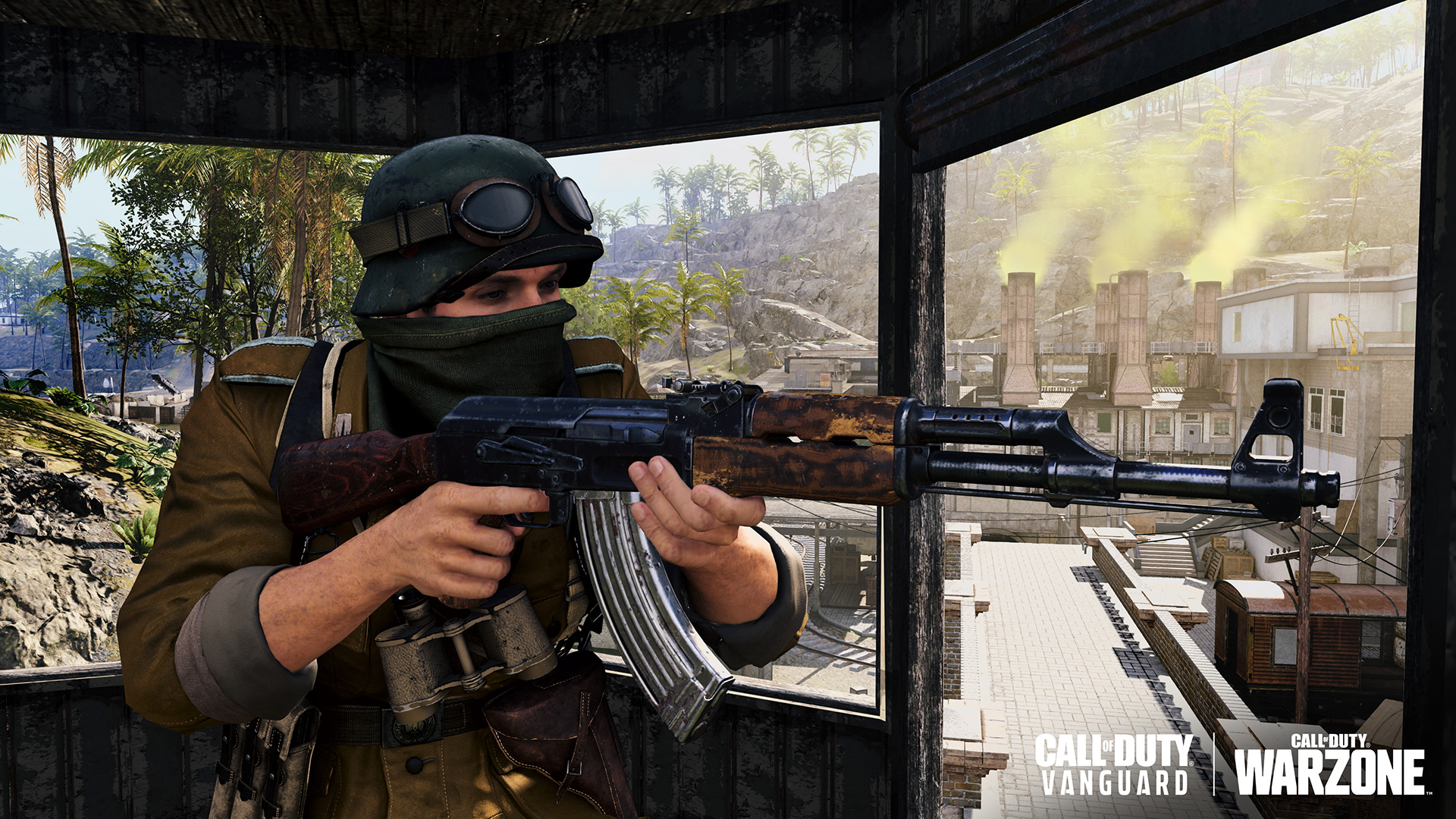 Die Munition ist als Feldausrüstung klassifiziert. Nebula V Munnition ist zwar nicht stärker als eure Standard Munition, bringen aber dennoch einen Vorteil: Wenn ein Operator von ihnen ausgeschaltet wird, stoßen sie eine giftige Gaswolke aus. Jeder, der in der Nähe des getroffenen Spielers steht, wird von dieser Gaswolke vergiftet. Passt also auf, wenn ihr eure Mates wiederbeleben wollt, dass ihr euch dem Gas nicht zu lange aussetzt, denn es hat die gleiche Wirkung wie das Gas des Kreiskollaps.  Bei Verwendung der Feldausrüstung wird ein komplettes Magazin mit der Munition ausgetauscht. Insbesondere Waffen mit großen Magazinen sind ideal für die neue Feldausrüstung.
Nebula V Bomben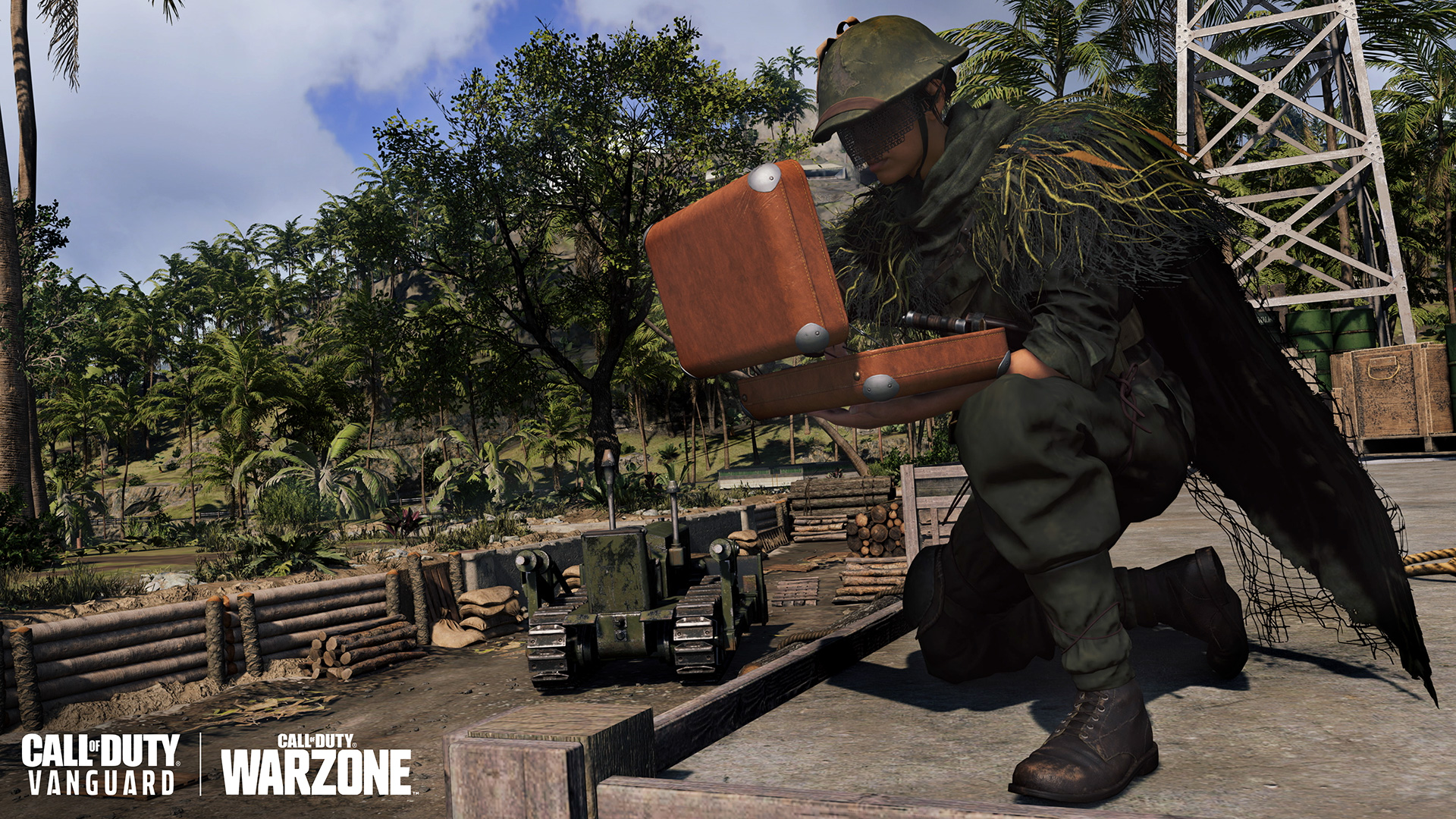 Nebula V Bomben zählen zu den eher selteneren Gegenständen in Warzone. Die Bombe befindet sich in einer verschlossenen Aktentasche und bei ihrer Detonation setzt sie tödliches Gas frei.
Sobald ihr die Bombe aktiviert und platziert habt, detoniert sie nach einem festen Countdown und kann nicht mehr entschärft oder zerstört werden. Die anfängliche Explosion verursacht einen großen Schaden innerhalb eines kleinen Radius, bevor sich das Gas dann nach außen ausbreitet, wo es jedem Operator ohne Gasmaske schaden zufügt. Das Gas verweilt zwei Minuten, bevor es sich schließlich auflöst Teil des Kreiskollaps Gas wird. Ähnlich wie dem Gas aus dem Kreis, könnt ihr auch dem Gas der Bomben entkommen, wenn ihr schnell genug seid.
Portable Dekontamination Stationen (P.D.S.)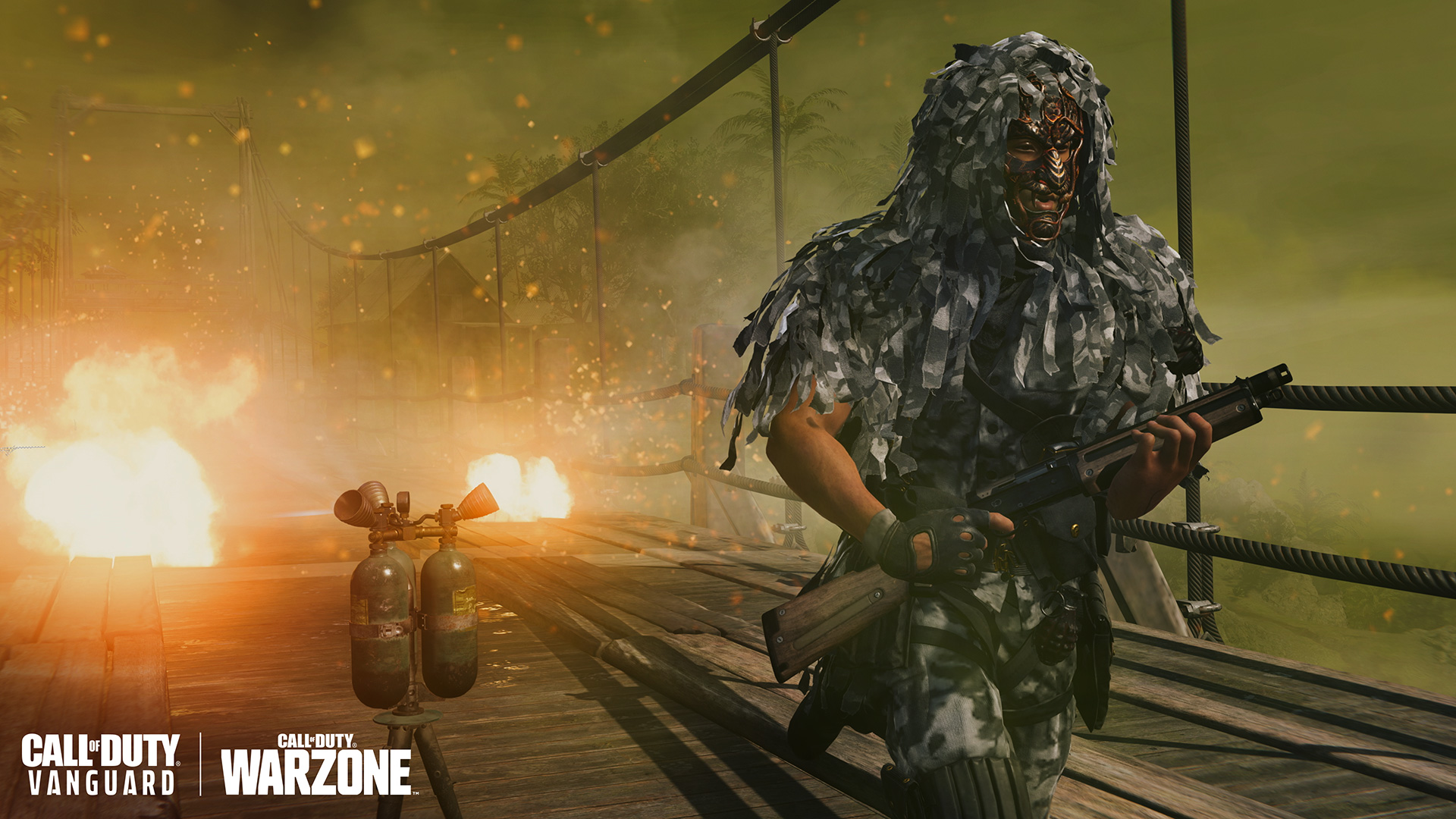 Diese tragbaren Stationen sind der Konterpart für die Nebula V Bomben und werden ebenfalls als Feldausrüstung klassifiziert. Darüber hinaus können sie auf im Kreiskollaps genutzt werden. Mit dem tragbaren Gerät könnt ihr mehrere Sekunden lang die Luft filtern und euch so innerhalb des Gases schützen. Allerdings werdet ihr auf der Tac-Map sichtbar für alle sein, sobald ihr das Gerät benutzt. Bleibt also nicht zu lange an einem Standpunkt.
Gepanzerte Transport Trucks — Ominous Nebula V Machines of Destruction

Diese Trucks werden von den Achsenmächten zum Transport von Nebula V verwendet. Sie fahren über die gesamte Insel auf vorgegebenen Routen und nehmen euch mit ihren beiden schweren MGs unter Beschuss. Ebenfalls lassen sie Mienen hinter sich fallen, die ihr ebenfalls meiden solltet. Wenn ihr einen solchen Transporter zerstört, erwartet euch eine Menge wertvolles Loot. Darunter auch die Nebula V Bombe.
Neue Areale und POI mit Update 1.52
Erkundet die Chemiefabrik und die unterirdischen Forschungslabore für chemische Waffen und haltet Ausschau nach gepanzerten Transportmitteln. Darüber hinaus gibt es auch neue Sehenswürdigkeiten auf Caldera und Soldaten der Achsenmächte patrouillieren den neuen Gebieten und sind in Fahrzeugen auf der ganzen Insel verteilt zu finden. Wenn ihr sie besiegt, gewährt euch das mächtige Belohnungen.
Chemifabrik

Die Raffinerie zwischen den Minen und Docks, die einst Phosphat produzierte, wurde umfunktioniert und ist jetzt eine neu errichtete Anlage, die Nebula V ausspeit. Die neue Chemiefabrik hat ein ähnliches Layout wie der Standort, den sie ersetzt. Allerdings gibt es auch einige nennenswerte Unterschiede, wie unter anderem die feindlichen Soldaten, welche die Anlage beschützen, und eine Falle, die im zentralen Gebäude aufgestellt wurde. Es gibt zudem weitere Innenräume zu erkunden, von der Hauptfabrikhalle bis zu Wachtürmen mit beeindruckenden Sichtachsen über die Anlage und ihre Umgebung. Der Fluss hat sich durch Abfallnebenprodukte von Nebula V in grün verfärbt, aber es ist völlig harmlos. Der Ort birkt eine menge hochwertiges Loot für euch.
Unterirdische Forschungslabore

Die Achsenmächte haben Aufklärungsdaten zu folge sieben Forschungslabore auf der ganzen Insel betrieben. Diese sind versteckt unter der Erde und werden von kleineren Soldaten Trupps bewacht. Vermutlich findet ihr ein paar Zugänge bei den Bunkerluken, die wir euch bereits im vergangenen Jahr gezeigt haben. Nach dem Update werden sie auch mit gelben Kreisen auf der Tac-Map gekennzeichnet sein.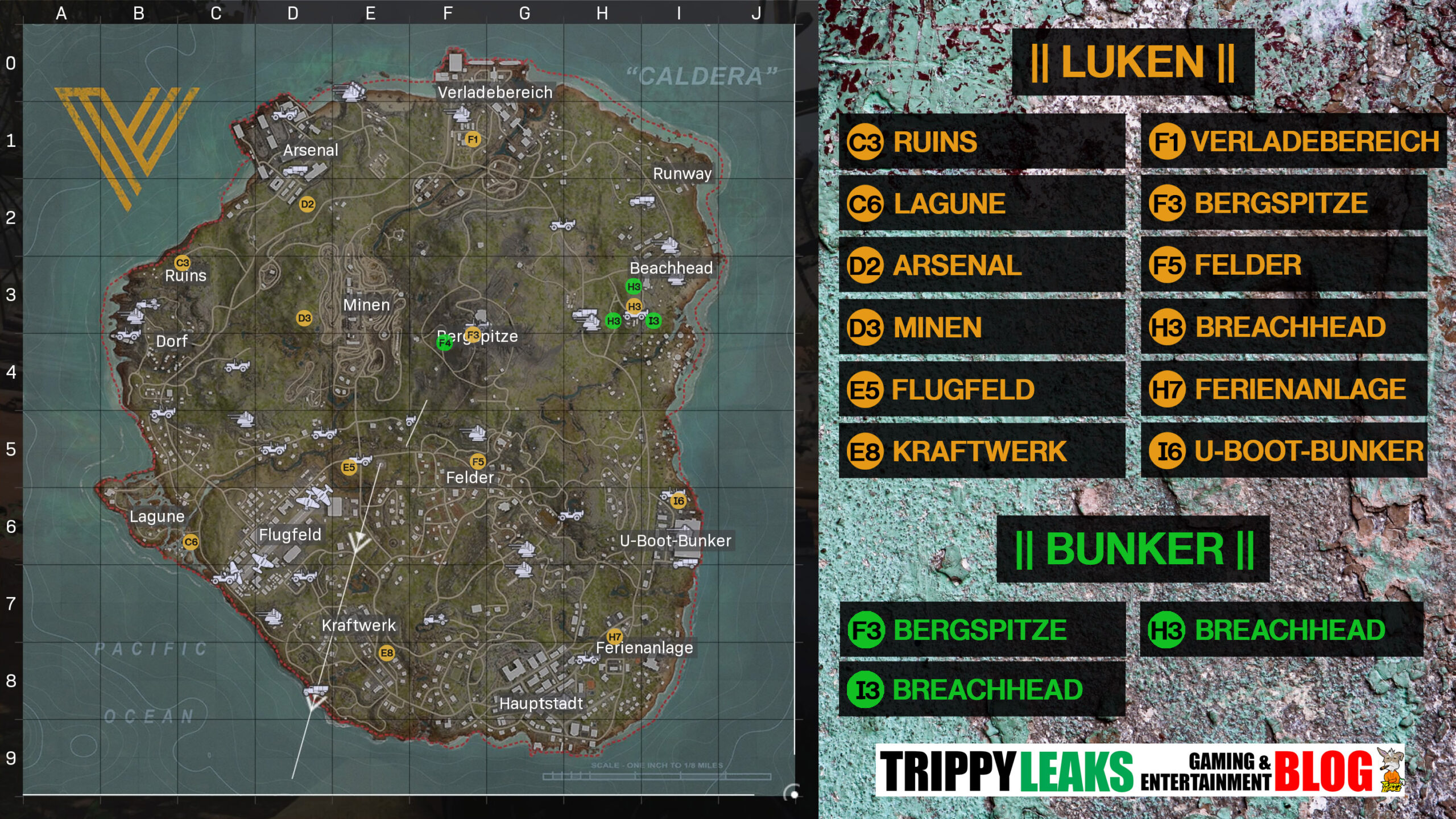 Da es nur einen Weg in diese Einrichtungen gibt, sollte euer Trupp besser einen Fluchtplan haben.
Neue Fortbewegungsmittel
Zudem werden Bomber und Ballons hinzugefügt.
Bomber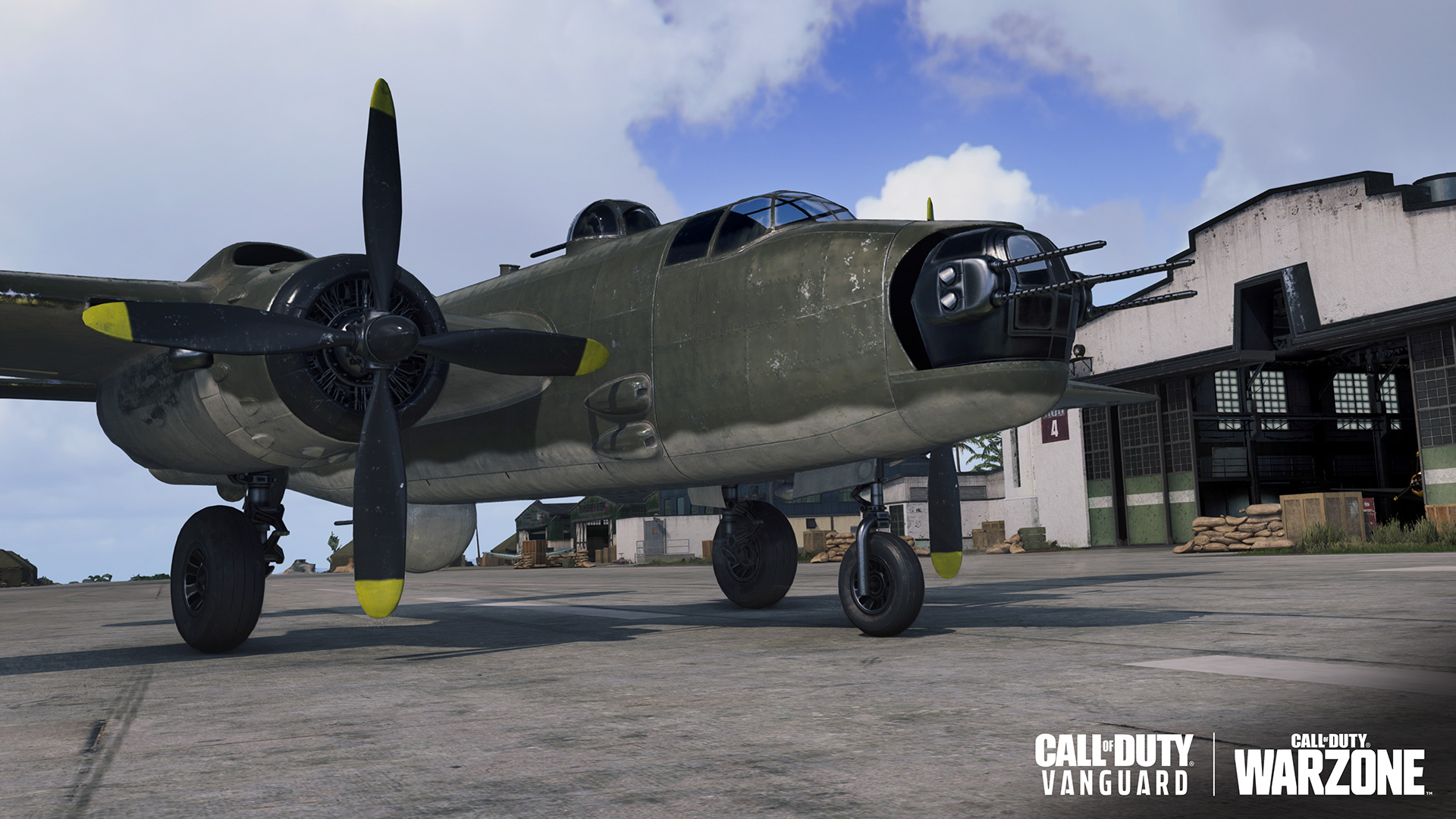 Bomber sind das zweite Luftfahrzeug in Vanguard Royale und mit Ihnen seid ihr in der Lage, Luft und Bodenfahrzeuge sowie Loadout-Drops zu zerstören. Um euch gegen die neuen Bomber zur Wehr zu setzten, stehen euch die Kampfflugzeuge sowie stationäre und auf LKWs montierte Flaks zur Verfügung. Mit dem Patch werden übrigens auch Balancing-Anpassungen an der Gesundheit von Flugzeugen vorgenommen, wodurch sie leichter abgeschossen werden können.
Redeploy Balloon

Der Redeploy-Ballon wird auf der Tac-Karte als Blimp-Symbol angezeigt und ist ein Ticket zurück in die Luft. Sie ermöglichen euch eine Neupositionierung – Tausende von Metern von eurem aktuellen Standort. Ihr könnt über eine am Ballon befestigte Seilrutsche zur Spitze des Ballons aufsteigen, dann an der Spitze abspringen und euren Fallschirm einsetzen, um große Entfernungen zurückzulegen. Flugzeuge oder Waffen können den Redeploy-Ballon allerdings zerstören. Darüber hinaus entleert sich der Ballon auch und sinkt zu Boden. Aber ihr könnt den Ballon für ein paar hundert Dollar wieder betanken.
Neue Modi
Zum Start der Saison wird der Modus Caldera Clash hinzugefügt. Später follgt Rebirth Reinforced in der Mid-Season.
Caldera Clash
Bei Clash handelt es sich um eine neue Variante von Clash of Verdansk 84 und Warzone Rumble. Hier tretet ihr im Team Deathmatch gegeneinander an im 48v48. Die Teams sind in kleinere Squads unterteilt.  Ihr könnt mit eurem Custom Loadout spielen und immer wieder einsteigen, wenn ihr mal eliminiert worden seid.  Der Modus bietet zudem drei Power-Ups : Aufträge, Kaufstationen, die Events "Herrschaft erobern" und "Hochwertiges Ziel" und andere Features aus dem ursprünglichen Clash sowie zwei neue Events: Zonen mit doppelten Punkten und Kisten mit Bonuspunkten. Diese können einem Team helfen, das Kill-Defizit auszugleichen und sich den Sieg zu holen.
Rebirth Iron Trials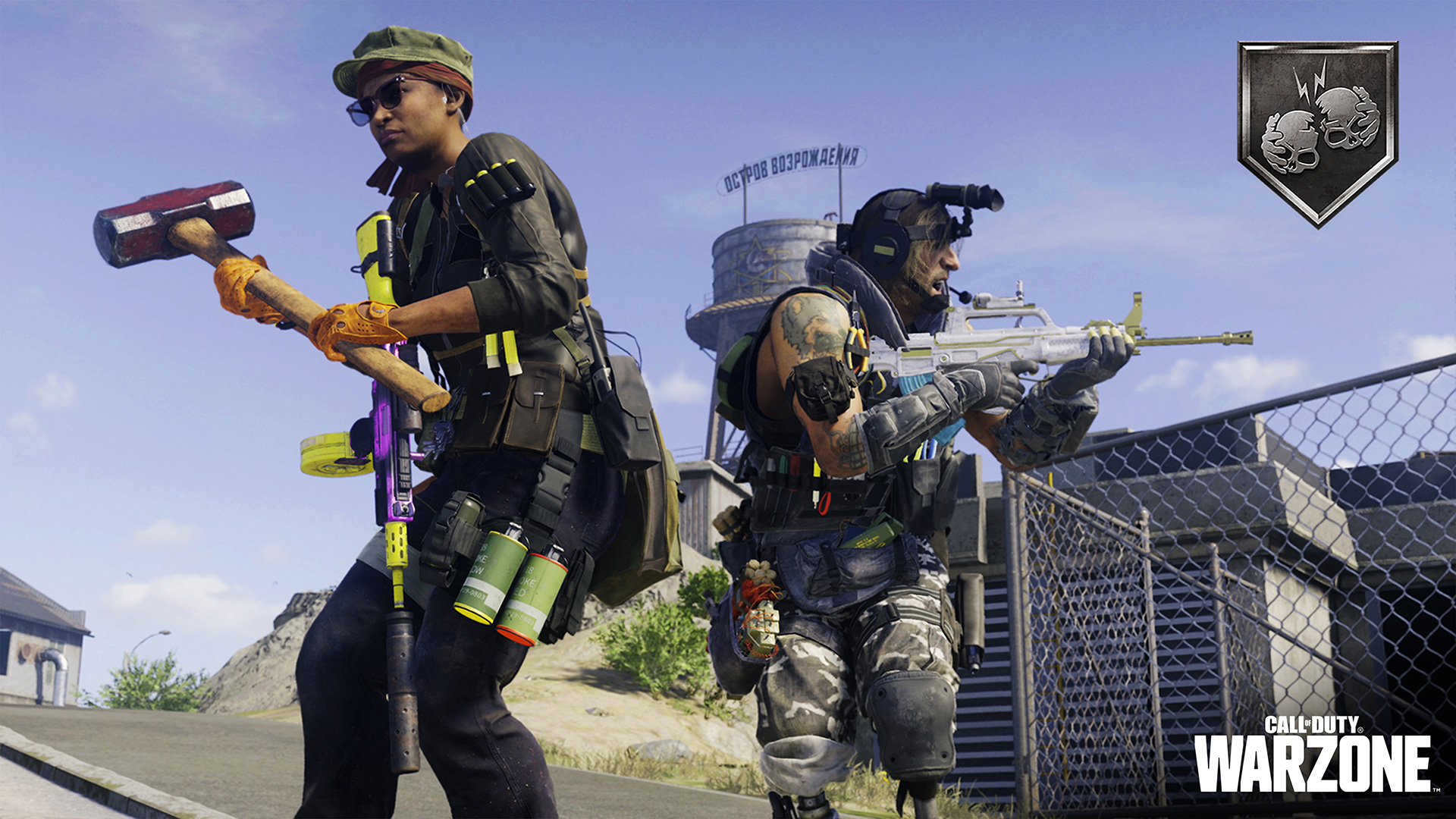 Wie schon das ursprüngliche Verdansk Iron Trials erwartet euch auch hier ein angepasster Battle Royale Modus, ausgelegt auf den Wettbewerb. Unter anderem wird die TTK (Time To Kill) wieder angepasst sein. In dem Modus spielt ihr im 2ER Trupp. Insgesamt treten 20 Trupps gegeneinander an. Die Geschwindigkeit des Kreiskollaps ist ebenfalls wie ihr es aus dem Veransk 84 Iron Trials Modus noch kennt.
Neue Waffen, Operator in Update 1.53
In "Call of Duty: Warzone" dürft ihr euch zudem auf eine neue Taskforce, bestehend aus drei Operatoren sowie vier neuen Waffen mit Update 1.53 freuen. Darüber hinaus startet auch ein neues Event. Stellt euch außerdem mit dem Mid-Season Update auf einige Anpassungen an der Rebirth Island Karte ein.
Bei der neuen Taskforce handelt es sich um die eingangs erwähnte Yeti Taskforce. Ihre Mitglieder sind: Anna Drake (zum Start verfügbar), Thomas Bolt (In-Season) und Gustavo Dos Santos (In Season).
Bei den vier neuen Waffen handelt es sich um:
KG M40: Assault Rifle (Launch) Im Battle Pass Stufe 15
Whitley: LMG (Launch) Im Battle Pass Stufe 31
Ice Axe (In-Season): Nahkampfwaffe
Armaguerra 43: (In-Season) SMG mit hoher Feuerrate
Diverse Fehlerkorrekturen und Verbesserungen in Update 1.53
Mit Update 1.53 gibt es auch diverse Fehlerkorrekturen und Verbesserungen für "Call of Duty: Warzone und Modern Warfare" . Zu den wichtigsten zählen:
Traversal – Verbesserungen – Erhöhte kletterhöhe und Kollisionsbehebungen.
Gasmaske – Durc Animation wird das Zielen über die Zielvorrichtung nicht länger unterbrochen.
Rüstungsplatten – Bevor beschädigte Platten ersetzt werden, werden zuerst vollständige Platten eingesetzt.
Fahrzeuge – Bessere Handhabung und Verringerung der Kollision mit der Weltgeometrie.
Fallschirmverbesserungen – Einschließlich der Möglichkeit, sie in einer geringeren Höhe einzusetzen.
Einschränkungen – Totenstille und Betäubungsgranaten werden aus Vanguard Royale entfernt.
Betäubt Fix – Zielhilfe skaliert jetzt angemessen. Erhöht die Stärke der Zielhilfe nicht.
Nerfs – Kampfflugzeuge und Benzinkanister.
Buffs – Luftabwehrkanonen.
Letzter Kreis – Es ist weniger wahrscheinlich, dass er auf dem Höhepunkt endet.
Downed – Kann den Wiederbelebungszustand kontrollieren – Liegend vs. Hockend
Gasmasken – Drop-Fähigkeit
Rüstung – Pick-Up von anderen Rüstungskisten
Performance – Leistungs- und Streaming-Probleme, einschließlich einfrieren des Spiels an der Buy Station, Voice-Chat-Konnektivität und verzerrte Grafiken auf allen Plattformen.
Operatoren – Bestimmte Operator-Skins sind von bestimmten Entfernungen aus unsichtbar.
Modern Warfare – Probleme mit dem Multiplayer.
Waffen XP Verdienstrate erhöht
Vanguard Waffen können als Custom Mod im Klasseneditor abgespeichert werden
Update der 5 Voreingestellten Loadouts
Cash Drop erhöht
Mehr dazu in den vollständigen Patch Notes von Warzone  Update 1.53:
Nachfolgend findet ihr die vollständigen Patch Notes zu Update 1.53 in "Call of Duty: Warzone".
Battle Royale Adjustments

We're stripping Battle Royale down and moving back to basics for Season Two. We want Battle Royale and Vanguard Royale to each have their own distinct identities. To achieve this, we are focusing-in on what makes these rulesets unique… the tools we provide our players, the pacing, the objectives, etc.

Here is an overview of the changes Players can expect to see:

Public Events

The Public Events that will be in rotation for selection are:

Supply Choppers
Fire Sale
Jailbreak
No Public Events will activate during the infil sequence

Contracts

The Contracts that will be in rotation during matches are:

Recon
Bounty
Most Wanted
Scavenger
Supply Run

Loot

Economy rebalance
Ground Weapons update

Vanguard Royale Adjustments

We've been really happy with the response and feedback to Vanguard Royale, with a lot of the sentiment emphasizing how the mode feels fresh and different from the core Battle Royale experience. With that said, we want to go all in on these differentiators and spread the two modes out to offer more variety in how Players choose to experience Warzone.

Loadout Drops

Expedited the first Loadout Drop event from the start of the 2nd Circle to when the 1st Circle begins to close in Vanguard Royale only.
No Stun Grenades in Loadouts (restricted)
Thermites allowed in Loadouts (unrestricted)

Public Events

The duration of Fire Sale has been reduced
In rotation:
Jailbreak

Resurgence
Restock
Cash Drops
Heavy Weapon Drops

Loot

Dead Silence removed from ground loot
Stun Grenades removed from ground loot
Thermites added to ground loot
UAVs added to Ground Loot
Economy rebalance
Ground weapons rebalance

UAV Changes

UAVs removed from the Buy Station
UAVs are available as Contract Rewards

Gameplay

New Features

Redeploy Balloon

These enable Players to reposition themselves tactically to traverse to new areas. These can be destroyed or repaired for a minor fee. Side note, we recommend steering clear if you're flying nearby.

NPC Defensive Threats

These new A.I. units can be found at various new locations including in the guard towers that surround the new Chemical Factory and underground labs.

Portable Decontamination Station (P.D.S.)

Stations create a bubble of breathable air when in the gas that lasts 13 seconds. These can be vehicle mounted for new gameplay strategies, but will reveal your map position so use wisely.

Nebula V Rounds

This new ammunition gives players the ability to kill enemies and leave behind a small gas cloud that can be used with any weapon type for multiple interesting combinations.

Armored Convoys (In-Season)

Patrolling Caldera, these Armored Transport Trucks represent a new mobile loot cache opportunity, and are shown on the Tac Map when active.

Nebula V Bombs (In-Season)

One of the rarest items in Warzone, this is a locked briefcase full of deadly gas with an explosive charge. This bomb will detonate after a fixed countdown and cannot be disarmed or destroyed. Its initial explosion deals a high amount of damage in a small radius before the gas spreads outward, where it will hurt any Operator without a Gas Mask. The gas lingers for two minutes before ultimately dispersing or feeding into the oncoming Circle Collapse.

New Vehicle

Bomber Planes

Take to the skies in this new ultimate, armored squad vehicle.

Bomber Planes

Take to the skies in this new ultimate, armored squad vehicle.

General

Weapons that spawn across Caldera have been adjusted for the following…

Ground loot
Supply Box loot
Contract rewards

Dead Silence is now classified as "Legendary" orange loot.

Update to several modes (Battle Royale, Vanguard Royale, Plunder, Vanguard Plunder) that rebalances the amount of ground loot and caches that spawn, as well as decreasing the size of Plunder cash piles across those Modes.

The final circle in Battle Royale modes is now much less likely to end on Caldera's peak.

Gameplay Adjustments

Aim Assist

While stunned on controller, aim assist will now scale appropriately and will not cause unintended increase of aim assist strength

Armor Plating

Armor Plates will now prioritize refilling 1 full plate of armor before filling partially damaged plates

Ascenders

Players can now exit an Ascender with the Jump Button
Added a prompt to exit an Ascender while Ascending

Gas Mask

Gas Masks will no longer be auto-equipped when aiming down sights
Whilst the Gas Mask will still deplete in ADS, the animation will no longer interrupt and will wait for the player to go back to hip-fire before equipping
Players will take damage as normal while they are in ADS without their Gas Mask equipped.

Gasoline Canister

Will no longer detonate when hit by a Stun grenade
Can now be thrown through glass windows
Players are less likely to accidentally pick them up
Kill damage zone is reduced with the addition of fall-off damage

Gulag

Footsteps of spectators are less audible. Further improvements will be made here into the season.

Mantling & Traversal

Increased mantle height for improved vertical navigation and traversal
Various map improvements to aid traversal and player leading.
Various improvements to visuals and texture streaming when traversing on consoles.

Parachutes

Are now the same speed going forwards as it was going sideways.
Can now be pulled at a lower vertical height.
Can now be pulled sooner after exiting the infil plane.
Can now be cut when closer to the ground.

Vehicle Adjustments

General

Reduced or in some instances removed collisions on various world assets to improve ground vehicle traversal

Fighter Plane

Health has been slightly reduced
Weapon damage has been reduced
Fighter Planes are no longer able to auto-target skydiving Players
Collision has been adjusted to alleviate instant death in some circumstances

Anti-Aircraft Gun

Flak damage range increased
All heat is cleared once the overheat has cooled down
Heat dissipation rate has been increased

Squad Transport

Improved handling, speed, and off-road performance

Utility Truck

Improved speed, handling, and able to climb steeper inclines

UI/UX

Updates to the "Play" tab have made it possible for the 'Rebirth Resurgence' game mode to now use the squad size drop down box for improved convenience.

The prompt for dropping a single armor plate now says "Drop Single" instead of "Drop Stack".

The pause screen now displays any running events, this can be clicked through to display a summary of the event.

The moving Tram in the Capital is now shown on the Tac Map for situational awareness.

Show Controls and fading behavior has now been added on to the HUD on all Warzone vehicles.

You can disable this in the options menu, this new option is located in Interface > HUD > Always Show Vehicle Controls.

Added Pitch up and Pitch down key binds for the airplane.

These new keybinds are located in Keyboard & Mouse > Killstreaks & Vehicles > Airplane Keybinds.

In-match splash screens/messages have been disabled for Spectators.

Bugfixes

Fixed collision issues with various elements across Caldera allowing Players to exploit/peek/shoot through them.

Fixed various issues related to console texture streaming.

Fixed various issues causing crashes on across platforms.

Fixed an issue causing inconsistent voice chat connectivity.

Fixed an issue causing corrupted graphics across platforms.

Fixed an issue causing some Operator skins to appear invisible at a distance.

Fixed a timing issue where swapping between guns while looting a gun would replace the wrong gun in a players inventory.

Fixed an issue that would sometimes prevent the Loadout Drop Event from occurring during the 6th Circle of the Battle Royale game mode.

Note: the 2nd Loadout Drop Event has also now been moved into the 5th Circle.

Fixed an issue causing the HUD to show that a Player returned from the Gulag with fists when they actually had a Weapon.

Fixed an issue that allowed Players to return from the Gulag with the full Loadout.

Fixed an issue preventing the Assault Rifle Charlie's (VG) Chariot 18" Rapid barrel from properly adjusting Recoil behavior.

Fixed an issue preventing the Sten (VG) from exhibiting its intended Recoil behavior.

Fixed an issue preventing the Light Machine Gun Charlie (VG) from exhibiting its intended Recoil behavior.

Fixed an issue preventing the DP27 (VG) from exhibiting its intended Recoil behavior.

Fixed an issue preventing the Welgun's (VG) GW 02 and GW 03 iron sights from appearing in the Gunsmith.

Fixed an issue preventing Sawtooth (VG) Camos from appearing in the Gunsmith.

Fixed an issue with the RATT's (VG) .45 ACP 12 Round Mags where it was not properly calculating changes to Damage.

Fixed an issue with the RATT's (VG) 7.62 Gorenko 14 Rounds Mags where it was not properly calculating changes to Damage.

Fixed an issue where the Assault Rifle Charlie's (VG) Cooper 21" Scythe Barrel was incorrectly increasing damage to the head and decreasing damage to the body.

Fixed an issue that corrects the orientation of the Combat Shield when it spawns out of a loot chest.

Fixed an issue causing Weapon Loot Cards to display an incorrect number of attachments for some Vanguard weapons.

Fixed multiple issues where it would show social contacts playing the wrong title.

Fixed an issue where invert mouse look for keyboard and mouse on console did not work.

Fixed an issue where Dynamic Resolution Framerate Target was not displaying the appropriate value.
Fixed an issue resulting in some Players experiencing on keyboard and mouse after making a purchase at a Buy Station.
---
---

---
Stay in touch
---
Weitere Leaks, Patch Notes,  Infos sowie Tipps und Tricks zum Spiel findet ihr in unserer Themenübersicht (hier klicken). Folgt uns gerne auf Facebook, Instagram und Twitter, um künftig keine News mehr zu verpassen. Wer auf der Suche nach einer Community ist, kann gerne in unserer Facebook Partnergruppe "Call of Duty Germany" vorbeischauen. Hier findet ihr Hilfestellungen, neue Mitspieler und vieles mehr. Wir suchen außerdem Content Creator (M/W) und Sprecher*inen für künftige Projekte. Wer Teil des Trippy Leaks Network werden möchte, kann sich gerne bei uns melden (hier klic