The Division 2: Neuer Modus, neue Features & mehr mit dem Mai Update
Nachdem der neue Modus bereits seit einigen Wochen auf den PTS spielbar ist, folgt in Kürze das Update für die Live Server. Der Patch wird am 12. Mai 2022 mit dem Start von Season 9 zusammen mit weiteren Inhalten und Features für "Tom Clancy's The Division 2" bereitstehen. Hinweis: Saison 9: Verborgene Allianz ist für alle verfügbar, die im Besitz von "The Division 2 Die Warlords von New York" sind. Im nachfolgenden haben wir für euch alle wichtigen Informationen zu den Inhalten in der Übersicht.
Trailer
Übersichts-Trailer Saison 9 - "Verborgene Allianz": Tom Clancy's The Division 2 | Ubisoft [DE]
​Ein neuer Feind taucht in Saison 9 auf: 
Die neue Saison setzt die Geschichte von The Division fort und bringt euch zurück zu den Nachwirkungen eueres Einsatzes gegen einen ehemaligen Kommandeur der Division, der zum Verräter wurde. Ein neues Ziel, Captain Lewis, läuft frei umher und die Division muss Informationen sammeln und vier hochrangige True Sons ausschalten, bevor sie sich Captain Lewis stellen kann. Saison 9 ist eine von drei Saisons, welche planmäßig über das Jahr erscheinen werden.
Neuer 8-Spieler Koop Modus "Countdown"
Mit Countdown erwartet euch ein Koop Modus für bis zu acht Spieler. Euer Ziel ist es, ein Kraftwerk  zu stabilisieren und einen Lockdown zu verhindern. Dafür habt ihr nur 15 Minuten Zeit. Ihr werdet in zwei Vierer-Teams eingesetzt, startet an unterschiedlichen Orten auf der Karte und müssen zusammenarbeiten, um die Herausforderung zu meistern.  Ihr werdet dabei mit einigen vertrauten Gegnern konfrontiert, die ihr abwehren müsst, um das Kraftwerk zu sichern. Zu guter Letzt müsst ihr dann den Evakuierungshubschrauber rufen, bevor die Zeit abläuft.
Neues Feature "know how"
Season 9 bringt außerdem das neue Feature "Know How" ins Spiel.  Die neue Funktion ermöglicht euch, euere Ausrüstung zu verbessern und Basiswerte wie Schaden, Rüstung und Fertigkeiten aufzuwerten. Um euer "Know How" aufzuwerten, müsst ihr ganz einfach jeden Gegenstand im Spiel benutzen.  Umso mehr unterschiedliche Gegenstände ihr benutzt, umso höher ist euer know How. Durch Know How könnt ihr auch die Basiswerte jedes einzelnen Gegenstandes erhöhen und so eine neue Leistungsgrenze erreichen.
​Neue Waffen und Ausrüstung:
Das Mai Update wird auch eine Vielzahl neuer Gegenstände enthalten, darunter die Heartbreaker-Ausstattungsgarnitur, neue exotische Objekte, neue benannte Objekte und mehr. Außerdem werden zusätzliche Belohnungen für alle mit dem Season 9 Pass angeboten.
Twitch Drops & Graitis Wochenende
Vom 12. Mai bis zum 31. Mai sind alle Twitch-Streamer im The Division 2-Verzeichnis für Twitch-Drops berechtigt. Das bedeutet, dass alle Zuschauer kostenlose Belohnungen erhalten, wenn sie während dieses Zeitraums einen The Division 2-Stream ansehen. Zu den Belohnungen gehören ein Vermächtnis-Behälter, zwei Highend-Behälter und ein exotischer Behälter. Drops gibt es nach jeder Stunde, nach 4 Stunden Zuschauen können alle Drops erhalten werden.
Vom 13. bis zum 15. Mai ist The Division 2 zudem auf den Konsolen Xbox Series X|S und Xbox One, PlayStation 5, PlayStation 4, dem Epic Games Store und Ubisoft Connect auf Windows PC sowie auf Stadia, Luna und Ubisoft+ kostenlos spielbar.
---
MERCH | NEUHEITEN
---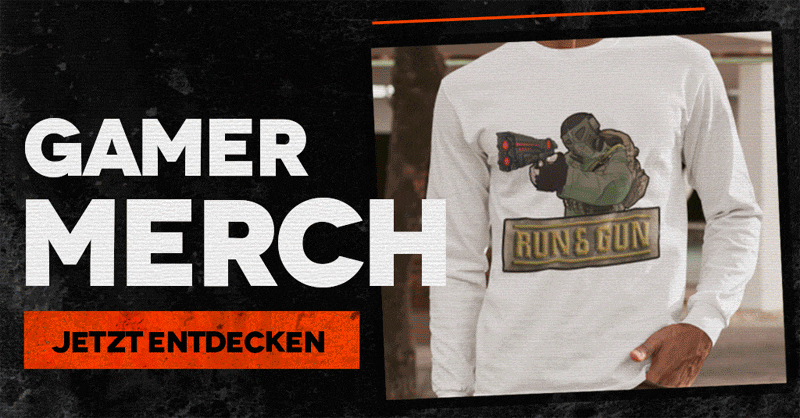 ---
Stay in touch
---
Weitere Leaks, Patch Notes, Infos sowie Tipps und Tricks zum Spiel findet ihr in unserer Themenübersicht (hier klicken). Folgt uns gerne auf Facebook, Instagram und Twitter, um künftig keine News mehr zu verpassen.
---
---

---