PS4 Pro: Hardware Specs, Release, Preis, 4K HDR & Grafik Updates für Spiele
Gestern stellte Sony auf dem Hauseigenen Event in New York die neue Konsole PS4 Pro vor. Die unter dem Projektnamen PS4 Neo entwicklte Konsole ist mit Leistungsstärkerer Hardware versehen.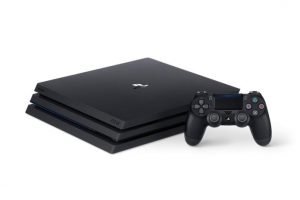 PlayStation 4 Pro – Konsole (1TB) jetzt Vorbestellen
Nachdem es bereits im Vorfeld masßig Informationen zur neuesten Erungenschaft aus dem Hause Sony gab, wurde nun in New York die Leistungsstärkere Konsole mit dem Namen Playstation 4 Pro vorgestellt. Die technisch aufgebohrte PS4 erscheint am 10. November 2016 zum Preis von 399 Euro und richtet sich an Premium Kunden. Neben einer Optimierung für Virtual Reality Spiele sowie der 4K Weidergabe und Upscaling von Spielen wird die neue Revision HDR (High Dynamic Range) unterstützen. Dadurch erwaarten euch Authentischere Farben, eine realistische Darstellung von Licht und Schatten sowie höher aufgelöste Texturen. Natives 4K Gaming wird jedoch nicht möglich sein.

Welche Hardware steckt in der neuen Playststation 4 Pro?
Bereits im Vorfeld tauchten Dokumente zu den Hardware Specs der neuen Konsolenrevision auf. Diese wurden mit der gestrigen Präsentation der PS4 Pro offiziell bestätigt.  Die neue Variante kommt auf eine Leistung von 4,2 Teraflops. Die CPU ist mit 2,1Ghz um 500MHz höher getaktet als die Standard Version. Die Speichergröße bleibt mit 8 GByte RAM unverändert. Zudem erhält die PS4 pro eine 1Terabyte Festplatte. Ein Ultra HD Blu Ray Laufwerk, bzw eine Unterstützung des Formats bleibt jedoch bei der PS4 Pro aus. Die stärkere Leistung hat jedoch auch einen höheren Stromverbrauch. Die PS4 Pro wurde dafür mit einem Größeren Netzteil versehen das bis zu 310 Watt verbraucht. Das Gewicht ist der Konsole ist mit 3,1 Kilogramm angegeben.
Nachfolgend seht ihr die Hardware Änderungen im Überblick
| | PS4 Neo | PS4 Standard | Verbesserungen |
| --- | --- | --- | --- |
| CPU: Jaguar (8 Kerne) | 2,1 GHz | 1,6 GHz | 31,25% |
| GPU | Verbesserte GCN (Polaris?) | AMD GCN | |
| GPU-Shadercluster | 36 Compute Units | 18 Compute Units | 100% |
| Shader-ALUs | 2.304 | 1.152 | 100% |
| GPU-Takt | 911 MHz | 800 MHz | 13,87% |
| Rechenleistung | 4,2 TFLOPs | 1,8 TFLOPs | 130% |
| Speicherbandbreite | 218 GB/s | 176 GB/s | 23,80% |
| Speicherbudget | 5,5 GiB | 5 GiB | 10% |
Base Mode macht PS4 Spiele kompatibel
Alle Spiele, die ab Oktober 2016 veröffentlicht werden, sind sowohl auf der PS4 als auch der PS4 Pro spielbar, jedoch wird die PS4 Pro Versin verbesserte Grafikeigenschaften aufweisen. Titel, die davor veröffentlicht wurden, können durch spätere Updates sowohl optimiert als auch kompatibel gemacht werden. Dies ist allerdings den Entwicklern überlassen.  Für alle Spiele, die nicht mit einem solchen Patch bedacht werden, bietet die neue Konsole einen Kompatibilitätsmodus. Durch den sog. Base Mode werden dann alle PS4 Spiele, die kein Update von Entwicklern erhalten, lauffähig gemacht.
Bislang sind Updates für folgende Spiele vorgesehen:
Deus Ex: Mankind Divided
Uncharted 4
Infamous First Light
Paragon
Shadow of Mordor
Call of Duty: Black Ops 3
The Elder Scrolls Online
Kommende Spiele mit PS4 Pro Unterstützung:
For Honor
Spider-Man (Insomniac)
Rise of the Tomb Raider
Watch Dogs 2
Killing Floor 2
Days Gone
Far Point (VR)
Horizon Zero Dawn
Call of Duty: Infinite Warfare & Modern Warfare Remastered
FIFA 17
Battlefield 1
Mass Effect Andromeda
Tom Clancy's Ghost Recon Wildlands
PlayStation 4 Pro - The Games | PlayStation Meeting 2016
HDR Unterstüztung auch für Ps4 und PS4 Slim
Neben einer höheren Grafikauflösung werden PS4 Pro Spiele künftig dank HDR Unterstüztung eine höhere Farbtiefe erhalten. Aber auch die PS4 Slim und Standard Variante erhalten mit einem Firmware Update HDR Unterstützung . So kommen nicht nur Spieler auf der PS4 Pro, sondern auch auf der alten PS4 und dem neuen Slim-Modell in den genuß von Authentischeren Farben sowie einer realistischern Darstellung von Licht und Schatten.
4K Optimierung
Wie schon durch Sony im Vorfeld enthült wurde, bietet die Konsole 4K Unterstützung für Filme und Streams. Ebenfalls wird das Bild durch Anschluss an ein 4K TV Gerät bei spielen hochskaliert. Die PS4 Pro erkennt das Ausgabe-Gerät eigenständig und nutzt so die idealen Einstellungen für das jeweilige Gerät. Auch Spieler ohne 4K TV Geräte können von der Mehrleistung der neuen Konsole in Form besserer Framerates und Grafik profitieren. Je nach angeschlossenem Display wird die entsprechende Auflösung herauf- oder herunterskaliert.
Die Playstsation Pro erscheint am 10. November 2016 zu einem Preis von 399 Euro und kann absofort unter anderem bei Amazon und Gamestop vorbestellt werden.
PlayStation 4 Pro - Reveal | PlayStation Meeting 2016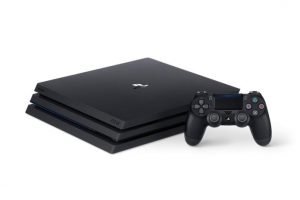 PlayStation 4 Pro – Konsole (1TB) jetzt Vorbestellen