The Division: Update 1.8 mit neuen Modes (PvE, PvP TDM) & mehr; Neuerungen in der Übersicht
In dieser Woche erhält "The Division" das lang erwartete Update 1-8. Dieses bringt euch viele Neuerungen und Fehlerkorrekturen. So dürft ihr euch unter anderem auf ein neues Gebiet, neue Spiel-Modie im PvE und PvP, neue Items mit höhere Stufe und weiteres freuen.
Tom Clancy's The Division - Kostenloses Update 1.8 Widerstand-Launch-Trailer | Ubisoft [DE]
Nachfolgend haben wir die wichtigsten Ändrungen in der Übersicht:
West Piers
Die West Side Piers sind ein völlig neues Gebiet, verteilt auf zwei neue Zonen und zugänglich für alle Spieler. Zuletzt wurde beobachtet, wie sich die besiegten Fraktionen diesem Sektor näherten und es scheint, als würden sie nun zum ersten Mal zusammenarbeiten. Die Division muss das Gebiet untersuchen, um zu überprüfen, ob die Fraktionen tatsächlich eine Allianz schmieden und den Grund für das plötzliche Interesse an diesem Gebiet herausfinden.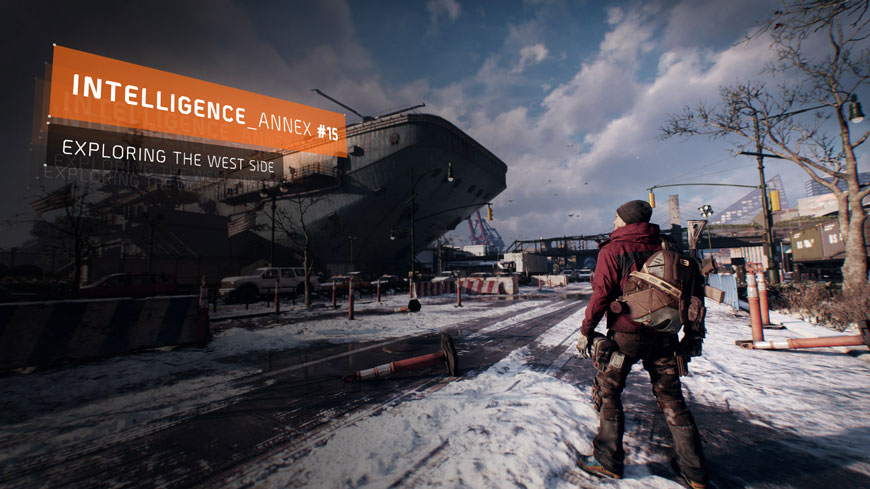 Neue Spielmodes im PvE & PvP
Zusätzlich zu der Vielzahl von Open-World-Aktivitäten, die über die gesamte Karte verteilt sind, wird West Side Piers zwei neue Spielmodi bereithalten:
Widerstand (PvE-Modus) – In Widerstand kooperieren die verschiedenen Fraktionen gegen Division-Agenten. Vier Agenten versuchen so lange wie möglich, in kontinuierlichen Gegner-Wellen zu überleben. Gegner lassen Ressourcen fallen, die entweder zum Aufbau von Verteidigungsanlagen oder zur Erweiterung des Schlachtfeldes verwendet werden können und stellen den Spielern so mehr taktische Optionen zur Verfügung. Die Spieler müssen zusammenarbeiten und die beste Strategie finden, um so viele Gegner-Wellen wie möglich zu überleben und dadurch bessere Belohnungen zu erhalten.Gefecht (PvP-Modus) – In Gefecht treten zwei Teams aus je vier Spielern gegeneinander an, um die höchste Anzahl Kills zu erreichen, bevor die Zeit abläuft. Die Teams erhalten jedes Mal Punkte, wenn ein außer Gefecht gesetzter gegnerischer Spieler eliminiert wurde. Ihr habt dabei Zugang zu drei Arealen. Das Punkte Limit liegt bei 20 Kills. Der Modus nutzt dabei Skillbasiertes Matchmaking.
Neuer Social Hub
Die Agenten von The Division werden sich zudem in einem neuen sozialen Knotenpunkt versammeln. In Camp Clinton können sie sich mit anderen Agenten zusammenschließen und ihre Ausrüstung anpassen, bevor sie den Kampf an den West Side Piers aufnehmen.
Rouge 2.0
Mit Update 1-8 erfolgt außerdem eine Umgestaltung der Abtrünnigen-Mechanik. Gleichzeitig wird aber darauf geachtet, die berüchtigte Umgebung mit hohem Risiko und hoher Belohnung beizubehalten.  Künftig gibt es folgende Anpassungen mit Rouge 2.0
Spieler sollen nicht mehr zufällig abtrünnig werden. Wird ein Spieler in eurem Team abtrünnig, können die anderen nun entscheiden ob sie mitziehen oder verweigern möchten.
Um den Status Manhunt wieder loszuwerden, müsst ihr einen zufälligen Ort auf der Karte in der Dark-Zone erreichen und betreten.
Sowohl Abtrünnige als auch Jäger haben nun die Möglichkeit, Belohnungen freizuschalten.
Besseres Gear & neue Waffen
Weiter wird die Aktualisierung auch Verbesserungen des Ausrüstungssystems mit sich bringen. Diese erlaubt euch, die Werte eurer favorisierten Ausrüstung aufzubessern unter Verwendung von D-Tech. Ebenfalls wird der Gearscore erneut angehoben und neue exotische Waffen hinzugefügt. Ihr könnt nun Ausrüstung in der neuen Tier 5 Stufe finden, die sich im Item-Level zwischen den Werten 256 und 286 bewegt. Eure neuen Sets können euch weit über den Wert von 286 hinaus bringen.
Division Update 1.8 – Widerstand wird morgen Xbox One, Playstation 4 und PC veröffentlicht.