Call of Duty 2019: Eurogamer streut Hinweise auf Modern Warfare 4
Bereits in den vergangenen Wochen und Monaten gab es zahlreiche Leaks zum diesjährigen "Call of Duty" Ableger. Alle sprechen von "Modern Warfare 4" und es gibt viele Gründe die dafür sprechen. Die wohl wichtigsten Fakten die auf "Modern Warfare 4" in diesem Jahr hindeuten, stammen von Activision selbst. In ihrem Investoren Meeting versprachen sie, dass der diesjährige Ableger eine völlig neue Kampagne, eine riesige und weitläufige Multiplayer-Welt und eine Koop-Erfahrung (hier sprechen Leaks vom Survival Modus aus MW3) bieten wird. Zudem hieß es, dass "Call of Duty 2019" mit dem Franchise tief verwurzelt ist.
Darüber hinaus gab es aus dem Entwicklerumfeld in den vergangenen Monaten und Wochen diverse Andeutungen in Social-Mediakanälen wie Reddit und Twiiter, die in Bezug zur "Modern Warfare" Reihe stehen. Auch ist im letzten Jahr ist ein Teil des Original "Infinity Ward" Teams wieder zum Studio zurück gekehrt.
Eurogamer streut Hinweise auf Modern Warfare 4
Nun hat auch die Redaktion von Eurogamer einige Hinweise gestreut, die auf "Modern Warfare 4" hindeuten. Der Blog verfügt über seriöse Quellen in der Branche. Sie haben im Laufe der Jahre zutreffende Angaben zu "Call of Duty" und anderen Activision-Projekten gemacht. In einem neuen Beitrag schreibt das Magazin über das Activision-Event am Wochenende. Bei diesem bekamen einige Football Stars die Gelegenheit, den diesjährigen Ableger anzuspielen. Im Text des Artikels versteckte der Autor ein paar kryptische Hinweise auf CoD 2019, die erst auf den zweiten Blick auffallen.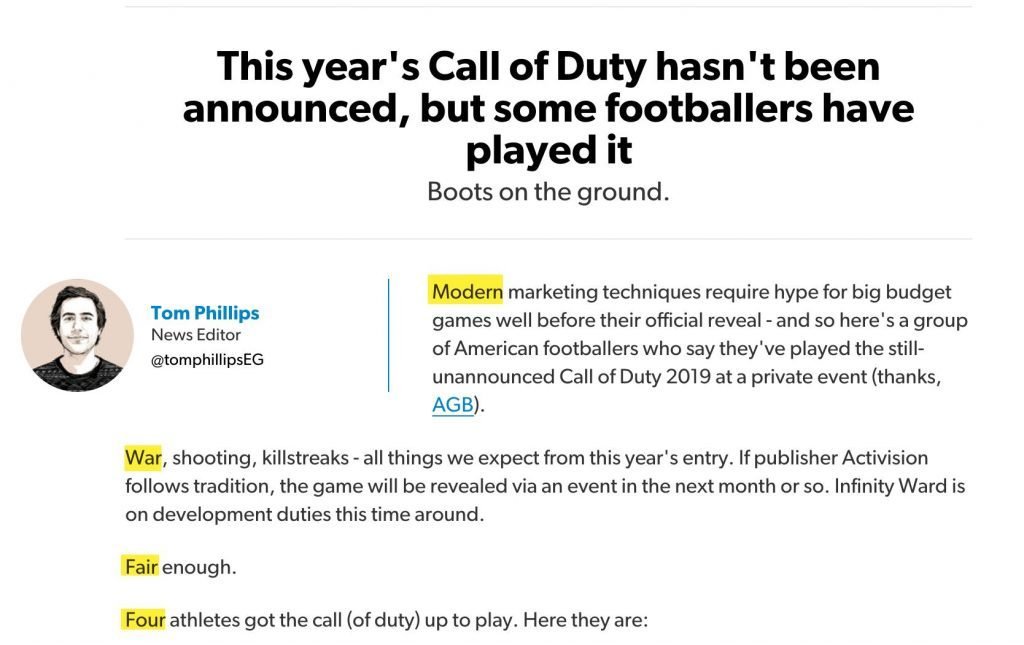 Marcus Mariota – es ist wie die alten Modern Warfare Teile
Marcus Mariota, der Quarterback der Tennessee Titans, welcher zum Event eingeladen war, wurde von einem Zuschauer in seinem letzten Livestream gefragt, welches "Call of Duty" sein Favorit sei. Er Antwortete:
Das originale Modern Warfare, [..} sie haben mich gerade das neue Testen lassen und es ist wie die alten "Modern Warfare" Teile.
Die Enthüllung von "Call of Duty 2019" dürfte im kommenden Monat stattfinden. Bis dahin solltet ihr weiterhin alle geteilten Leaks als Gerüchte betrachten.
Folgt uns gerne auf Facebook und Twitter, um künftig keine News mehr zu verpassen. Wer auf der Suche nach einer Community ist, kann gerne in unserer Facebook Partnergruppe "Call of Duty Germany" vorbeischauen. Hier findet ihr Hilfestellungen, neue Mitspieler und vieles mehr.