CoD 2019: Ex-Naughty-Dog Entwickler haben bei Story mitgewirkt
In diesem Jahr ist das Team von Infinity Ward wieder an der Reihe, dem "Call of Duty" Franchise einen neuen Ableger zu spendieren. Diversen Insiderinformationen und Hinweisen aus den vergangenen Monaten zufolge, deutet vieles darauf hin, dass es sich hierbei um "Modern Warfare 4" handelt. Von offizieller Seite aus wissen wir bereits, dass in diesem Jahr eine Kampagne, eine Koop-Erfahrung (Survival Modus) und ein umfangreicher Multiplayer auf dem Plan stehen. Auch heißt es weiter, dass "Call of Duty 2019" mit dem Franchise tief verwurzelt ist.
Kampagne von Ex Naughty Dog Entwicklern mit entwickelt
Während eines Livestreams am 11. Mai hat das Team von Infinity Ward nun ein wenig über die Arbeiten an der Story gesprochen. Sie teilten mit, dass sie bei den Arbeiten daran von ehemaligen Naughty Dog Entwicklern unterstützt wurden. Unter ihnen auch Taylor Kurosaki, der nach seiner Arbeit bei Naughty Dog (Uncharted, Jak and Daxter, Crash Bandicoot) nun als Narrative Director bei Infinity Ward tätig ist. Gemeinsam mit einer Handvoll weitere Ex-Naughty-Dog Entwicklern habe er eine Menge dazu beigesteuert, die Story auszuarbeiten.
Taylor Kurosaki hatte schon bei den Arbeiten an der Kampagne zu "Call of Duty: Infnite Warfare" eine tragende Rolle gespielt. Während der Titel insgesamt weniger gut in der Community ankam, konnte die Story dennoch viele Kritiker  überzeugen. Es dürfte spannend werden, wohin uns die Kampagne von "Call of Duty 2019" verschlagen wird, insbesondere wenn es sich tatsächlich um "Modern Warfare 4" handelt. Die offizielle Enthüllung des Story-Modus wird voraussichtlich Ende dieses Monats stattfinden und die Vorstellung des Mehrspielermodus ihm Rahmen der E3 2019 Pressekonferenz von Activision.
Was für Modern Warfare 4 spricht
in der Vergangenheit gab es zahlreiche Andeutungen aus dem Entwicklerumfeld, die in Bezug zur "Modern Warfare" Reihe stehen. Des Weiteren ist im letzten Jahr ein Teil des Original "Infinity Ward" Teams wieder zum Studio zurück gekehrt. Vom Kotaku Ressigeuer Jason Schreier, der für seine guten Branchenkontakte bekannt ist, wissen wir, dass "Call of Duty 2019" nicht Ghosts 2 sein wird und auch die Redaktion von Eurogamer streute eindeutige Hinweise mit Bezug zu "Modern Warfare 4".
Modern Warfare 2 Remasterd
Neben der Kampagne gilt auch ein Bundle von "CoD2019" zusammen mit "MW2 Remasterd" als ziemlich sicher. Die Neuauflage wurde bereits im März 2018 von "Amazon Italien" vorzeitig enthüllt. Durch die Redaktion von Eurogamer und auch CharlieINTEL wurde sie ebenfalls bestätigt. Darüber hinaus folgte in diesem Jahr eine Alterseinstufung durch das EU Ratingboard "Pegi". Allerdings wird das Remaster ohne Mehrspielermodus erscheinen.
Folgt uns gerne auf Facebook, Instagram und Twitter, um künftig keine News mehr zu verpassen. Wer auf der Suche nach einer Community ist, kann gerne in unserer Facebook Partnergruppe "Call of Duty Germany" vorbeischauen. Hier findet ihr Hilfestellungen, neue Mitspieler und vieles mehr.
---
Call of Duty Sammelfiguren
Für alle Sammler, schaut gerne bei unseren Partnern von Actionfiguren24 vorbei. Dort findet ihr diverse Figuren aus dem Call of Duty Universum. Unter anderem mit dabei: Soap MacTavish und Simon 'Ghost' Riley aus der Modern Warfare Reihe und viele mehr. Hier geht's zum Shop: Actionfiguren24 *Ad
---
---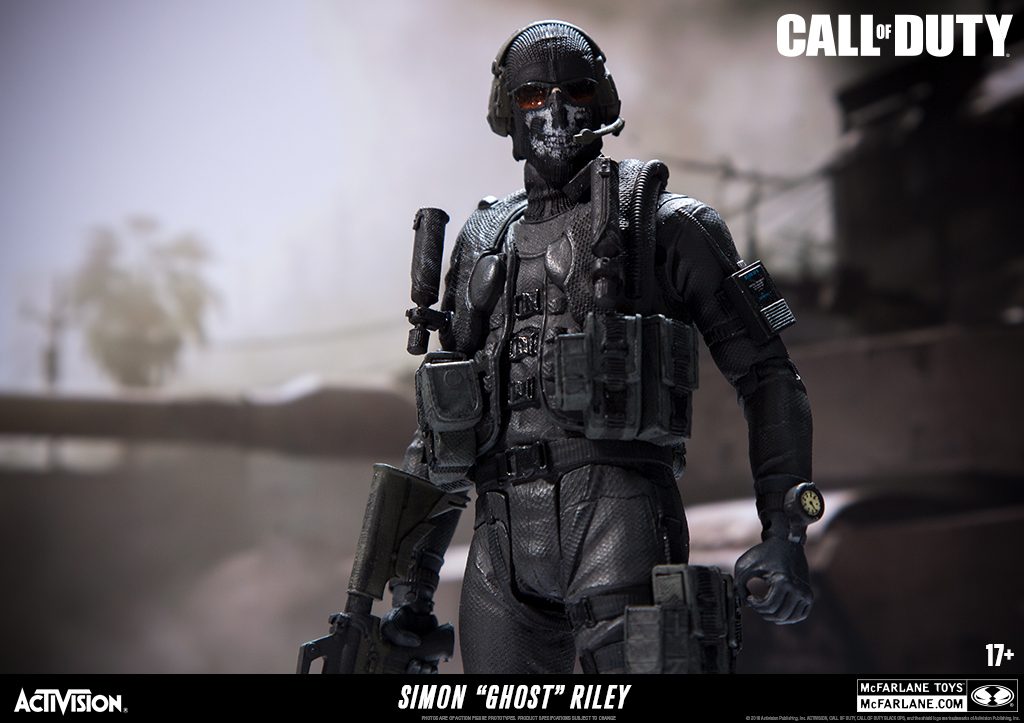 ---