The Division 2: Infos & Story Trailer zu Episode 2
Massive hat heute den Story Trailer zu "Episode 2: Pentagon The Last Castle" für "Tom Clancy's The Division" veröffentlicht. Diese erscheint mit Titel Update 6 am 15. Oktober 2019 für alle Year 1 Pass Besitzer. Spieler ohne Pass müssen sich bis zum 22. Oktober 2019 gedulden, bevor sie die neuen Inhalte spielen können. Euch erwarten mit "Pentagon" und "Darpa Research Lab" zwei neue Haupt-Missionen. Darüber hinaus dürft ihr euch mit dem "Techniker" auf eine neue Spezialisierung und zwei neue Geheimaufträge freuen.
THE DIVISION 2 - EPISODE 2 TRAILER (OFFIZIELL) | Ubisoft [DE]
Zu den Missionen
Intro: Durch die Übertragung eines Agenten erfahrt ihr von einem Bio-Reaktor, mit dessen Hilfe die Black Tusk die Anti-Virus-Proben replizieren können, welche in "Tidal Basin" sichergestellt wurden. Eure Aufgabe ist es das Pentagon zurückzuerobern und das Safehouse freizuschalten, um dann Zugang zu den beiden Hauptmissionen zu erhalten.
Pentagon: Die Black Tusk haben den Standort eines Bio-Reaktors infiltriert. Ihr müsst diesen Standort aufspüren und die Truppen aufhalten.
DARPA Research Labs: Die Labore befinden sich im Pentagon und ihr müsst euch bis zu diesen durchkämpfen. Die Black Tusk versuchen den Bio Reaktor durch ein verlassenes Tunnel Netzwerk abzutransportieren.
Geheimaufträge
Teil des Inhalts Updates sind zwei neue Geheimaufträge, Marina und Embassy. In Marina stellt ihr euch den Outcasts, welche Waffen und Vorräte in einem Botshaus am Potomac River lagern. Eure Aufgabe ist die Sicherstellung der Waffen und Ausrüstungen. Auch im zweiten Auftrag "Embassy" habt ihr es mit den Outcasts zu tun. Sie haben einen JTF Helicoper mit Vorräten abgeschossen, welcher darauf hin in das Dach der mexikanischen Botschaft in Washington gekracht ist. Eure Aufgabe besteht darin, den Heli zu finden und die transportierten Vorräte zu bergen, bevor die Outcasts die Absturzstelle erreichen.
Zur Spezialisierung
Der Techniker verfügt über einen P-017-Mehrfach-Raketenwerfer. Mit diesem könnt ihr bei voller Munition bis zu 6 Ziele aufschalten gleichzeitig ausschalten. Nachdem ihr den Werfer abfeuert, nehmen die Raketen Kurs auf die Gegner. Darüber gehören zu seiner Ausstattung die Maxim 9 Pistole, die Skill-Variante Artificer Hive (Drohnenstock) und die Granaten-Mod EMP-Granate.
Verbesserungen, Anpassungen, Fehlerkorrekturen
Neben den neuen Inhalten nimmt TU6 zahlreiche Verbesserungen, Balancing-Anpassungen und Fehlerkorrekturen vor. Darunter gezieltes Farmen von Loot, Konflikt Rewards, Dark Zone Anpassungen und Build-Fielfalt. Mehr dazu findet ihr in unseren vorherigen News (hier klicken).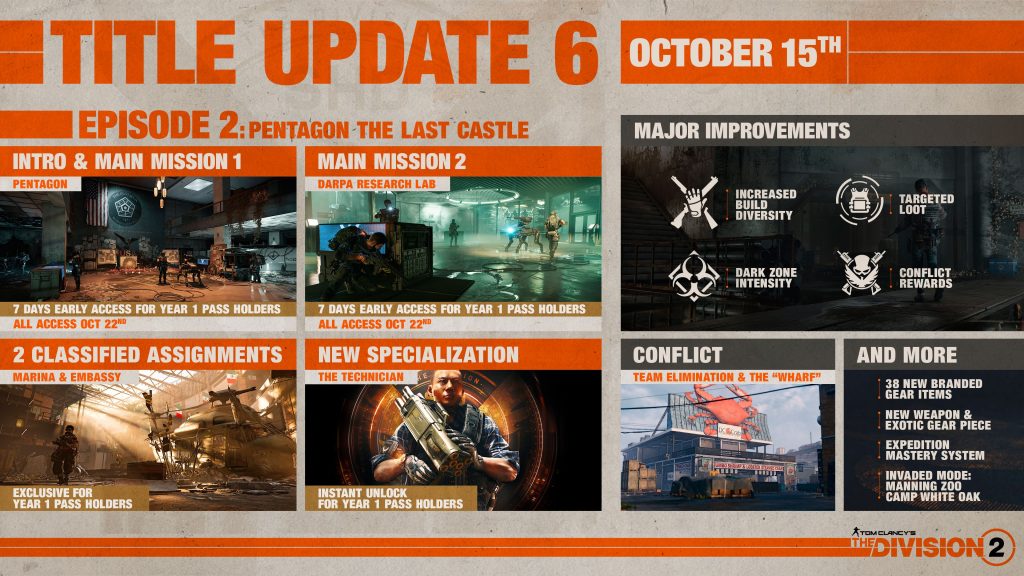 ---
Mehr Infos zum Spiel, wie Patch Notes zu verfügbaren Updates, geplante Änderungen, Raids, Clans und mehr, findet ihr in unserer Themenübersicht (hier klicken). Folgt uns gerne auf Facebook, Instagram und Twitter, um künftig keine News mehr zu verpassen.