Modern Warfare: Neuer Operator "Nightcrawler", Weitere Anpassungen an Waffen, Spawns etc & Predator Easter Egg
Aus den Spieldaten von "Call of Duty: Modern Warfare" konnte ein weiterer Operator namens "The Nightcrawler" ausgelesen werden. Damit haben wir nun insgesamt vier Operatoren, die möglicherweise schon in der kommenden Saison ihren Weg in den Shooter finden werden. Neben "The Nightcrawler" wurden bereits vor einigen Tagen Bilder der Operatoren "Red Preogative", "Deamon Dogs Last Stand" und "Ghost of Verdansk" (Simon "GHOST" Riley ) gefunden. Letzterer könnte möglicherweise gemeinsam mit einer neuen Spec Ops Mission oder einem Kampagnen DLC eingeführt werden.




Darüber hinaus konnten die Namen weiterer Operatoren ausgelesen werden. Bei den weiteren Operatoren, die geplant sind, handelt es sich u.a. um Murphy, Quinn, Farah, Lynch, Kato, Drake, Dingo und mehr. Da es hier aber noch keine Bilder gibt, ist anzunehmen, dass sie erst in einer späteren Saison integriert werden.
Weitere Anpassungen
Joe Cecot, Design Director bei Inifnity Ward gab zudem auf Twitter eine erste Übersicht auf kommende Updates.
Anpassungen der Spawnpunkte
weitere Balancing-Änderungen an den Waffen. Darunter auch die FAL.
Schrittlautstärke wird weiter angepasst, damit man in geduckter Haltung leiser ist.
Lautstärke der ADS-Bewegung wird reduziert.
Battle-Chatter Anpassungen.
Weiteres Balancing für Einsatzschild.
Uns bekannte Fehler
Weitere Fehler mit Herausforderungen und Missionen, die nicht gezählt oder demarkiert werden.
Waffen-Level auf 1 zurückgesetzt, kein Fortschritt mehr.
Nach Respawn keine Möglichkeit mehr, sich nach recht links, oben und unten zu drehen.
Absturzfehler auf PS 4 – CE-34878-0
CE-34878-0
Wir wurden nun schon mehrfach von Spielern angeschrieben, die vom Fehler "CE-34878-0" betroffen sind. Dieser kann beim Start einer Multiplayer Spielsuche oder bei der Kampagne auftreten. Der Fehler führt unmittelbar zum Spielabsturz. Betroffene haben bereits ihre Konsole neu initialisiert, das Spiel neu installiert, die Konsole auf Werkseinstellungen zurückgesetzt. Alles bleibt ohne Erfolg. Dieser Fehler wird durch euer Profil ausgelöst. Wenn ihr euer Profil auf der Konsole eines Freundes anmeldet, wird auch dort die Konsole abstürzen.
Temporäre Lösung
Leider gibt es noch keine finale Lösung für dieses Problem. Ihr könnt temporär einen neuen Account erstellen, euer altes Profil als primär Account setzen und so mit dem neuen Profil spielen, bis Activision ein Update bereithält, welches diesen Fehler behebt.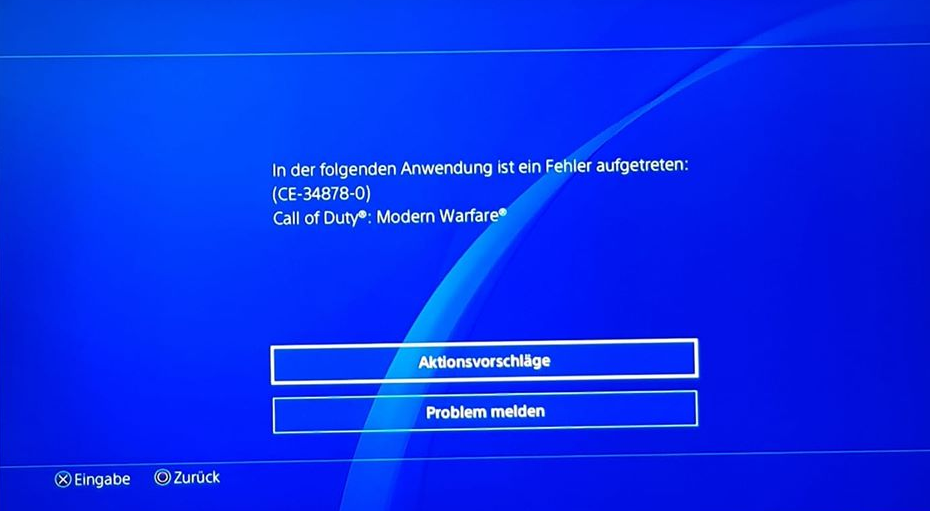 Predator Easter Egg & Ziege mit Capt. Price Beanie
Auf der Karte "Hill", die im Modus "Feuergefecht" gespielt werden kann, wurden zwei Easter Eggs entdeckt. Eines ist eine Anspielung auf den Prädator. Wer im nachfolgenden Video bei Minute 1:30 genau hinschaut, kann die Umrisse in den Bäumen entdecken. Er ist entweder eine Hommage an den Predator-Killstreak, den ihr auf der "Call of Duty: Ghosts" Karte Ruins erspielen konntet, oder Infinity Ward plant ein erneutes Prädator Crossover in Zukunft. Ein weiteres Easter-Egg zeigt eine Ziege mit einem Capt. Price Beanie, welche auf einer Kuh steht. Diese könnt ihr ab 2:25 Min betrachten.
Modern Warfare "PREDATOR" Easter Egg Found! (Call of Duty Modern Warfare Predator Movie Easter Egg)
Stay in touch
Weitere Infos zum Spiel findet ihr in unserer Themenübersicht (hier klicken). Folgt uns gerne auf Facebook, Instagram und Twitter, um künftig keine News mehr zu verpassen. Wer auf der Suche nach einer Community ist, kann gerne in unserer Facebook Partnergruppe "Call of Duty Germany" vorbeischauen. Hier findet ihr Hilfestellungen, neue Mitspieler und vieles mehr.