The Division 2: Situation: Snowball & Titel-Update 6.1 mit Beta für Hardcore Modus erscheinen am 10. Dezember
Ubisoft gab heute bekannt, dass das Titel-Update 6.1 (TU 6.1) für Tom Clancy's The Division 2 ab dem 10. Dezember für alle Spieler verfügbar sein wird. Um die Weihnachtszeit einzuläuten, bringt Titel Update 6.1 ein thematisch passendes in-game Event, Situation: Snowball. Einige von Washington D.C.s berüchtigtsten Gegner zeigen ihre Feiertagsstimmung, in dem sie eine rote Nikolausmütze tragen und die Spieler somit verspotten. Wenn man diese Gegner besiegt, lassen diese eine neue Waffe fallen, die … Schneebälle verschießt.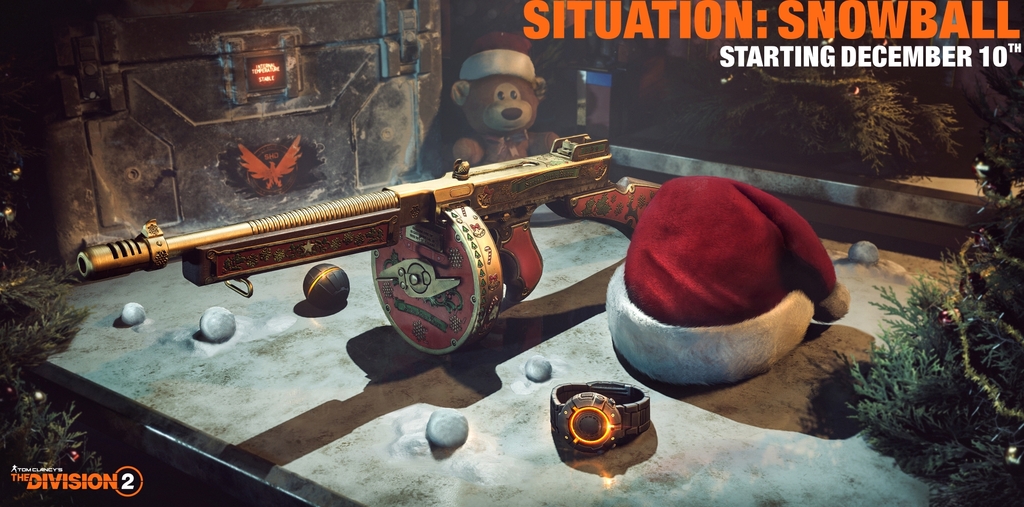 Als Teil dieses in-game Weihnachtsevents erhalten alle Spieler, die sich zwischen dem 10. Dezember und dem 7. Januar in das Spiel einloggen, ihren eigene Nikolausmütze, um so die Weihnachtszeit zu feiern.
Neues Bekleidungs-Event "Stille Nacht"
Das Titel Update 6.1 beinhaltet außerdem das "Stille Nacht"-Bekleidungsereignis und ein dunkles Wintertheme. Spieler können aus den "Stille Nacht"-Bekleidungsbehältern 35 neue Kleidungsstücke sammeln. Alle Spieler, die sich während des Events einloggen, erhalten einen kostenlosen Schlüssel. Dazu erhalten Spieler mit einem Year 1 Pass, während des Events, zusätzlich drei Schlüssel als Bonus obendrauf.
Beginnend mit dem "Stille Nacht"-Bekleidungsereignis haben Spieler außerdem die Möglichkeit, die Bekleidungsbehälter mit Premium-Credits zu erwerben und diese Freunden und Clanmitgliedern als Geschenk zu schicken.
Beta für Hardcore Modus
Darüber hinaus wird die Beta-Version für den neuen Hardcore-Modus im Titel-Update 6.1 enthalten sein. In diesem neuen Modus ist der Tod endgültig, was die gesamte Kampagne von The Division 2 zur ultimativen Herausforderung für die Agents macht. Da man nicht mehr neustarten kann, müssen die Division-Agents taktisch und vorsichtig vorgehen, um es so weit wie möglich zu schaffen. Die Spieler müssen zusammenarbeiten, um so eine bessere Chance zu haben das Endspiel zu erreichen und Washington D.C., mit all seinen Feinden und Gefahren, zu überleben.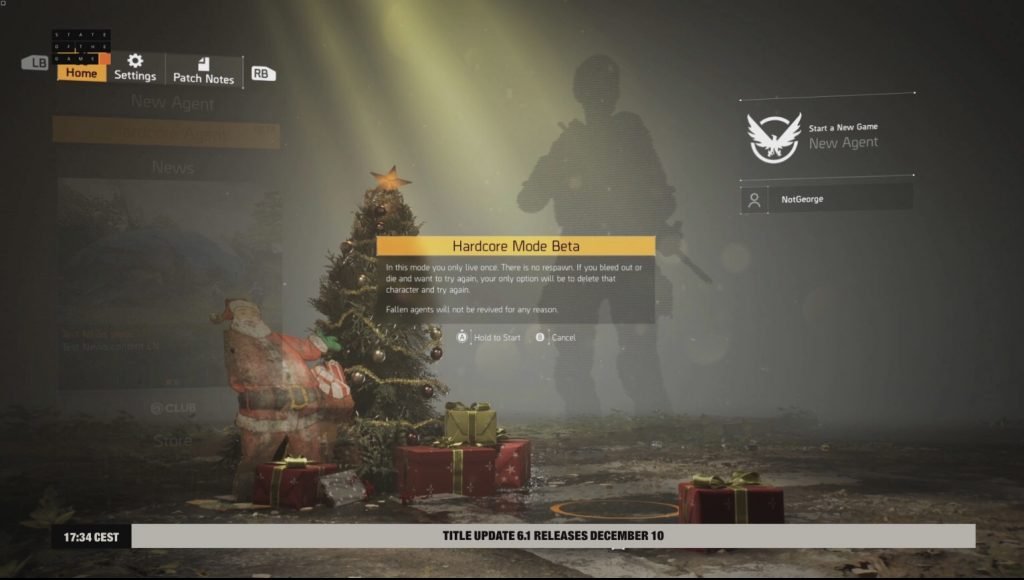 Hardcore ist eine Art New Game Plus Erfahrung, für die ihr einen freien Charakter Slot benötigt. Der Modus ist spielbar in der normalen Open World PVE, der Dark Zone und als Raid. Ihr habt keinen Zugriff auf das Inventar eures Hauptcharakters, lediglich auf die Bekleidung. Wenn euer Charakter ums Leben kommt, ist eure Ausrüstung und euer Level weg.
Weitere Infos
Title Update 7 / Episode 3 und neuer Raid erscheinen 2020
Survival und Underground aus Division 1 kehren nicht zurück, aber ggf. davon inspirierte Inhalte.
Patch Info zu Update 6.1
Improvements to Audio issues

Fixes to Apparel Drop issues

Remove alarm in the White House "again"

Changes to UI with how loot drops are viewed

Fixes to invisible walls with NPCs spawning points

Negotiators Dilemma – Added a fuse for added visual warning when the grenade drops

Fixes to Cassie (Gun Runner)

Removed "requirements" for purchasing items.

Fixes for the UI for her spawning time

Fixes for Cassie Vendor icon not appearing on the map.
---
Mehr Infos zum Spiel, wie Patch Notes zu verfügbaren Updates, geplante Änderungen, Raids, Clans und mehr, findet ihr in unserer Themenübersicht (hier klicken). Folgt uns gerne auf Facebook, Instagram und Twitter, um künftig keine News mehr zu verpassen.