Rainbow Six Siege: Pläne für Year 5 & Year 6; Day 1 Portierung für Next Gen Konsolen inkl. Cross-Gen-Multiplayer
Ubisoft gab während des Six Invitational 2020 dieYear 5 und Year 6 Pläne für Tom Clancy's Rainbow Six Siege bekannt. Der Fokus der kommenden zwei Jahre liegt auf großen Updates, die sich direkt auf das Spielerlebnis auswirken. Dies beinhaltet Überarbeitungen von Karten, Operator und In-Game Events, damit Spieler stets etwas Neues entdecken können.
Zudem bestätigte Leroy Athanassof, Game Director von Ubisoft Montreal, in einem Interview mit Interview mit Windows Central, dass der Taktik-Shooter schon zur Veröffentlichung der PS5 und Xbox Series X verfügbar sein wird. Auch ein Cross-Gen-Feature für den Multiplayer ist geplant. Im Bezug auf Crossplay zwischen Playstaion und Xbox heißt es weiter, dass diese Funktion ebenfalls möglich wäre. Hierzu müssen Microsoft und Sony noch noch grünes Licht geben. Crossplay zwischen Konsolen und PC wird allerdings aufgrund der unterschiedlichen Peripherie nicht in Erwägung gezogen.
[AUT] RAINBOW SIX SIEGE - DAS TURNIER DER CHAMPIONS (Road to S.I. 2020 Event)
Year 5 Pläne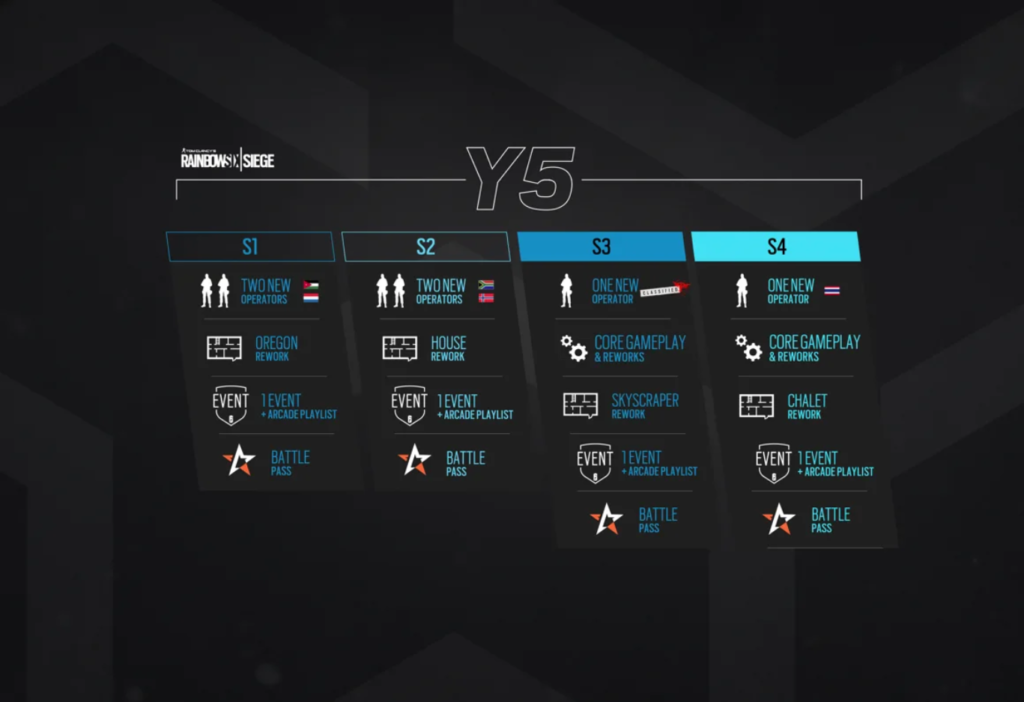 Diese grundlegenden Überarbeitungen starten mit einem hybriden Year 5: die ersten beiden Seasons kommen noch im alten Format mit 2 neuen Operatoren und einer überarbeiteten Karte. In der zweiten Hälfte des Jahres wird dann das Year 6 Format eingeführt. In Year 6 wird es jede Season einen neuen Operator, eine überarbeitete Karte, ein zeitlich-begrenztes Event sowie umfassende Gameplay Updates, kostenlos verfügbar für alle Spieler geben. Beginnend mit Operation Void Edge wird auch für jede Season ein Battle Pass verfügbar sein.
KERN-GAMEPLAY-ÄNDERUNGEN

Künftig wird der Schwerpunkt auf das Kern-Gameplay von Rainbow Six Siege gelegt, genauer gesagt auf fundamentale Elemente, die einen direkten Einfluss auf jeden Spieler haben werden. Zum Beispiel wird ein intelligentes Ping-System implementiert, um das Spiel mit einer weiteren Kommunikationsmöglichkeit im Team zu erleichtern. Dies ist besonders für die Spieler von Vorteil, die den Voice-Chat nicht nutzen können oder wollen. Neben zahlreichen weiteren Updates werden außerdem weitere sekundäre Gadgets hinzugefügt, die für alle Operator verfügbar sein werden. Diese werden gerade getestet und sollen in Year 5 und Year 6 veröffentlicht werden.
ÜBERARBEITUNG DER OPERATOR

Überarbeitungen sind wichtige Änderungen, die sich auf die Art und Weise auswirken, wie die Operator eingesetzt werden und wie ihr gesamtes Gameplay neu definiert wird. In Year 5 wird Tachanka der erste Operator sein, der komplett überarbeitet wird. Darauf folgen andere Operator in den folgenden Seasons.
IN-GAME EVENTS

Year 4 konnte mit Rainbow is Magic, Showdown, Doktor's Curse und Road to SI. bereits eine große Bandbreite an Ingame Events aufzeigen. Sowohl in Year 5 als auch Year 6 wird es, wie zuvor, ein großes Ingame Event in jeder Season geben. Diese Events bringen einzigartige Gameplay-Veränderungen mit sich und bieten Spielern eine erfrischende und innovative Erfahrung. Darüber hinaus werden auch reine Arcade-Spiellisten zum Spiel hinzukommen. Die erste Arcade-Spielliste, Golden Gun, erscheint während Y5S1 und weitere sind ab Y5S3 geplant.
Darüber hinaus wurden weitere Änderungen für Year 5 und Year 6 veröffentlicht:
Map Ban, um den Spielern eine bessere Kontrolle zu geben, auf welcher Karte sie spielen werden.

Reputationssystem, ein transparentes System, bei dem Spieler basierend auf ihrem Verhalten im Spiel Belohnungen oder Sanktionen erhalten können.