The Division 2: Titel-Update 8 inkl. "Warlords of New York" DLC steht zum Download bereit (Patch Notes & Übersicht zu Inhalt – Free & DLC )
Ubisoft hat heute Titel Update 8 für "Tom Clancy's The Division 2" veröffentlicht. Teil der Aktualisierung sind auch die neuen Inhalte der "Warlords of New York" Erweiterung. Das Update hat eine Downloadgröße von bis zu 60GB, je nach Plattform. Spielbar ist die Erweiterung auf den Konsolen ab dem 3. März um 0:00 Uhr und am PC bereits heute, nach Beendigung der Wartungsarbeiten. Diese sollten ursprünglich um 12:00 Uhr beendet sein, wurden aber noch mal verlängert und sind nun voraussichtlich um 12:30 Uhr abgeschlossen. Nachfolgend haben wir für euch die Patch Notes und ebenfalls eine Übersicht zu den kostenlosen Inhalten und den Inhalten für Käufer der Erweiterung,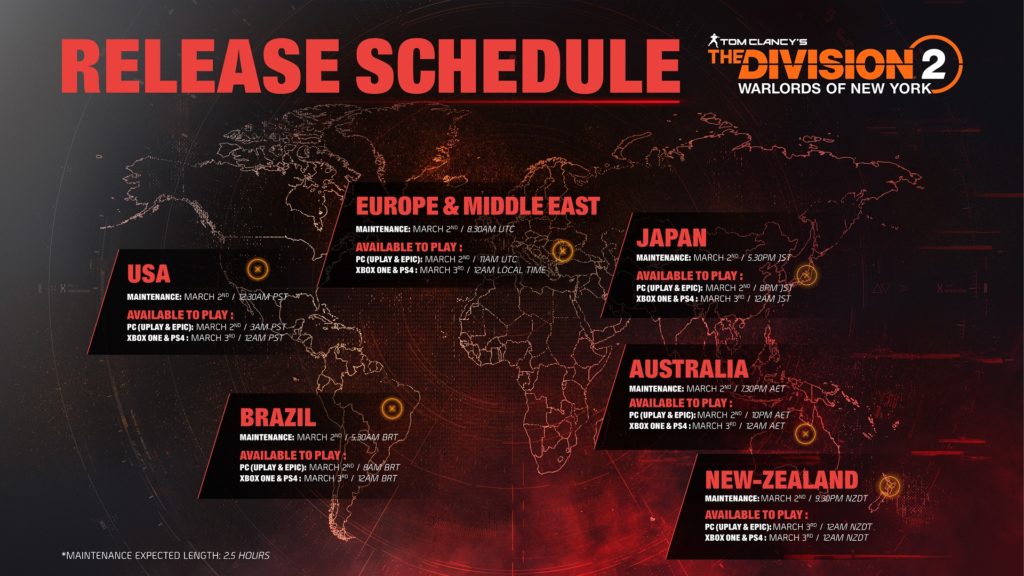 Inhalte  Free & DLC
| Content | Title Update 8 (Free) | Warlords of New York | Kommentar |
| --- | --- | --- | --- |
| Heroischer Schwierigkeitsgrad für alle Missionen / Fraktionen | X | X | |
| Neue Charakter Köpfe | X | X | Nur für neue Charakter |
| Dark Zones Revamp | X | X | |
| Gear 2.0 | X | X | |
| Gear Score Erhöhung auf 515 | X | | |
| Überarbeitung existierender Marken-Sets | X | X | |
| Überarbeitung existierender Gear Sets | X | X | |
| Raid 1 Operation Dunkle Stunden Level 30 | X | X | |
| Rekalibrierungsbibliothek | X | X | |
| Fertigkeitenstärke Überarbeitet | X | X | |
| UI überarbeitet | X | X | |
| Full Gear Dyes | | X | |
| 10 neue Exotics | | X | |
| 19 neue Named Items | | X | |
| 2 neue Gear Sets | | X | |
| 2 neue Waffen | | X | |
| 4 Neue Markensets | | X | |
| Bekleidungsevents | | X | |
| Directives | | X | |
| Globaler Schwierigkeitsgrad | | X | |
| Globale Events | | X | |
| Legendärer Schwierigkeitsgrad | | X | |
| Level 31 – 40 Gear | | X | |
| Level Cap Erhöhung auf 40 | | X | |
| Lower Manhattan Bereich und Kampagne | | X | |
| Neue Fraktionen | | X | |
| Neue Fertigkeiten | | X | |
| Raid 1 Operation Dunkle Studen Level 40 | | X | |
| Seasons | | X | |
| SHD Stufen | | X | |
| | | | |
| Create Level 30 Character (one time purchase) | | | Bereits live. Kauf im Store gibt euch einen Boost. |
| Erstellen von Level 30 Charakter (unendlich) | | X | Bereits live. Durch die Vorbestellung von WONY erhaltet ihr unbegrenzte Boosts. |
Patch Notes – Titel Update 8 [TU 8]
vollständige Übersetzung noch in Arbeit
---
Warlords of New York Kampagne
Während die Division damit beschäftigt war, Washington, D.C. zu sichern, hat ein wohlbekannter Schatten die Straßen von New York heimgesucht. Aaron Keener, einer der Original-Antagonisten aus The Division, wie auch der erste abtrünnige Agent, hat die Fraktionen von New York unter seine Kontrolle gebracht und sie genutzt, um Lower Manhattan einzunehmen. Mithilfe anderer abtrünniger Agents und einem neuen Virusstamm unter seiner Kontrolle, ist Keener fest entschlossen, das Wenige, was seit der katastrophalen Pandemie am Black Friday wieder aufgebaut wurde, auszulöschen.
Die Schlacht zur Wiederherstellung der Ordnung geht weiter, aber nun hat die Division eine neue Aufgabe: Sie muss Keener um jeden Preis stoppen. Um Aaron Keener aufzuhalten, muss die Division zunächst seine Wache aus vier abtrünnigen Agents verfolgen und sich dabei mit den gegnerischen Fraktionen, wie die legendären Cleaners und Rikers, auf der Straße anlegen.
Neben Keener, den Rikers und Cleaners werden auch bekannte Charaktere aus dem ersten Teil wie Faye Lau, JTF-Captain Roy Benitez und Ingenieur Paul Rhodes werden in der kommenden Erweiterung wichtige Rollen spielen. Faye ist beispielsweise weiter darum bemüht, die Stadt vor dem Chaos zu retten.
Neue offene Welt

4 neue Zonen, die in beliebiger Reihenfolge gespielt werden können.

Two Bridges

Battery Park

Civic Center

Financial District

5 neue Story Hauptmissionen

The Tombs

Pathway Park

Wall Street

Stranded Tanker

A Mystery Location

8 miteinander verbundene Nebenmissionen

Police Headquarters

Hugh Carey Tunnel

Pier 26

JTF Shelter

City Hall

New York Federal Reserve

Castle Clinton

Doyers Street

Neuer Levelfortschritt von 30 bis 40!

Neue Operationsbasis: Haven

Haven ist eine neue Siedlung, die von Paul Rhodes angeführt wird. Die Einwohner sind Überlebende aus Lower Manhattan, ehemalige JTF-Soldaten und ehemalige Polizisten, wobei die beiden letzteren die Friedenstruppen bilden.

PUPPY!

Neu interpretierte New York Fraktionen

Rikers und  Cleaners sind zurück! Sie wurden überarbeitet. Mehr dazu findet ihr in unseren vorherigen News (hier klicken).

Neue Elite Varianten der Black Tusk

Können in Missionen auf legendären Schwierigkeitsgrad angetroffen werden.

Neue Archetypen, die dadurch entstanden sind, das sich LMB den Black Tusk angeschlossen haben.
---
Neue Fertigkeiten
Explosive Sticky Bomb

Incendiary Sticky Bomb

Trip-wire Tap

Decoy
---
Neue Ausrüstung
Eine große Auswahl an neuen Waffen, Marken- und Ausrüstungssätzen, exotischen und benannten Gegenständen.
---
Gear "2.0"
Alle Waffen, Ausrüstung und Mods wurden überarbeitet.

Alle vorhandenen Elemente wurden in das neue System konvertiert.

Die Ausrüstung wurde so konvertiert, dass sie nur die folgenden Attribute enthält:

Waffenschaden

Fertigkeitenstufe

Rüstung

Waffen Handling

Kritischetreffer Chance

Kritischetreffer Schaden

Kopfschussschaden

Fertigkeitenschaden

Fertigkeitenreperatur

Skill Haste

Rüstungsregeneration

Hazard Protection

Geundheit

Explosive Widerstand

Alle Markenboni wurden überarbeitet
Talente
Talente

Alle Talente überarbeitet

Talente erscheinen jetzt nur noch auf Brust- und Rucksackausrüstung sowie auf Waffen.

Alle Gegenstände können maximal ein Talent haben.

Backpack Talents

Fertigkeiten DPS

Combined Arms

Shooting an enemy increases total skill damage by 25% for 3s.

Perfect Combined Arms: 30% skill damage.

Energize

Using an armor kit grants +1 skill tier for 15s. If already at skill tier 6, grants overcharge.

Tech support

Skill kills increase total skill damage by 25% for 20s.

Perfect Tech Support: 27s.

Calculated

Kills from cover reduce skill cooldowns by 10%.

Shock and Awe

Applying a status effect to an enemy increases total skill damage and repair by 20% for 20s.

Perfect Shock and Awe: 27s.

Heal and Support

Safeguard

While at full armor, increases total skill repair by 100%.

Overclock

You and allies within 7m of your deployed skills, gain +25% reload speed and reduces active cooldowns by 0.2s each second.

Tank and Bruiser

Bloodsucker

Killing an enemy adds and refreshes a stack of +10% bonus armor for 10s. Max stack is 10.

Leadership

Performing a cover to cover grants 12% of your armor as bonus armor to you and all allies for 10s.

This is doubled if you end within 10m of an enemy.

Cooldown: 10s.

PVP: 8% of your armor.

Protector

When your shield is damaged, you gain +5% and all other allies gain +15% of your armor as bonus armor for 3s.

Cooldown: 3s.

Weapon DPS

Vigilance

Increases total weapon damage by 25%. Taking damage disables this buff for 4s.

Perfect Vigilance: 3s.

Versatile

Amplifies total weapon damage for 10s when swapping between your primary and secondary weapons if they are different.

35% to enemies within 15m for Shotguns and SMGs.

35% to enemies further than 25m for Rifles and Marksman Rifles.

10% to enemies between 15-25m for LMGs and Assault Rifles.

At most once per 5s per weapon type.

Opportunistic

Enemies you hit with shotguns and marksman rifles amplifies the damage they take by 10% from all sources for 5s.

Unstoppable Force

Killing an enemy increases total weapon damage by 5% for 15s. Stacks up to 5 times.

Companion

While you are within 5m of an ally or skill, total weapon damage is increased by 15%.

Composure

While in cover, increases total weapon damage by 15%.

Concussion

Headshots increase total weapon damage by 10% for 1.5s. 5s with marksman rifles.

Headshot kills additionally increase total weapon damage by 15% for 10s.

Status Effect

Creeping Death

When you apply a status effect, it is also applied to all enemies within 5m of your target.

Cooldown: 20s

Wicked

Applying a status effect increases total weapon damage by 18% for 20s.

Perfect Wicked: 27s

Galvanize

Applying a Blind, Ensnare, Confuse, or Shock to an enemy grants 40% of your armor as bonus armor to you and all allies within 20m of that enemy for 10s.

PvP: 20%

Sustain

Clutch

If you are below 15% armor, critical hits repair 3% missing armor.

Kills allow you to repair up to 100% armor for 4-10s, based on your [Weapon] core attribute.

Perfect Clutch: If you are below 20% armor.

Brust Talente

Skill DPS

Tag Team

The last enemy you have damaged with a skill is marked.

Dealing weapon damage to that enemy consumes the mark to reduce active cooldowns by 4s.

Cooldown: 4s

Kinetic Momentum

When in combat, each skill generates a stack while active or not on cooldown.

Stacks increase your total skill damage by 1% and total skill repair by 2%. Up to 15 stacks per skill. Lost when on cooldown.

Skilled

Skill kills have a 25% chance to reset skill cooldowns.

If no skills were on cooldown, you instead gain one-time buff that immediately refreshes a skill's cooldown when it goes on cooldown.

Spotter

Amplifies total weapon and skill damage by 15% to pulsed enemies.

Explosive Delivery

Whenever you throw a skill, 1.5 seconds after landing, it creates an explosion damaging enemies within 5m.

Damage scales with skill tier dealing 25-100% damage of a concussion grenade.

At most once per skill.

Remote Pulse, All Turrets, All Hives, Explosive Seeker, Cluster Seeker, Mender Seeker, Decoy, All Traps.

Heal and Support

Empathic Resolve

Repairing an ally, increases their total weapon and skill damage by 3-15% for 10s. 1-7% if self.

Effectiveness increased by your skill tier.

Overwatch

After staying in cover for 10s, increase your and all allies' total weapon and skill damage by 12% as long as you remain in cover or in a cover-to-cover move.

Perfect Overwatch: 8s.

Tank and Bruiser

Intimidate

While you have bonus armor, amplifies total weapon damage by 35% to enemies within 10m.

Perfect Intimidate: 40%.

Unbreakable

When your armor is depleted, repair 95% of your armor.

Cooldown: 60s.

Perfect Unbreakable: 100%, 55s.

PvP: 50%, 60s.

Perfect Unbreakable PvP: 55%, 55s.

Vanguard

Deploying a shield makes it invulnerable for 5s and grants 45% of your armor as bonus armor to all other allies for 20s.

Cooldown: 25s

Perfect Vanguard: 50%

PvP: 20%

Perfect Vanguard PvP: 25%

Protected Reload

Grants +20% bonus armor while reloading.

Grants 0-18% of your armor as bonus armor to all other allies when they are reloading, based on your [defense] core attribute.

PvP: 15%, 0-12%

Weapon DPS

Glass Cannon

All damage you deal is amplified by 25%. All damage you take is amplified by 50%.

Perfect Glass Cannon: 30%/60%.

Gunslinger

Weapon swapping increases total weapon damage by 20% for 5s. This buff is lost for 5s if you weapon swap while it is active.

Focus

Increases total weapon damage by 5% every second you are aiming while scoped 8x or higher, up to 50%.

Perfect Focus: 6%/60%.

Braced

While in cover weapon handling is increased by +45%.

Perfect Braced: 50%

Spark

Damaging an enemy with a skill increases total weapon damage by 15% for 15s.

Perfect Spark: 20s.

Obliterate

Critical hits increase total weapon damage by 1% for 5s. Stacks up to 15 times.

Mods

Alle Modswurden überarbeitet

Gear Mods bieten jetzt ein Attribut.

Masken, Brust und Rucksack Items können über einen Mod Slot verfügen.

Generic Gear Mods wurden entfernt.

Gear Sets

Alle Gear Sets wurden überarbeitet

Exotics

Alle exotischen Gegenstände und Waffen wurden überarbeitet

Fertigkeiten

Alle Fertigkeiten wurden re-balanciert.

Fertigkeitensträrke wurde entfernt.

Fertigkeiten skalieren nurn automatisch mit den Skill Tier Attributen.

Skill Mods haben nun keine Anforderungen mehr, um ausgerüstet zu werden.
---
Loot
Loot drop Menge wurde insgesamt reduziert.

Die Stärke, Qualität und Quantität von Gegenständen skaliert nun besser mit dem Schwierigkeitsgrad.
Developer comment: This change is intended to make loot feel more meaningful. While you will see less loot drops overall the quality of items you acquire will be higher and you have the option to increase the quality by tackling harder challenges.
---
Händler
Der Clan-Verkäufer und Cassie Mendoza verkaufen keine Gegenstände mehr mit maximaler Leistung. Gegenstände in einem hohen Leistungsbereich werden stattdessen über andere Händler angeboten.
---
Crafting
Gegenstände von der Fertigungsstation haben jetzt einen minimalen und maximalen Leistungsbereich.

Für Level 30 Spieler (ohne DLC):

Fertigungsstation skaliert mit Spieler Level und benötigt World Tier Upgrades zur Erhöhung des Gear Score.

Das Gear Score 500 Upgrade erhöht nun  den minimum Gear Score des Crafting Power Bereichs.

Für Spieler mit Warlords of New York DLC, die über Level 30 gehen:

Fertigungsstation skaliert mit Spieler Level.

Fertigungssstation wird bei wird bei der Ankunft in New York auf Blaue Qualität zurückgesetzt und erhöht sich automatisch wieder auf High-End, während sie auf Stufe 40 aufsteigt.

Crafted Exotics are no longer crafted at maximum item power and now roll at a higher range than the bench's default range.

Exotic Upgrade Blueprints are temporarily capped at Level 30, Gear Score 515.

All other Blueprints can be used to craft items up to level 40, scaling with the player level.

AUX Batteries can no longer be crafted.

These previously provided the Skill Power attribute which has been removed.

The missing Gear Score Upgrade Blueprint for the Chameleon has been added.
---
NPCs
Players now receive an off-screen warning for incoming grenades.

Elites are more adept at targeting player Skills.

Signature Weapons now deal reduced damage against Named enemies.

Cleaners' Rushers now move slower (Coney Island took a lot out of them).

EMP emitted on death from Black Tusk's Warhounds has been decreased in radius.

Black Tusk – Adjustments to Hostile Factions:

Renamed existing Rusher archetype (the one that deploys the Suicide Drones) to the Drone Operator. Big promotion for those guys!

Added two new archetypes which have been recruited from the LMB:

Rusher – Uses an Assault Rifle at range then switches to a Shotgun up close.

Support – Deploys a Support Station which heals nearby friendlies.

Added two new Warhound archetypes:

Warhound Grenadier – Fires a volley of three grenades while stationary, then moves to a new position do it again. And again, and again, and again.

Warhound Minigun – Frequently repositions while unloading a powerful minigun.

Increased Health gain per player.

Slightly increased armor gain per role, per player.

Slightly increasesd damage per role, per player.
---
Infinite Progression
SHD Levels – an infinite progression system granting you perk points at regular intervals used to improve selected stats and bonuses of your agent.
---
New attribute system
Streamlined RPG system, with a focus on increasing build diversity, improved accessibility and making the RPG systems more intuitive.

"God rolled" items are back and easily identified in the new UI.

Skill Power now uses a Tier system to allow a clear progression and benefits to each skill, shown in the UI.
---
Recalibration
Recalibration has received a large overhaul and players can now store attributes extracted from gear and weapons.

Once extracted, players can use the stored attribute to recalibrate gear.
---
Achievements and Commendations
New Achievements and Commendations have been added for Warlords of New York.
---
Hunter Puzzles
8 new Hunter encounters.

4 encounters in New York.

4 encounters in Washington D.C.
---
Operation Dark Hours
A Normal Difficulty Operation Dark Hours Raid is now available for Level 40 players.
---
Signature Weapons
All Signature Weapon Pistols now have a Level 40 version.

Increased the Gunner's Minigun damage to make it more effective, it will still require sustained fire to maximize effectivity.

The Technician Skill Power Talent has been reduced to a Single Talent which grants Skill Tier.
---
Dark Zone
Additional extraction points are now available in every Dark Zone.

Experience in the DZ will now only be earned from player to player interactions, Extractions and Supply Drops.

All items are now contaminated and show attribute rolls to give players more agency on which items they want to extract.

VOIP is now active on default, with options to set it to Team only or turn it off entirely.

You can now see players in the Social Menu that are within 100ms of your agent.

Signature Weapon Ammunition is now longer granted inside the Dark Zone and already acquired ammunition is removed when entering a Checkpoint.

Grey Rogue Status and the Thieves Den Vendor have been removed. There are still Vendors available near the DZ gates.

Removed the securing loot option on dead agent's loot piles.

Added new, intense extraction music for non-invaded Dark Zones.

Extraction Timer is now 90 seconds in all Dark Zones.

Surviving Manhunt rewards are not contaminated.

Dark Zone Intro Missions have been shortened and streamlined.

Death Timer for dying as Rogue agent or Manhunt is now 15 seconds.

Reduced the loss of DZ XP when dying by 50%.

You now lose DZ XP when dying as non-rogue.

Killing NPCs inside the DZ no longer grants DZ XP.

Added ammunition creates near every extraction site.

Clearing a Landmark no longer grants DZ XP.

Loot quality in the Dark Zones has been increased.

Toggling speed to gain Rogue status has been increased, it now takes less time to go Rogue.

Players are now able to move while toggling Rogue status.

Added Heroic Landmarks.

Added Project Objectives for the Dark Zone.

Deconstructing contaminated items will now provide contaminated DZ resources.

Entering Dark Zone effect has been added. You know which one.

Reduced UI clutter.

Dark Zone Perks have been reset as some perks and the order of perks have changed.

Invaded Dark Zones are now normalized.

Normalization has been changed and now only affects Base Amor and Weapon Damage.

DZ Vendor prices now slightly scale with item level and quality.
---
Progression
Reduce the maximum number of armor kits that can be carried from 6 to 4.

Target Intel has been removed.

Loot containers that previously provided Target Intel will now provide Crafting Materials.

Targeted Loot areas have been updated to include new gear, weapons and equipment.

The E-Credit reward for replaying a mission now scales with player level.
---
Bounties
Daily Bounties no longer require collection from the Bounty Boards or Officers.

Bounties no longer require Target Intel, once a Bounty has been accepted it can be completed.

Bounty location selection has been updated, some rare Bounty locations will now activate more frequently.
---
Invasions
Invasions no longer automatically select a "suggested" mission every time you enter Washington D.C.

Agents may now fast travel to most invaded missions.

Invaded Strongholds no longer have a Gear Score requirement during the World Tier progression.
---
Offsite Locations and the Pilot
Many Offsite Missions have been moved on the map for easier navigation.
---
Missions, Control Points and Bounty Difficulty
All difficulty modifiers have been updated to account for the removal of Damage to Elites.

All missions now have Heroic Difficulty available once you finish the Warlords of New York campaign.
---
Directives
Directives are additional difficulty modifiers that players can activate manually after having finished the Warlords of New York campaign, both for Missions and the Open World. The more Directives you activate the harder the challenge and the greater the end-of-activity XP reward! Five Directives will be available once you reach the Level 40 endgame:
Ammo Hoarders

Reduced starting ammo & excess ammo is lost on reload. Enemies don't drop ammo & ammo is not shown on the mini-map.

Cool Skills

When one Skill is activated the other is put on cooldown.

Fog Of War Revisited

Mini Map and directional threat indicators are removed.

No Regen

Armor never regenerates after an encounter. It can be manually healed.

Special Ammo

Enemy bullets may be of special types. What type depends on the enemy faction.
---
Global Difficulty
Players that have finished the Warlords of New York campaign can now choose to select a Global Difficulty. This will affect all gameplay, including Open World activities. Higher difficulty enemies and activities drop better-quality loot. There are 4 difficulties that can be selected:
Normal

Hard

Small Enemy Damage increase.

Small Enemy Armor increase.

Small Enemy Veterancy increase.

Challenging

Medium Enemy Damage increase.

Medium Enemy Armor increase.

Medium Enemy Veterancy increase.

Heroic

Heavy Enemy Damage increase.

Heavy Enemy Armor increase.

Heavy Enemy Veterancy increase.

Respawn Restricted.
Changing Global Difficulty will respawn and re-activate activities in the Open World. This will allow players to freely reset their activities.
---
Seasons
Seasons will bring a cohesive experience end-game experience using Seasonal Manhunt, Leagues, Global Events, Bounties and Apparel Events across both New York City and Washington D.C. You can find a first overview on Seasons in our dedicated article here.
Participating in the activities above will earn players Season experience contributing to their Season level.

Season One will feature 100 levels.

Seasons have a free track and a premium track, which is available to be purchased via the Season Pass.

The Season Pass for the first Season will be free for all players.

Playing Conflict will contribute XP by gaining Conflict Levels beyond 30.

Playing in the Dark Zone will contribute XP by gaining DZ Levels beyond 30.
---
Bug fixes
Fixed an issue causing Dead Man's Hand talent to not trigger properly after several activations and respawning.

Fixed an issue that caused the Lullaby Upgrade Blueprint to not be available.

Fixed an issue that caused the Stats menu to not correctly close when clicking the "Toggle View Stats" button with a mouse.

Fixed an issue that could cause players to receive a Server transfer message when accepting a Dark Zone group invite.

Fixed an issue that could cause players to become stuck in a loading screen when accepting an invite for The Pentagon mission while not having unlocked the Safe House Off-Site.

Fixed several issues with props and covers not working properly with player interactions.

Fixed an issue that could cause DZ server transfers to not work properly under certain circumstances.

Fixed some weird walls.

Fixed an issue that caused the Food Aid Operation Campus Project to no longer reward the Compensator 5.56 Blueprint.

Fixed an issue that caused the Salvager Crew Theatre Project to no longer reward the Vertical Grip Blueprint.
---
Mehr Infos zum Spiel, wie Patch Notes zu verfügbaren Updates, geplante Änderungen, Raids, Clans und mehr, findet ihr in unserer Themenübersicht (hier klicken). Folgt uns gerne auf Facebook, Instagram und Twitter, um künftig keine News mehr zu verpassen.