Black Ops Cold War: Warzone Integration soll im Dezember im Rahmen von Season 1 erfolgen; Rebirth Event
"Call of Duty: Warzone" wird künftig die Premium Titel "Call of Duty: Modern Warfare" und "Call of Duty: Black Ops" sowie kommende Ableger miteinander verbinden. Activision hatte dies bereits im Zuge der Enthüllung von "Call of Duty: Black Ops Cold War" bestätigt und erste Informationen dazu geteilt. So könnt ihr z.B. alle Operator und Waffen aus den jeweiligen Spielen auch in Warzone verwenden. In der heutigen Investorenkonferenz verriet der Publisher nun, dass die Integration von "Call of Duty: Black Ops Cold War" in "Call of Duty: Warzone" im Dezember erfolgen soll. In den kommenden Wochen sollen ausführliche Details enthüllt werden.
Im Statement heißt es:
Mit dem Start der ersten Saison, die neue In-Game-Inhalte für "Call of Duty: Black Ops Cold War" bereit hält, werden wir "Call of Duty: Black Ops Cold War" in "Call of Duty: Warzone" integrieren. Wir bringen Charaktere und Waffen aus Black Ops Cold War sowie weiteren Content in Warzone, um euch weiterhin eine aufregende und umwerfende Spielerfahrung zu bieten.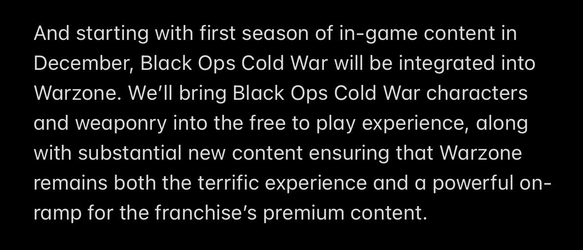 Was vermutlich zu erwarten ist
Wie wir bereits erfahren hatten, soll die aktuelle Warzone-Karte "Verdansk" durch eine neue Karte ersetzt werden. Die neue Karte ist thematisch an "Black Ops Cold War" angelehnt und wird nicht ganz so groß sein, wie die aktuelle Map. Schon vor einigen Monaten hatten wir erste Details zu dieser Karte erfahren (hier könnt ihr das Ganze noch ein Mal nachlesen). Das Event soll unter dem Namen "Rebirth" also zu deutsch Wiedergeburt stattfinden. Genaue Details und ein Termin für das Event stehen allerdings immer noch aus. Vermutet wird aber ein nukleares Event, dass eine Konterminierung oder die Zerstörung von Verdansk nachsich zieht. Quellen zufolge könnte die Karte Verdansk aber auch wieder ihren Weg zurück ins Spiel finden. Dies soll vom Feedback der Spieler abhängig gemacht werden.
Unklar ist ebenfalls, ob die neue Warzone Karte dann auf der Black Ops Cold War Engine aufbauen wird, oder ob die ursprüngliche Engine von Modern Warfare 2019 beibehalten wird. Hier gab es ebenfalls in der Vergangenheit Andeutungen bzgl. eines Austauschs. Außerdem planen Raven Software und Activision für "Call of Duty: Warzone" ein Next-Gen-Upgrade für PS5 und Xbox Series X|S.
Was bislang bestätigt ist:
Zusätzlich zu allen neuen Inhalten von Black Ops Cold War wie u.a. 40 Waffen und neuen Aufsätzen haben Warzone-Spieler weiterhin Zugriff auf zuvor verdiente Inhalte aus Modern Warfare: Dazu zählen Waffen, Operatoren, Blaupausen, Ausrüstung, Kosmetik usw. Bitte beachtet, dass Modern Warfare-Inhalte nur in Modern Warfare und Warzone verfügbar und verwendbar sind.
Das bedeutet
In Modern Warfare und Warzone verdiente Items sind zum Start von Black Ops Cold War in Warzone weiter verfügbar.
Alle neuen funktionalen Inhalte von Black Ops Cold War wie Waffen, Aufsätze etc, können durch das Spielen von BOCW und Warzone freigeschaltet werden.
Das Battle Pass System wird wie in Modern Warfare weiter kostenlose Stufen enthalten.
Es wird saisonale Battle Pässe geben, die zusammen mit dem Saison Start veröffentlich werden.
Verdiente und gekaufte Inhalte können über den Pass und den Store eingesehen werden.
Alle Inhalte des Battle Pass und im Store sind Kosmetisch. Neue Operatoren, Waffenbaupläne, Skins und mehr.
Es gibt kein Season Pass Modell. Alle Karten, Waffen und Modi sind kostenlos.
---
PSN, XBL, Steam
---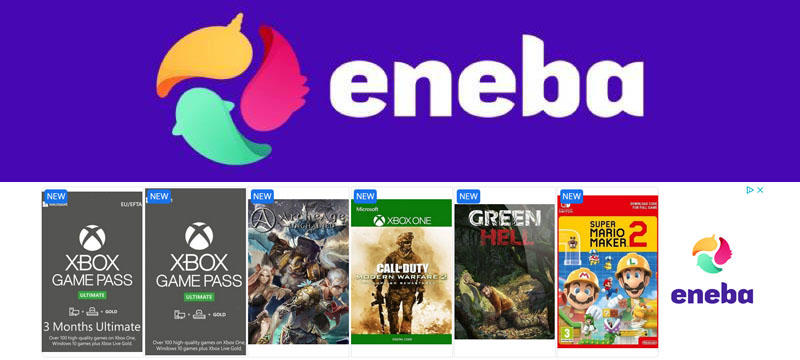 ---
Stay in touch
---
Weitere Leaks, Patch Notes und Infos zum Spiel findet ihr in unserer Themenübersicht (hier klicken). Folgt uns gerne auf Facebook, Instagram und Twitter, um künftig keine News mehr zu verpassen.