Battlefield V: Herbst-Update bringt weitere Features für Community Spiele, Bugfixes & Verbesserungen des Spielerlebnises
Am Diestag, den 17. November veröffentlicht DICE das Herbst-Update für Battlefield V.  Dieses bringt euch Verbesserungen des Spielerlebnises, neue Features für Community Spiele und Fehlerkorrekturen. Zudem werden mehr als 200 Kosmetikobjekte und zwei neue Elitesoldaten mit eigenen Nahkampfwaffen hinzugefügt. Nachfolgend haben wir weitere Details zu den neuen Inhalten und Features.
Community-Spiele – Herbst-Update
Community-Spiele ermöglichen euch die Erstellung von eigenen Multiplayer-Matches. Seit der Integtration der Funktion am 9. Dezember 2019 bieten sie euch die nachfolgenden Hauptfeatures für die Konfiguration eines Community-Spiele-Servers.
Erstellung und Benennung verschiedener Spielkonfigurationen
Erstellung und Teilnahme an privaten Spielen
Wahl eines Spielmodus
Wahl einer Karte
Bestimmung der maximalen Spielerzahl (anhand einer vordefinierten Liste)
Festlegung der Spielrunden des Servers
Wahl eines Passwortes
Ausschluss von Spielern
Verbannung und Verwaltung verbannter Spieler (nur Sitzung)
Mit dem Herbst Update baut DICE auf diesen Funktionen auf und gibt euch ab sofort weitere Personalisierungsoptionen und Möglichkeiten zur Regelanpassungen, um euch bei der Erstellung eurer eigenen Battlefield-Sandbox noch mehr zu bieten.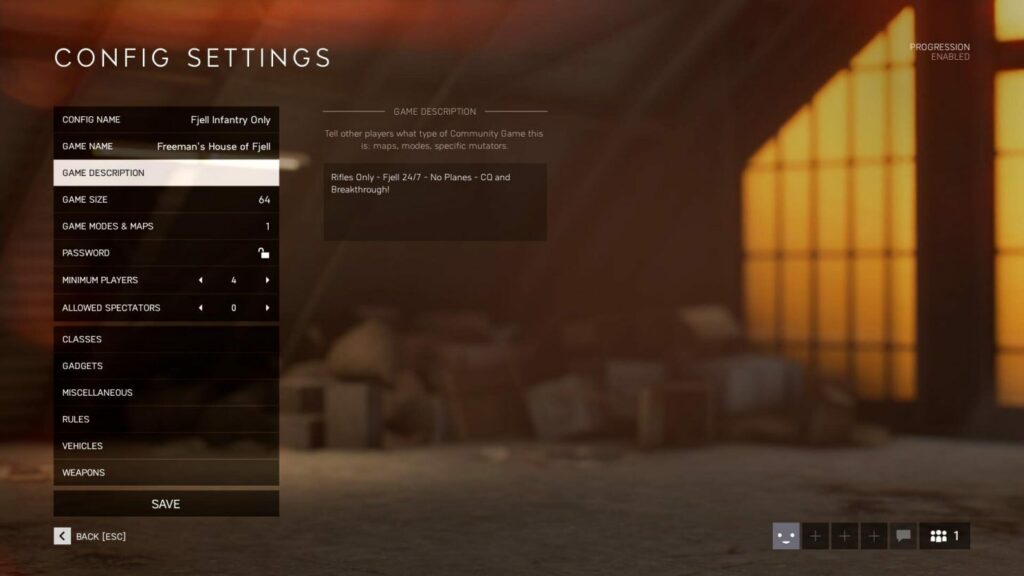 Zu den Neuerungen zählen:
Ihr könnt jetzt Servern eigene Namen und Beschreibungen geben.
Folgende Werte können anpasst werden:

Kugelschaden
Ticket-Zähler
Soldaten-Respawnzeit
Fahrzeug-Respawnzeit
Rundenzeit

Folgende Optionen könnt ihr eurem Spiel jetzt hinzufügen:

Vier verschiedene Soldatenklassen
Vier verschiedene Fahrzeugtypen
Waffentypen
Gadgettypen

Folgende Optionen könnt ihr jetzt ein-/ausschalten:

Autom. Drehen der Zielhilfe
Verlangsamung der Zielhilfe
Kompass
Teambeschuss
Kill-Kamera
Minikarte
Ganze Magazine nachladen
Regenerative Gesundheit
Sichtbare Soldaten-Namensschilder
Nur Truppführer-Spawn
Third-Person-Fahrzeugkamera
Sichtbares Ingame-HUD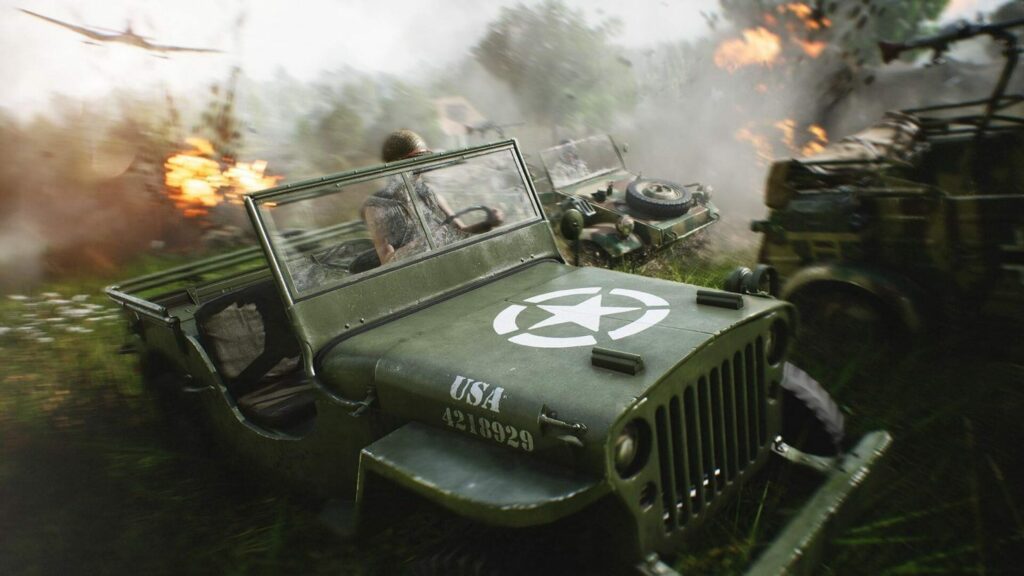 Geht mit Jeeps und Flugzeugen aufs Ganze!
6 Voreinstellungen
Es wurden außerdem sechs Vorlagen der beliebtesten Modi erstellt, mit denen ihr sofort loslegen könnt. Außerdem ist die Fortschrittsverfolgung für alle nicht passwortgeschützten Spiele aktiviert.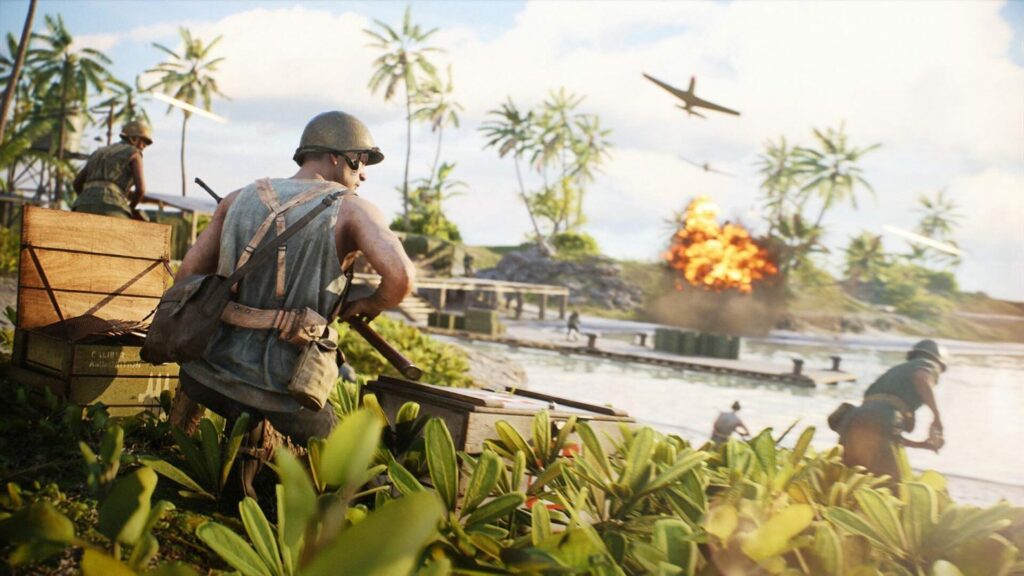 Erstellt in Community-Spielen einzigartige Szenarien mit eurer eigenen Auswahl von Waffen, Gadgets und Regeln.
Zwei neue Elitesoldaten, mehr als 200 Anpassungsobjekte und mehr
Das Herbst-Update umfasst zwei neue Elitesoldaten mit eigenen Nahkampfwaffen. Während Jonathan McNiel mit dem Goldener-Adler-Messer für die USA in die Schlacht zieht, verlässt sich Siegfried auf Seiten der Deutschen auf sein Löwenkopf-Schwert. Beide Elitesoldaten werden automatisch für alle Besitzer der Battlefield V Definitive Edition freigeschaltet.
Außerdem wurden der Kompanie mehr als 200 Kosmetikobjekte hinzugefügt:
113 Fahrzeug-Skins
69 Fahrzeug-Skins
28 Flugzeug-Nasenaufkleber
25 Kopfbedeckung
7 Gesichtsbemalungen
4 Waffen-Skins
Fehlerkorrekturen
Fixed an issue that could previously occur in the Practice Range whilst interacting with the weapon selection box.
Fixed a configuration issue in Community Games that ensures that the Pre-Round size now does take effect in game on Frontlines.
Fixed the Breda M1935 PG to ensure it has the correct ammo count on spawn when fully specialised beyond the third tier.
Fixed the Lunge Mine when switching from binoculars so that it no longer triggers the knockdown animation.
Fixed the "Loose Part" hairstyle so that it is now available for German Female characters in Your Company.
Fixed the Welgun so that it can now be inspected.
Fixed a location on Provence where players could get stuck at a specific position inside the Windmill.
Fixed a location on Provence where there were two ammo stations, instead of one ammo and one medical station.
Fixed the Kampfpistole dog tags so that 'Players Damaged' are now correctly counted.
Fixed an issue with airplanes added in the Summer Update to correct their draw distance, and ensure that they could be viewed consistently from the perspective of the other player.
Fixed several weapons not having visible bipods or parts in the Practice Range.
Fixed the recoil for the 12g Automatic and Model 37 to ensure that they correctly feature reduced recoil when crouched, or prone.
Fixed a situation where the K31 could have the improper UI for scope switching when also using the Doppel Schuss.
Fixed the High altitude specialization on the P51 so that it now takes on the correct effect.
Fixed a localisation issue in the Brazillian versions of Battlefield V so that the PPK shows with the correct information.
Fixed a bug where German tanks were not available during pre-round when playing Conquest on Provence.
Fixed The Globetrotter achievement. This will update accordingly once you've played a round on Twisted Steel.
Fixed an issue with the Deadeye Outfit when looking down the Sights.
Fixed an issue where Puma AP shells had high explosive blast damage. Their impact damage and velocity have been increased to compensate.
Fixed the T34 Calliope description so that it now fits within the UI.
Changed the Quickplay options to restore 'War in the Pacific' back into the Matchmaking Pools. We have removed 'Rush, Frontlines, and Domination' from the Quickplay options.
Changed the Flamethrower spawn on Devastation, Breakthrough, so that it spawns earlier in the round and can be better utilised to have an effect on the outcome of the round.
Changed Libya to add collision that ensures players are no longer able to exploit an out of combat area near C on Conquest. This was previously giving Recons too much of an unfair advantage.
Changed the Practice Range so that all weapons, gadgets, and grenades are now available. We've also ensured that the M1 Garand now has it's grenade launcher automatically available in this area.
Changed the Republique set for the UK faction so that it now has the correct Allied colors.
Improved Spawn Locations on Provence TDM to ensure that you don't get trapped in between assets.
Improved the flow in Community Games so that the owner of a password-protected server is not asked for the password when joining the server.
---
Masken mit Filterfach – [Ad]
---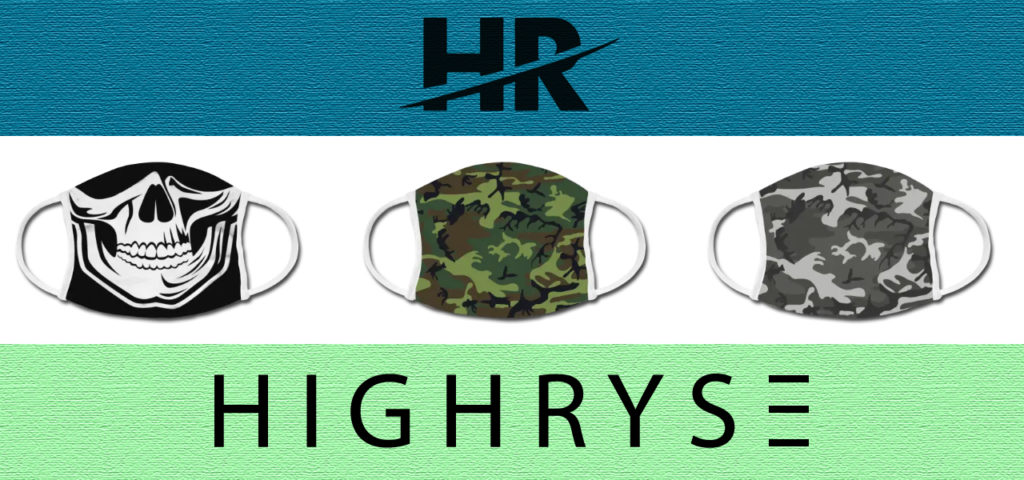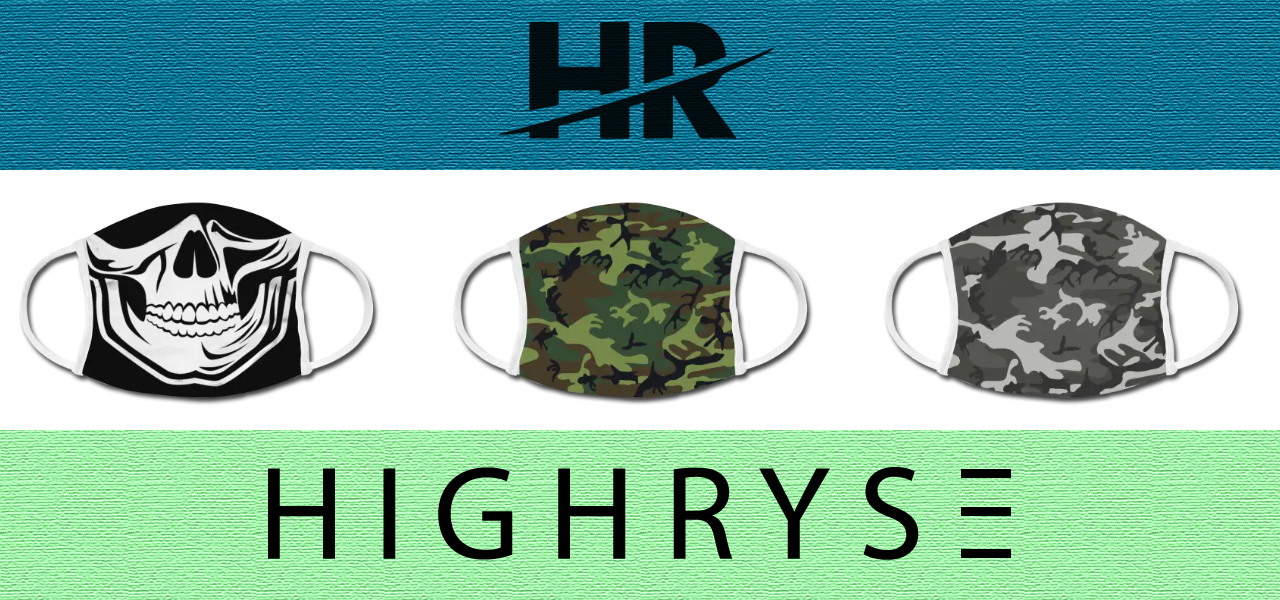 ---
Stay in touch
---
---
Mehr zu den Neuerungen im Spiel und die "Tides of War" Roadmap findet ihr in unserer BFV-Themenübersicht (hier klicken). Folgt uns gerne auf Facebook und Twitter, um keine News mehr zu verpassen. Tretet gerne auch unserer Partnergruppe "Battlefield V Xbox One Community (Germany)" bei, um Mitspieler zu finden oder euch auszutauschen.