Black Ops Cold War – Operation Roter Zirkus: Verdächtige markieren & Mission erfolgreich abschließen [Guide]
Operation Roter Zirkus ist eine weitere optionale Mission in "Call of Duty: Black Ops Cold War". Damit ihr diese erfolgreich abschließen könnt, müsst ihr zunächst die drei erforderlichen Beweismittel sichern. Diese ermöglichen euch dann, die Verdächtigen korrekt zu identifizieren und zu markieren.  In diesem Guide möchte ich euch zeigen, wie das funktioniert.
Die Beweismittel für Operation Roter Zirkus
Bei den Beweismitteln für Operation Zirkus handelt es sich um die Folgenden:
Eine Armbanduhr mit der Liste von toten Briefkästen ist das erste Beweismittel. Die Uhr könnt ihr in der Mission verzweifelte Maßnahmen im Serverraum finden. Der zweite Beweis ist eine Kassette mit Bericht von Aktivitäten. Sie kann in Echos eines Kalten Krieges ziemlich am Anfang auf dem Tisch in einem Bunker gefunden werden. Beweis Nummer 3 ist das Buch von Franz Kraus, welches ihr in der Mission Riss in der Mauer in seinem Haus sicherstellen könnt.

Verdächtige in Operation Zirkus identifizieren
Habt ihr die Beweise zusammen, könnt ihr loslegen und die Verdächtigen identifizieren. Die Verdächtigen werden in der Dokumentation die bärtige Dame, der starke Mann und der Jongleur bezeichnet. Ihre Namen geben aber keinen direkten Aufschluss auf ihr tatsächliches Geschlecht. Um das Geschlecht korrekt zu bestimmen und somit mehr Rückschlüsse auf die verdächtige Person zu ziehen, nehmt zunächst die Kassette unter die Lupe. Die Verdächtigen werden dort mit er, ihr, der und sie bezeichnet.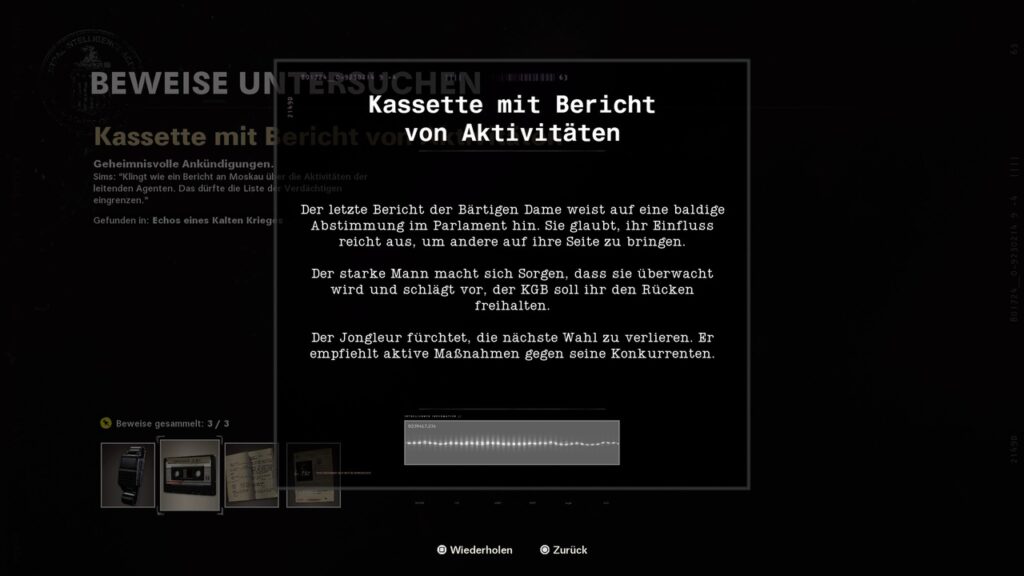 In meinem Fall handelt es sich bei der bärtigen Dame und bei dem starken Mann jeweils um eine Frau und der Jongleur ist ein männlicher Verdächtiger. Rückschlüsse hierauf gaben die entsprechenden Schlüsselwörter in den Sätzen: "[..]Sie glaubt, ihr Einfluss reicht aus, um andere auf ihre Seite zu bringen", "Der starke Mann macht sich sorgen, dass sie überwacht wird…" und "[..] Er empfiehlt aktive Maßnahmen …"
Verdächtige weiter eingrenzen
Habt ihr das Geschlecht bestimmt, könnt ihr die Verdächtigen anhand der genannten Daten und Orte in den beiden anderen Beweismitteln weiter eingrenzen. Sowohl die Uhr als auch das Buch von Franz Kraus zeigen euch Orte und ein mit dem jeweiligen Ort verbundenes Datum. Notiert euch diese auf einen Zettel und gleicht dann die Daten mit den Aktivitäten der Verdächtigen ab.
Armbanduhr mit einer Liste von toten Briefkästen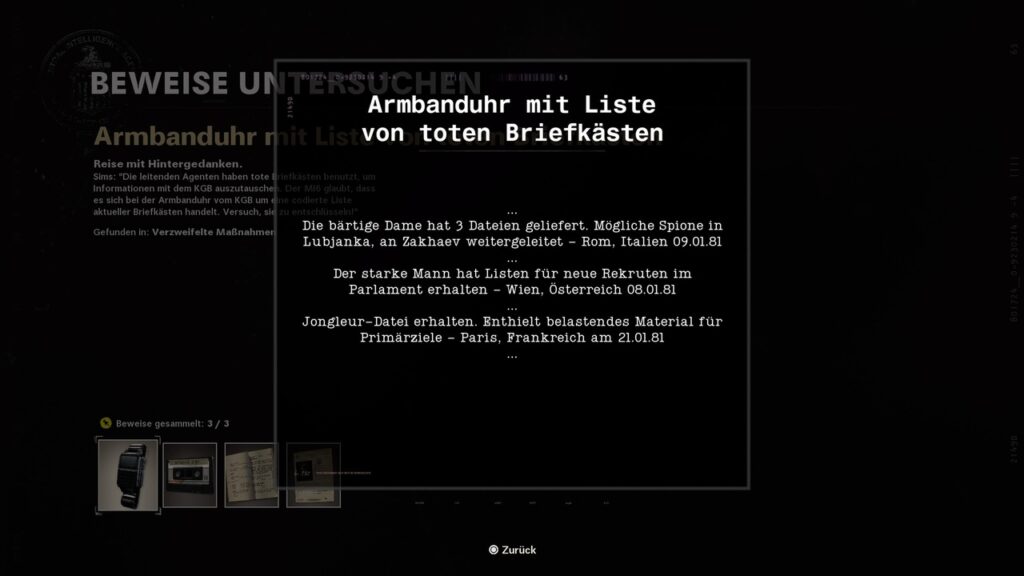 Die Armbanduhr mit der Liste von toten Briefkästen nennt mir folgende Orte und Daten
Die bärtige Dame: Rom, Italien 09.01.81
Der starke Mann: Wien, Österreich 08.01.81
Der Jongleur: Paris, Frankreich 21.1.81
Franz Kraus' Buch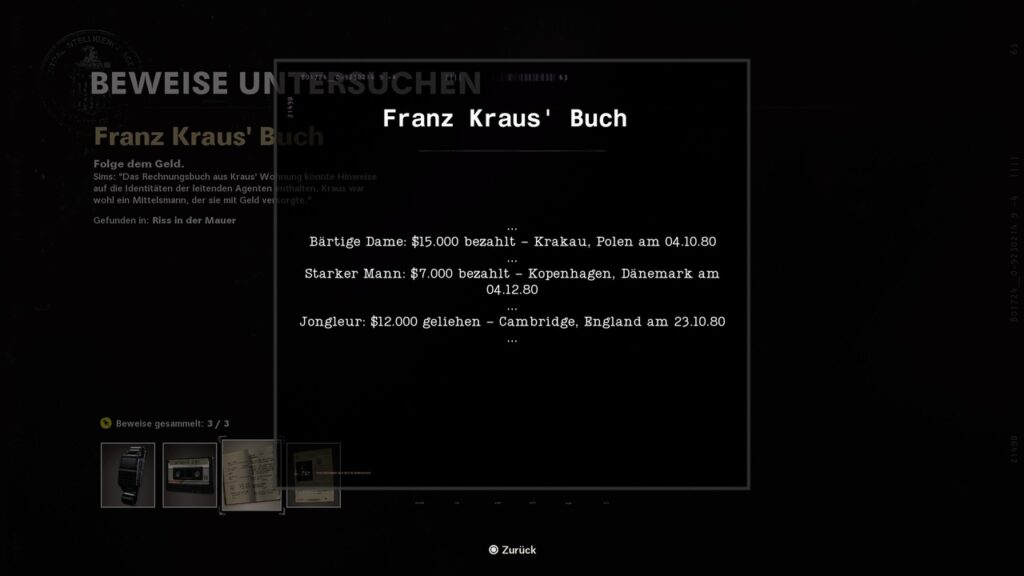 Das Buch von Franz Kraus nennt folgende Daten und Orte:
Die bärtige Dame: Krakau, Polen 04.10.80
Der starke Mann: Kopenhagen, Dänemark 04.12.80
Der Jongleur: Cambridge, England 23.10.80
Mit den Daten der Uhr und dem Buch von Franz Kraus lassen sich nun meine Verdächtigen genau festlegen. In diesem Beispiel handelzt es sich bei den Verdächtigen um Alex Superty alias der Jongleur, Leslie Sinclair alias die bärtige Dame und Claire Koberstein alias der starke Mann.
---
Hinweis:
Wie schon bei Operation Chaos bestimmt auch hier der Zufall, um welche Verdächtigen es sich in eurem Spiel handelt.
---
Mit der hier gezeigten Methode könnt ihr sie aber nun problemlos identifizieren. Wenn jhr alles richtig gemacht habt, erhaltet ihr auch die Visitenkarte "Jagd auf Roter Zirkus". Ich hoffe, ich konnte euch mit diesem Guide behilflich sein. Markiert nun die Verdächtigen und startet die Mission "Operation Roter Zirkus". Viel Spaß 🙂
---
XBL, PSN & Steam Cards [Anzeige]
---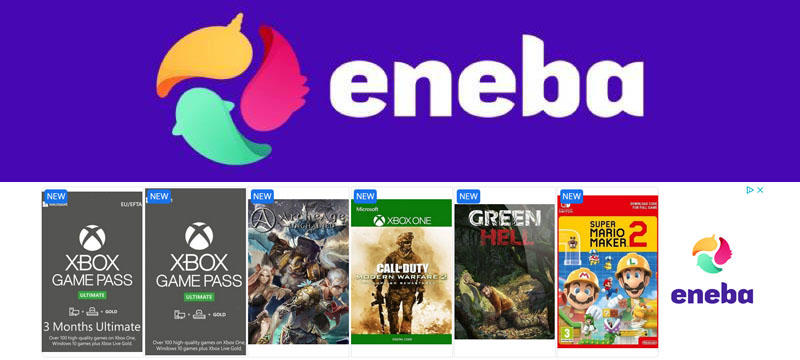 ---
Stay in touch
---
Weitere Tipps, Leaks, Patch Notes und Infos zum Spiel findet ihr in unserer Themenübersicht (hier klicken). Folgt uns gerne auf Facebook, Instagram und Twitter, um künftig keine News mehr zu verpassen. Wer auf der Suche nach einer Community ist, kann gerne in unserer Facebook Partnergruppe "Call of Duty Germany" vorbeischauen. Hier findet ihr Hilfestellungen, neue Mitspieler und vieles mehr. Wir suchen außerdem Content Creator (M/W) und Sprecher*inen für künftige Projekte. Wer Teil des Trippy Leaks Network werden möchte, kann sich gerne bei uns melden (hier klicken).