The Division 2: State of the Game
Im Rahmen des heutigen State of the Game hat das Team von Massive eine Roadmap zu Season 4 in "Tom Clancy's The Division 2" veröffentlicht. In dieser wird Faye Lau zurückkehren. Sie ist inzwischen abtrünnig und ihr werdet sie Jagen müssen. Ihr werdet im Verlauf der Saison auch mehr darüber erfahren, was sie vor hat und warum sie nun auf der anderen Seite kämpft. Zudem gibt es auch ein Update zu "Codename: Nightmare", dem zeitlich begrenzten Special Event, das mit TU12.1 ins Spiel kommen sollte. Massive hat ebenfalls mehr zur neuen Direktive, kommenden Events und dem Release von Titel-Update 12 geäußert.
Roadmap zu Season 4 – End of Watch & Release von TU12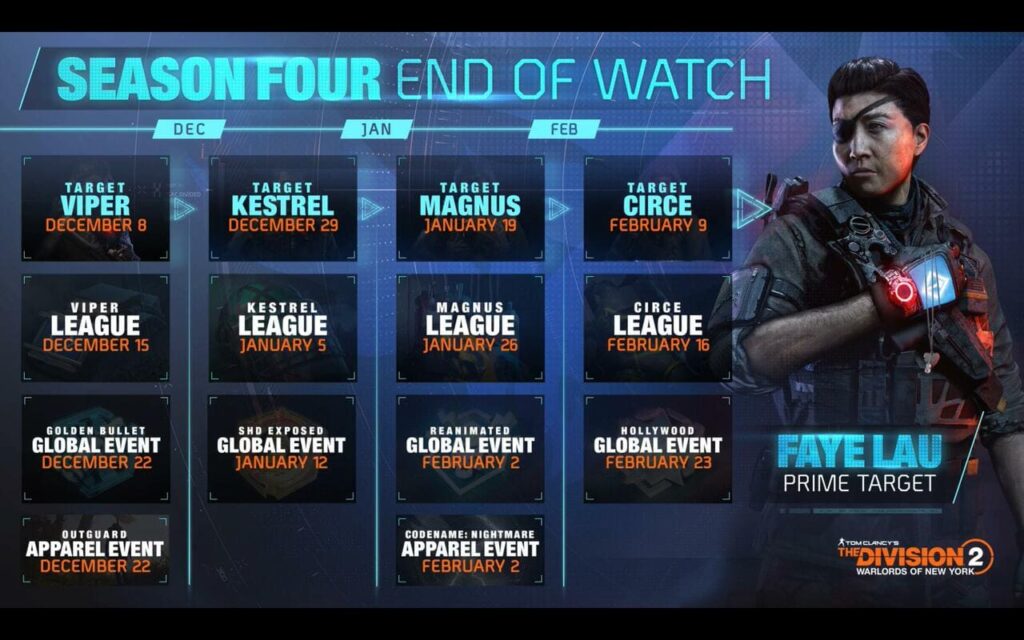 Die vierte Saison in "Tom Clancy's The Division 2" startet am 8. Dezember 2020. Dies ist ebenfalls der Termin für die Veröffentlichung von Titel Update 12. Nachdem heute die zweite Testphase beendet wurde, wertet Massiv weiteres Feedback aus und behebt diverse Fehler. Das Studio merkte an, dass es möglicherweise Fehler gibt, die noch nicht bis zur kommenden Woche behoben sind. Diese werden dann in darauffolgenden Updates behoben.
Titel Update 12 bringt
diverse Verbesserungen & Balancing-Anpassungen
Neues Endgame Feature: Optimierungsstation
Neue Waffen, Ausrüstung etc.
Neue Skillvariante
Neue Herausfordrungen
Neue Direktive
Season 4 mit neuen Zielen, Rewards und Events
Mit TU12 wird die "Special Ammo" Direktive durch die "Ragers" Direktive ersetzt. Und so funktioniert die neue Direktive: Das Töten eines Feindes füllt die Wutanzeige der Gegner. Ist die Anzeige nun vollständig aufgeladen, wird der Gegner als "wütend" eingestuft. Dies führt dann zur Gewährung von Überheilung bei den wütenden Gegnern. Wenn ihr einen wütenden Feind eliminiert, beseitigt das die Wut der Feinde in der Nähe. Die Wut lässt zudem mit der Zeit nach. Eine leere Wutanzeige lässt einen wütenden Feind zur Normalität zurückkehren.
Global Event: Golden Bullet
Golden Bullet ist das erste Event in Season 4.  Das Event baut auf den folgenden Mechaniken auf:
Über dem Kopf eines Mitgliedes eines feindlichen Fireteams erscheint (ca. alle 10 Sekunden) ein Symbol, das aufgeladen wird.
Sobald das Symbol aufgeladen ist, erhält der NPC die sog. "Golden Bullet". Diese verursacht übermäßigen Schaden.
Ihr solltet euch also nicht von diesem NPC treffen lassen.
Wenn ihr es schafft, diesen NPC mit dem Symbol über dem Kopf (egal ob am Laden oder vollständig aufgeladen) zu eliminieren, dann geht dieser Buff der "Golden Bullet" auf euch für ca 3 bis 5 Sekunden über.  Zu den Verstärkungen zählen: sofortiges Nachladen, verstärkter Schaden und eine höhere Feuerrate. Schafft ihr es innerhalb der 3-5 Sekunden, in denen der Buff aktiv ist, einen weiteren Gegner auszuschalten, wird der Buff erneut gewährt.
Bekleidungsevent: Outguard
Das Bekleidungsevent "Outguard" findet vom 22. Dezember 2020 bis zum 11. Januar statt. Nachfolgend könnt ihr einen Blick auf die Belohnungen werfen.
Weihnachtsevent
Zusätzlich erwartet euch ein Weihnachtsevent, das ebenfalls mit der Veröffentlichung von TU12 startet. Für das Einloggen im Eventzeitraum erhaltet ihr eine Santa Mütze. Einige von euch dürften sie schon haben, da es die gleiche wie im letzten Jahr ist. Zudem gibt es eine neue Hunter Maske und die Slighter Snowblall SMG, die ihr vom Loot Goblin (Hoarder NPC) erhaltet.
Tom Clancy's The Division 2: Sleigher Snowball Gun Gameplay | Ubisoft [NA]
Weitere Details zu den neuen Inhalten und Anpassungen in TU12. wie der Optimierungsstation, den neuen Waffen und der neuen Ausrüstung findet ihr in unseren vorherigen News (hier klicken)
Entwickler-Update zu Codename: Nightmare und TU12.1
Am Ende des Trailers, der auf dem Ubisoft Forward Event im September gezeigt wurde, war ein erster Teaser zu "Project Nightmare" zu sehen. Dabei handelt es sich um ein Spezial Event, das im Rahmen von TU12.1 seinen Weg ins Spiel finden sollte. Mit "Codename: Nightmare" versprach das Team ein in einzigartiges Spielerlebnis, Schauplatz des Events sollte eine umfunktionierte Version des Kenly College sein. Aufgrund der Schwierigkeiten, bedingt durch die Homeofficesituation und anderen Problemen mit dem Spiel, wird das Event leider nicht wie geplant stattfinden. Die umfunktionierte Variante des Kenley Colleges wurde leider gestrichen. Stattdessen konzentriert man sich bei "Codename: Nightmare" nun auf ein spezielles Bekleidungsevent mit mehr Belohnungen.
Im Statement heißt es weiter, dass euch die bislang aufregendsten Outfits, Trophäen und Skins erwarten. Das Event findet in der zweiten Hälfte der 4. Saison statt und soll mit TU12.1 erscheinen. Die Veröffentlichung von TU12.1 ist für den 2. Februar geplant.
Nextgen Verbesserungen mit TU12.1
Des Weiteren sind mit TU12.1 auch Verbesserungen für die Nextgen Konsolen Playstation 5 und Xbox Series X|S geplant. Diese ermöglichen, dass das Spiel auf den neuen Konsolen mit 4K und 60FPS laufen wird. Hinweis:  TU12.1 ist kein vollständiges Upgrade mit Optimierungen. Es hebt lediglich die Framerate Limitierung auf. Offensichtlich sind noch weitere Optimierungen geplant.
---
Ubisoft Deals [Ad]
---

---
Mehr Infos zum Spiel, wie Patch Notes zu verfügbaren Updates, geplante Änderungen, Raids, Clans und mehr, findet ihr in unserer Themenübersicht (hier klicken).  Folgt uns gerne auf Facebook, Instagram und Twitter, um künftig keine News mehr zu verpassen.