Modern Warfare | Warzone: Season 5 Update mit neuen POI, Balancing-Anpassungen & mehr | Patch Notes | Update 1.40
Raven Software veröffentlicht heute Update 1.40 für "Call of Duty: Modern Warfare und Warzone". Mit dem Update werden die neuen Season 5 Inhalte hinzugefügt, Anpassungen an der Balance vorgenommen und diverse Fehler korrigiert. Außerdem erfolgt auch die wöchentliche Aktualisierung der Playlists. In dieser Woche wird Rebirth Island – Mini Royale – 3ER hinzugefügt und der Modus Ladung entfernt. Nachfolgend haben wir die vollständigen Patch Notes (englisch) und eine Übersicht der neuen Inhalte sowie Infos zu den Downloadgrößen des Updates.
Downloadgrößen
PlayStation 5:
PlayStation 4:
Xbox One Series X / Xbox One Series S:
Xbox One:
PC:

19.3 GB (Warzone)
21.7 GB (Warzone und Modern Warfare)
Die Neuerungen:
Mit Season 5 werden zwei neue Extras hinzugefügt. Bei diesen handelt es sich um "Kampfspäher" und "Gehärtet". Ähnlich wie bei der Primär- und Taktikausrüstung werden auch die Extras in Warzone mit der Auswahl von Extras in Call of Duty: Modern Warfare geteilt. Allerdings gibt es hier ein paar Anpassungen, damit sie im Battle Royale Modus auch sinnvoll genutzt werden können.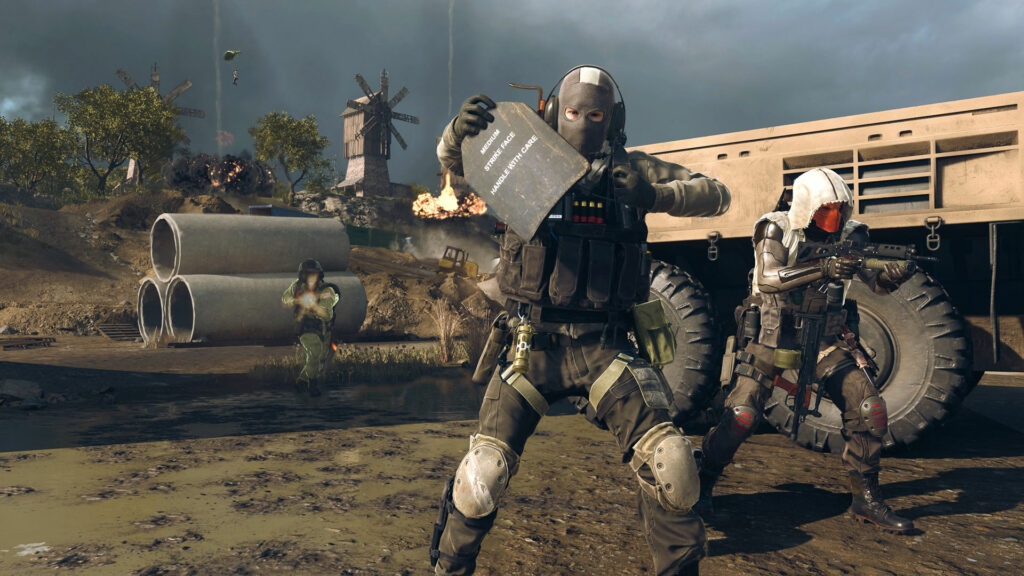 Kampfspäher: mit diesem Extra werden Gefechtsinformationen für den Operator erzeugt, wenn ein Feind getroffen wird. Feinde werden kurzzeitig in hellem Orange hervorgehoben und angepingt.
Gehärtet: Ein Operator unter dem Effekt von "Gehärtet" wird durch verstärkte Panzerplatten besser geschützt. Und es braucht nur zwei davon, um einen Operator als "voll gepanzert" anzusehen, verglichen mit den standardmäßigen drei. In anderen Worten: "Gehärtet" ermöglicht einer Panzerplatte, 75 Schaden zu absorbieren (statt der üblichen 50). Doch ein Operator kann nur zwei zur gleichen Zeit tragen, statt der standardmäßigen drei.
Neue Orte von Interesse (POI): Mobile Übertragungsstationen und [[ZENSIERT]]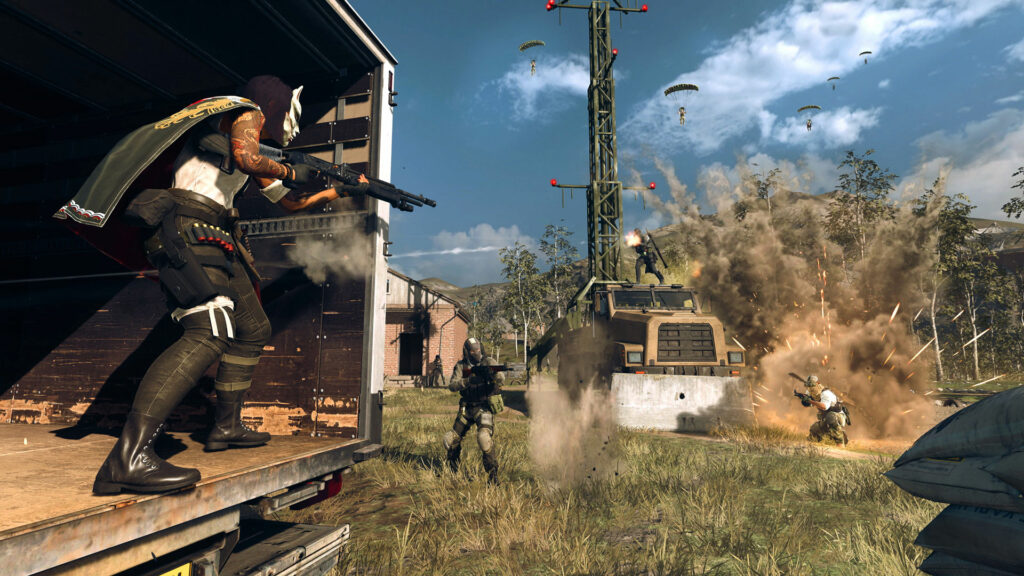 Um Stitch dabei zu helfen, eine neue Weltordnung zu etablieren, hat dieses Netzwerk geheimer Einrichtungen mobile Übertragungsstationen eingerichtet, um das Zahlensignal in ganz Verdansk zu verstärken.
Wie der Name schon vermuten lässt, können diese mobilen Stationen an verschiedenen Orten in Verdansk platziert werden. Deren Standort ändert sich von Spiel zu Spiel – und damit auch der signalstärkste Ort, an dem Belohnungen angeboten werden. Nähert euch ihnen, um herauszufinden, was es mit ihnen auf sich hat. Aber schützt euch besser vor der Übertragung, die sie von sich geben …
Die NATO ist sich der jüngsten Anstrengungen von Perseus bewusst und hat entschieden, [[ZENSIERT]]. Operator sollten nach [[ZENSIERT]] Ausschau halten, wenn es bei [[ZENSIERT]] in Verdansk ankommt, da ein sehr wichtiger [[ZENSIERT]].
Trainstation und Zug angepasst
In Vorbereitung auf die Enthüllung von "Call of Duty: Vanguard" im "Warzone" Event in der kommenden Woche wurde die Trainstation angepasst und der Zug ist nun gepanzert.
Neues Gulag: Rush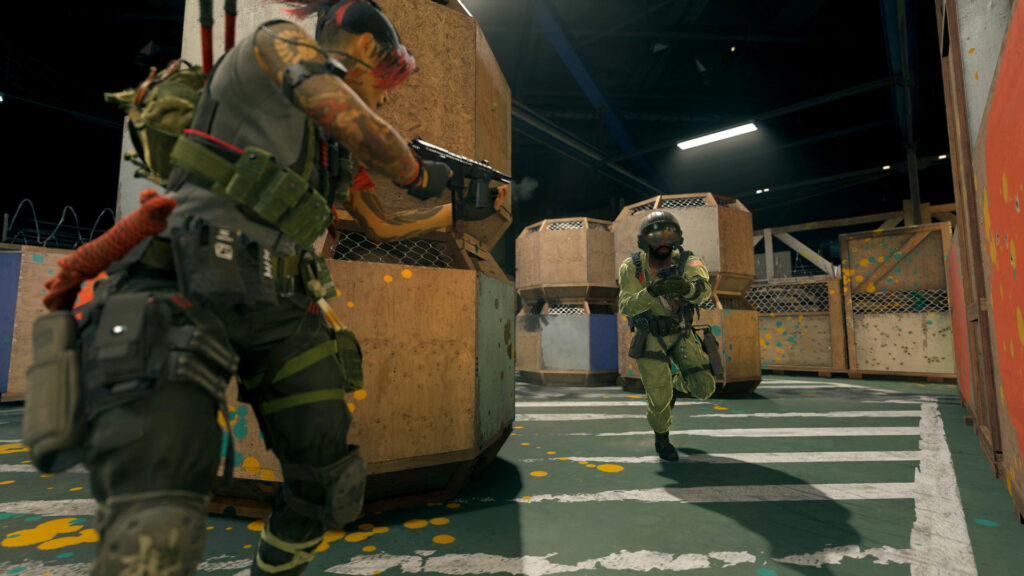 Zum Start der Saison wird das Gulag erneut angepasst. In dieser Season kämpft ihr in einer Gulag Variante von der klassischen Black Ops II-Karte "Rush" um den Wiedereinstieg. Die Warzone Gulag Version von Rush besteht aus der großen Speedball-Arena.
Neue Waffen, Operator und neue Abschussserie und Anpassung an Kaltblütig Perk
In Season 5 finden die beiden Waffen Tec-9 SMG und das Sturmgewehr EM2 sowie die Geschützabschussserie ihren Weg in den Lootpool. Das Extra Kaltblütig erhielt darüber hinaus eine Anpassung. Ihr seid nun nicht mehr für KI-Zielsysteme und Thermalvisiere sichtbar. Alarmiert – Warnung wird nicht ausgelöst und Kampfspäher gekontert. Die Operatorin Kitsune ist als Teil des Battle Pass nun spielbar.
Update 1.40 Patch Notes
Zu den Kernpunkten des Updates zählen neben der Integration der neuen Inhalte auch Balance-Änderungen für einige der AMP63 (BOCW) Magazine. Außerdem wird mit Update 1.40 der Support von Windows 7 eingestellt und für die Konsolen ein Texture-Streaming-Feature hinzugefügt. Zu guter Letzt werden zahlreiche Fehlerkorrekturen und UI Anpassungen vorgenommen. Alle Details findet ihr in den nachfolgenden Patch Notes.
---
---

---
Stay in touch
---
Weitere Leaks, Patch Notes,  Infos sowie Tipps und Tricks zum Spiel findet ihr in unserer Themenübersicht (hier klicken). Folgt uns gerne auf Facebook, Instagram und Twitter, um künftig keine News mehr zu verpassen. Wer auf der Suche nach einer Community ist, kann gerne in unserer Facebook Partnergruppe "Call of Duty Germany" vorbeischauen. Hier findet ihr Hilfestellungen, neue Mitspieler und vieles mehr. Wir suchen außerdem Content Creator (M/W) und Sprecher*inen für künftige Projekte. Wer Teil des Trippy Leaks Network werden möchte, kann sich gerne bei uns melden (hier klicken).