Call of Duty: Infinite Warfare – Erste Details zum "Absolution" DLC
Activision und Infinity Ward haben die ersten offiziellen Details zu Call of Duty: Infinite Warfare Absolution enthüllt, das dritte Erweiterungspaket für Call of Duty: Infinite Warfare.
Das DLC-Pack bietet vier neue, abwechslungsreiche Multiplayer-Maps. Dazu kommt mit Attack of the Radioactive Thing! ein neues Zombies-Koop-Erlebnis. Der Schauplatz ist ein Küstenort in den 50er Jahren, in dem ein wissenschaftliches Regierungsexperiment schrecklich falsch gelaufen ist. Absolution wird am 6. Juli zuerst für PlayStation erscheinen, andere Plattformen folgen zu einem späteren Zeitpunkt.
"Unser Team ist schon ganz aufgeregt, mit Attack of the Radioactive Thing! wieder ein wildes, abgedrehtes Zombies-Erlebnis vorzustellen, das die Handlung fortsetzt und erstaunliches neues Gameplay mitbringt", so Dave Stohl, Studioleiter bei Infinity Ward. "Für unsere Multiplayer-Fans liefern wir vier abwechslungsreiche Maps, die die unterschiedlichen Gameplay-Stile belohnen, die unsere Community seit der Veröffentlichung letztes Jahr liebt."
Attack of the Radioactive Thing!
In Attack of the Radioactive Thing!, dem nächsten actiongeladenen Kapitel des Call of Duty: Infinite Warfare-Zombies-Erlebnisses, kehrt der rätselhafte Filmregisseur Willard Wyler erneut zurück, der in der Originalversion von Paul Reubens (Pee-wee's Big Holiday, Gotham) und in der deutschen Fassung vom Synchronsprecher Santiago Ziesmer (SpongeBob, Steve Buscemi) vertont wird.
Wyler hält die vier Protagonisten in einem brandneuen Horrorfilm gefangen, der in den 1950ern spielt und ein klassischer Vertreter der Monsterfilme dieser Zeit ist. Die Spieler müssen sich einer Reihe neuer Zombiegegner in einem verwüsteten Küstenort stellen, in dem die Bewohner durch ein Regierungsexperiment zu fleischfressenden Zombies geworden sind und eine neue biologische Bedrohung entstanden ist.
Außerdem erhalten die Spieler Hilfe von Horrorfilm-Ikone Elvira, mit der Stimme und dem Aussehen von Cassandra Peterson (Elvira: Herrscherin der Dunkelheit, Elvira's Movie Macabre), um zu überleben, indem sie ihnen Gameplay-Tipps und Nebenaufträge in ihrem einzigartigen Elvira-Stil gibt. Neue Waffen, Fallen und mehr bereichern die typische Call of Duty-Action, und Seth Green (Robot Chicken, Austin Powers) als "Wissenschaftler", Ike Barinholtz (Bad Neighbors, Suicide Squad) als "Rebell", Jay Pharoah (White Famous, Saturday Night Live) als "Soldat" und Sasheer Zamata (Saturday Night Live, Inside Amy Schumer) als "Schulmädchen" sind alle wieder mit dabei, wenn die Handlung in diesem brandneuen Erlebnis weitergeht.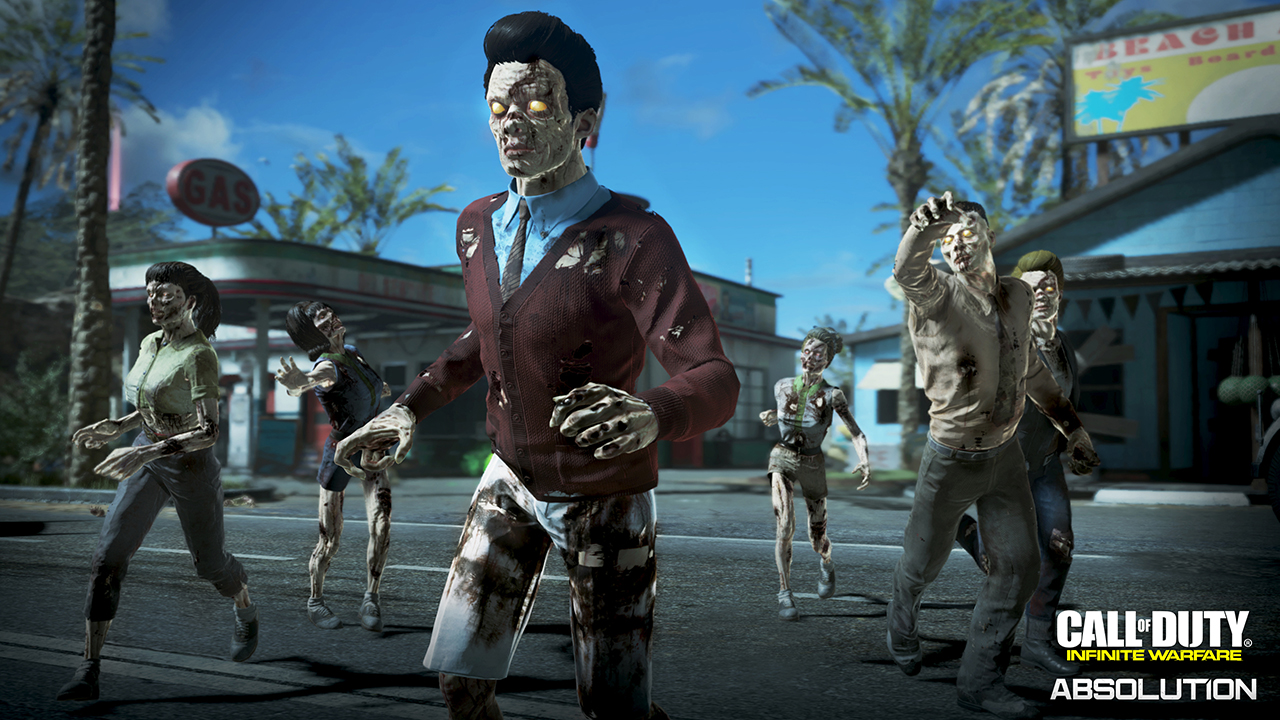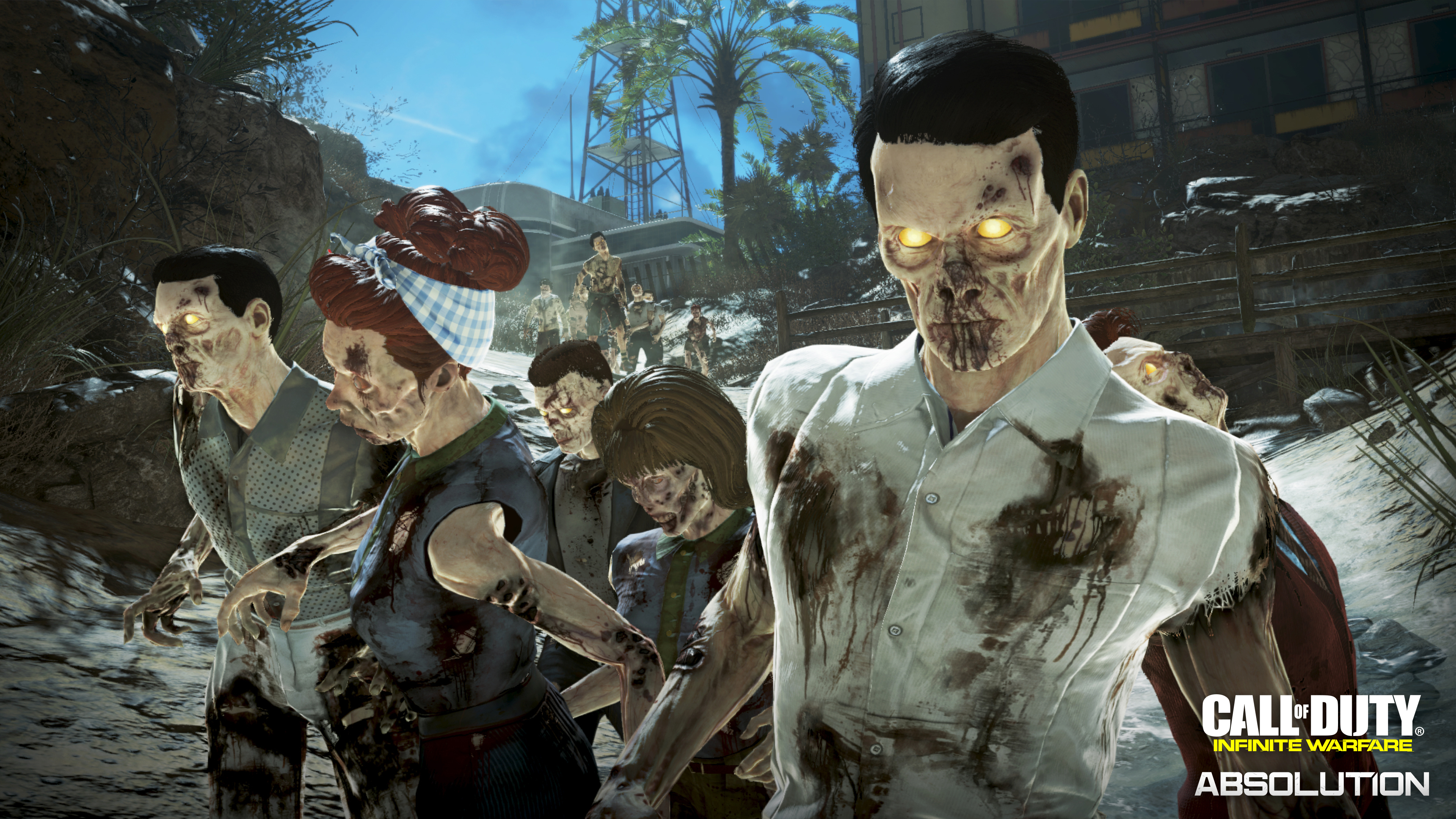 Multiplayer Maps
Zusätzlich zu Attack of the Radioactive Thing! enthält Absolution auch vier neue Multiplayer-Maps:
• Bermuda – In Bermuda, einem Elendsviertel, das um die Überreste eines Schiffswracks errichtet wurde, können die Spieler sich mit Hechtsprüngen und Wandläufen vom Fischmarkt bis zum Leuchtturm auf dieser kleinen bis mittleren Map bewegen, die überschwemmt und mit Sand verweht ist.
• Permafrost – In der eisigen City-Skyline von Permafrost bleiben die Spieler am Boden und wählen ihre Angriffsstrategie über eine der drei Hauptstraßen. Sie durchqueren diese kleine, enge Map, um von der Straße zum Bahnhof oder vom Pennerviertel zu einem zertrümmerten Theater zu gelangen.
• Fore – In Fore sind die einzigen Miniaturen auf dieser großen Karte die Golfkurse, auf denen die Spieler kämpfen. Fore bietet enorme visuelle Vielfalt, während die Spieler sich durch die Ausblicke und Klänge der einzelnen Bereiche voller magischer Wälder, gigantischer Eiscremes und turmhoher Burgmauern schwingen.
• Ember – Ember liegt in der Nähe eines alten Stadtschlosses und ist die Neuauflage des Map-Klassikers Resistance aus Modern Warfare 3, mit Ästhetik aus der alten Welt, die mit moderner Technologie nachgerüstet wurde. In der Umgebung finden sich unter anderem Lava, Galgen und eine Folterkammer – hier sollten die Teamkameraden eng zusammenbleiben.
Call of Duty: Infinite Warfare Absolution erscheint am 6. Juli 2017 zuerst für PlayStation 4, die Veröffentlichung auf anderen Plattformen erfolgt zu einem späteren Zeitpunkt.