The Division 2: Ubisoft untersucht Fehler in Private Beta, der zu Bann führt
Update:
Das Problem wurde inzwischen behoben und ihr könnt euch wie gewohnt einloggen und loslegen. Allerdings kann es während längerer Spielsitzungen zu Abstürzen des Clients kommen. Daher solltet ihr das Spiel alle 3 bis 4 Stunden neu starten, solange dieser Fehler besteht. Außerdem kommt es auf allen Plattformen zum Spielabsturz, wenn ihr von Freunden zu einer Sitzung eingeladen werdet, aber euer Spiel noch nicht gestartet habt und euch noch im Dashboard (XB1/PS4) bzw. Windowsoberfläche am PC befindet.
.
This issue should now be solved. Please let us know if you're still having trouble accessing the Beta.

— The Division 2 (@TheDivisionGame) February 7, 2019
Derzeit führt ein Fehler in der Private Beta zu "Tom Clancy's The Division 2" zu einem Bann der Spieler, wenn diese sich anmelden. Via Twitter teilte Massive Entertainment bereits mit, dass man bereits an einer Lösung des Problems arbeitet. Es sollte also in Kürze mit einer Behebung zu rechnen sein. Sobald es neue Infos gibt, werden wir diesen Beitrag für euch aktualisieren.
.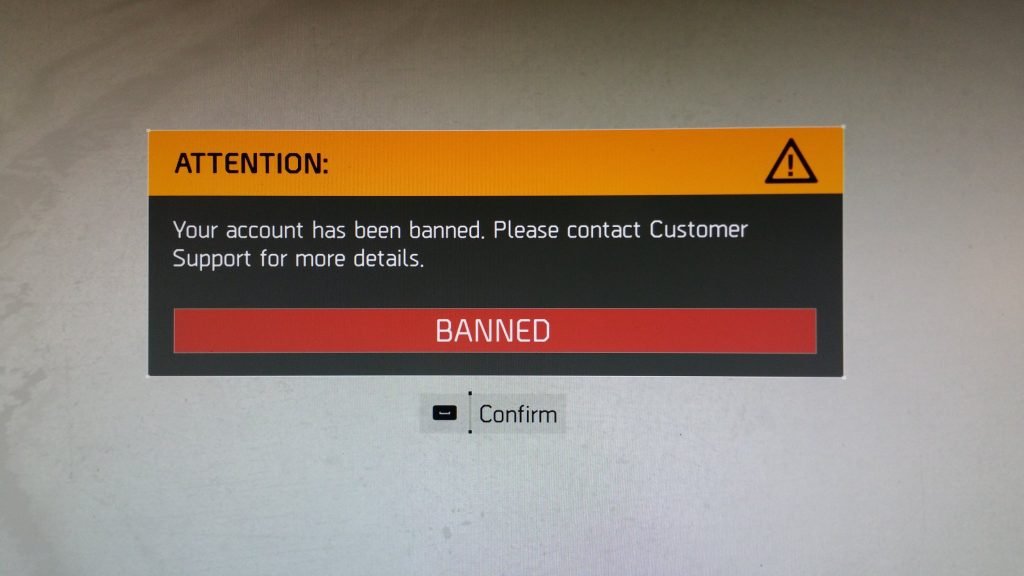 In der Private Beta können die Spieler einen Vorgeschmack darauf bekommen, was sie in Tom Clancy's The Division 2 erwartet. Nachdem sie ihre Operationsbasis im Weißen Haus eingerichtet haben, können sich die Agenten in ein verändertes Washington D.C. wagen und neue Fähigkeiten und Fertigkeiten freisetzen. Dabei können sie auf einen Levelcap von sieben aufsteigen und den östlichen Teil der offenen Welt mit den folgenden Inhalten entdecken:
Zwei Hauptmissionen, zugänglich im Story-, Normal- und Hard-Modus
Fünf Nebenmissionen und zusätzliche Aktivitäten in der offenen Welt
Einzigartiges PvPvE-Gameplay in einer der drei neuen Dark Zones
Organisiertes PvP-Gameplay in einem Konflikt-Modus, Gefecht.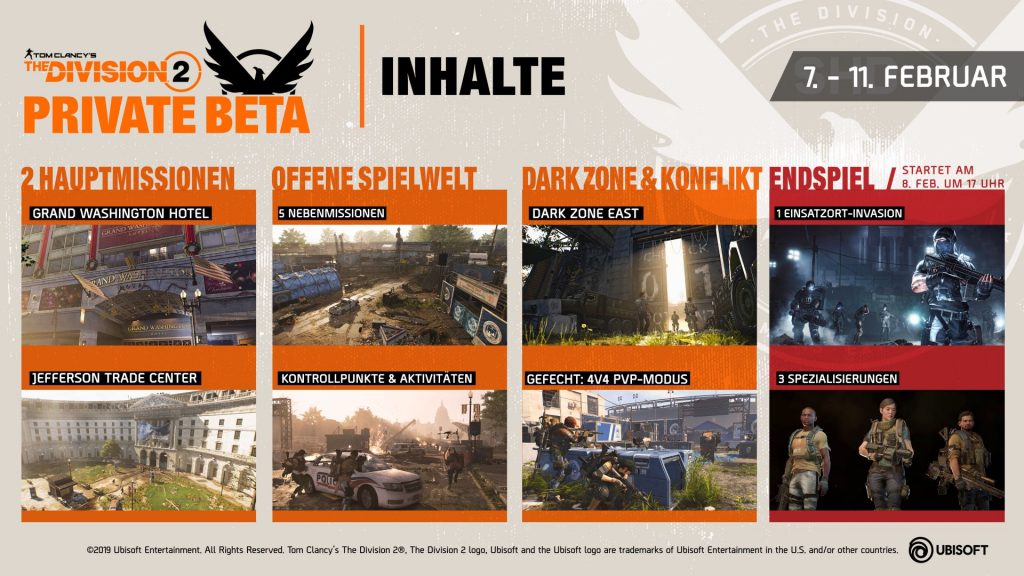 Zusätzlich zu diesen Inhalten haben die Fans Tom Clancy's The Division 2 ab Freitag, den 8. Februar um 17 Uhr MEZ die Möglichkeit, mit einer Invaded-Mission einen ersten praktischen Einblick in Endgame-Inhalte zu erhalten. Die Spieler werden das Gameplay auf der Stufe 30 erleben und brandneue Spezialisierungen für den Überlebensspezialisten, Scharfschützen oder Zerstörungsexperten freischalten.
The Division 2 erscheint am 15. März 2019 für Xbox One, Playstation 4 und PC.
Weitere Infos zum Spiel, wie dem verbesserten Fortschrittssystem, Raids und mehr, findet ihr in unserer Themenübersicht (hier klicken). Folgt uns gerne auf Facebook und Twitter, um künftig keine News mehr zu verpassen.