The Division 2: Open Beta Trailer & Infos zu allen Inhalten enthüllt
Ubisoft hat nun die Inhalte der Open Beta zu "Tom Clancy's The Division 2" offiziell enthüllt. Die Testphase startet am 1 März um 10:00 Uhr deutscher Zeit. Zu den Inhalten zählen drei Hauptmissionen, Nebenmissionen, eine Darkzone, eine Endgame Mission und mehr. Der Spielfortschritt aus der Private Beta wird nicht übernommen. Teilnehmer der Testphase erhalten zu dem Belohnungen (siehe vorherige News).  Nachfolgend findet ihr eine Übersicht von dem, was euch erwartet.

Inhalte der Open Beta
Zufällige Charakteranpassung:

Auch in der Open Beta könnt ihr nur einen Charakter erstellen. Dieser kann aber jederzeit gelöscht werden. Das Aussehen eures Charakters könnt ihr per Zufallsprinzip bestimmen.

Charakter Level Cap auf Level 8 erhöht.
Drei Hauptmissionen, zugänglich im Story-, Normal- und Hard-Modus,

Grand Washington Hotel
Jefferson Trade Center
Viewpoint Museum (Neu)

Fünf Nebenmissionen und zusätzliche Aktivitäten in der offenen Welt
Ein zusätzlicher Skill — Chem Launcher mit zwei Varianten, Riot Foam und Explosive Vapor
Zwei weitere Siedlungsprojekte mit dem zweiten Upgrade für das Theater
Einzigartiges PvPvE-Gameplay in einer der Drei neuen Dark Zones
Organisiertes PvP-Gameplay in einem Konflikt-Modus, Gefecht mit zwei PvP Karten

Stadium
Capitol Ruins (Neu)

4 Zonen können erkundet werden:

Das Weiße Haus— dient ebenfalls wieder als Operationsbasis in D.C.
Downtown East
The Federal Triangle
Smithsonian

Zugriff auf Endgame Content:

Nach dem ersten Abschluss des Jefferson Trade Centers erhaltet ihr Zugang zu einer End-Game-Mission, die euch drei Level 30  Charaktere freischaltet. Wenn ihr euch mit einem dieser Charaktere anmeldet, beginnt die Endgame-Mission. Jeder Charakter ist mit einer anderen Spezialisierung ausgestattet. So könnt ihr euren persönlichen Favoriten finden. Im Gegensatz zur Private Beta wird diese End-Game-Mission direkt zum Start der Open Beta verfügbar sein.

Die Beta unterliegt keinen NDA. Streaming und Gameplay-Aufzeichnungen sind erlaubt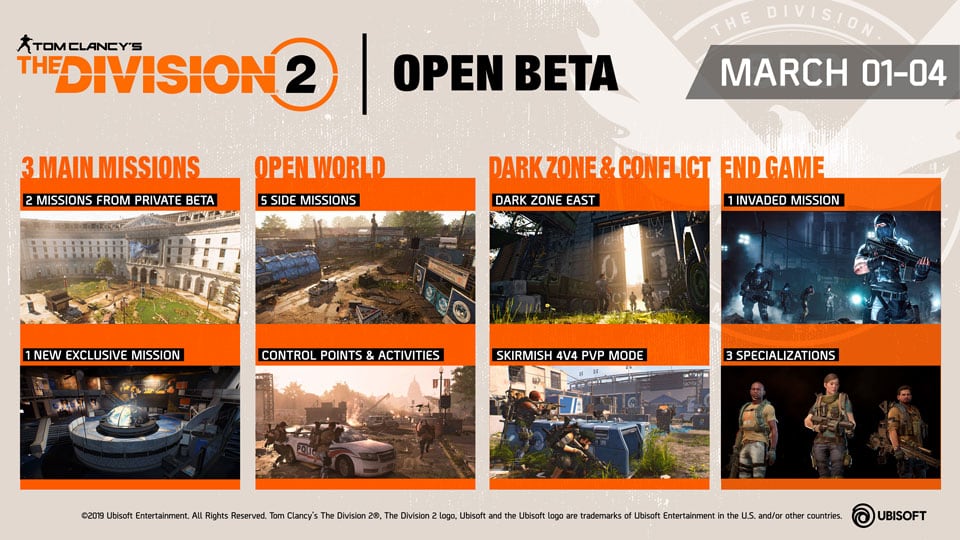 Weitere Infos zum Spiel, wie dem verbesserten Fortschrittssystem, Raids, Clans und mehr, findet ihr in unserer Themenübersicht (hier klicken). Denn fällt Washington, fällt die gesamte Nation. Folgt uns gerne auf Facebook und Twitter, um keine News mehr zu verpassen.
Trailer
Tom Clancy's The Division 2: Open Beta Trailer | Ubisoft [NA]
---
---