Battlefield 2042: Battle Pickups kehren zurück | Details aus dem Tech-Test | TTK, Movement, Waffen, Zerstörungsgrad
In der vergangenen Woche konnte eine ausgewählte Gruppe am Tech-Test von "Battlefield 2042" teilnehmen. Im Zuge dessen kamen viele neue Details ans Licht. Zudem konnten Data Miner aus dem Quellcode des Clients zusätzliche Informationen gewinnen. Im Nachfolgenden findet ihr eine Zusammenfassung der wichtigsten Details. Hierzu zählen Infos zum Gunplay und der TTK in Battlefield 2042 sowie Details zu neuen Gameplayfeatures. Bitte beachtet aber an dieser Stelle, dass alle hier genannten Informationen aus einer noch unfertigen Version des Spiels stammen. Daher gilt "Subject to Change".
Gameplay-Mechaniken
In Battlefield 2042 kehren einige Features zurück, die ihr schon aus Battlefield 1 und Battlefield V kennen dürftet. Darunter Sliding und auch Klettern. Auch Exekutionen kehren zurück, aber wie wir schon im Trailer vor einigen Wochen sehen konnten, sind diese nun in der Third-Person-Perspektive. Mit einem Panzer auf Gegner zu zielen, fühlt sich im Bezug auf die Geschwindigkeit ebenfalls ähnlich wie in Battlefield V an. Wie auch in vorherigen Spielen gibt es wieder ein Geschütz und eine Kanone. Im Spiel ist ebenfalls ein Jaguar Panzer verfügbar, der über ein Flakgeschütz verfügt, welches Flugzeuge erfassen kann. Der Zerstörungsgrad im Tech Test war vergleichbar mit dem aus Battlefield 3. Außerdem kehren die Battle Pickups zurück. Bei diesen handelt es sich um spezielle Waffen, die in bestimmten Bereichen der Karte gewunden werden können. Im Code der Alpha wurden u.a. eine Minigun, eine Sniper und ein Granatwerfer gefunden werden.
Interessante Neuerungen etc.
Ein interessantes neues Feature betrifft die Wiederbelebung in Battlefield 2042. Wenn ihr down seid, könnt ihr euren Teammitgliedern die Anweisung geben, euch "NICHT" mehr wiederzubeleben. Falls ihr z.B. vorhabt euren Spezialisten zu wechseln, muss sich niemand euretwegen in Gefahr begeben. Natürlich könnt ihr weiterhin auch um Hilfe rufen, damit euch jemand wiederbelebt. Der Bildschirm zur Wiederbelebung kann in Battlefield 2042 deutlich schneller übersprungen werden als in BFV.
Das neue Plus-System, welches euch ermöglicht, im Spiel die Aufsätze eure Waffen zu wechseln, kann auch während eines Fallschirmsprungs verwendet werden.
Gundplay, TTK, Verfügbare Waffen und mehr
Das Gunplay soll sich sehr gut anfühlen und wird als großartige Weiterentwicklung beschrieben. Die Streuung sei minimal und der Rückstoß ist das, was das Gunplay wirklich ausmacht. Wenn ihr den Rückstoß gut kontrollieren könnt, werdet ihr eure Freude mit den Waffen haben. Zur TTK (Tim to Kill) in Battlefield 2042 heißt es, dass sie im Alpha-Build vergleichbar ist, mit der in Battlefield V. Mit einem Sturmgewehr oder LMG braucht ihr 4 bis 5 Treffer auf die Brust, mit einem DMR ungefähr 3. Scharfschützengewehre machen One-Shot bei Kopftreffern und 2 bei Brusttreffern. Schrotflinten benötigen im Nahkampf ebenfalls nur einen Treffer, um einen Gegner auszuschalten, von weiter weg sind es dann 2 bis 3 Treffer. Die beiden verfügbare SMGs im Techtest hatten beide eine sehr hohe Feuerrate und und konnten so mit 4 bis 7 Brusttreffern das Ziel ausschalten. In der Alpha konnte man aus den folgenden Waffen wählen:
SMGs
BX-45 (SMG 45)
K30 (Kriss Vector)
Sturmgewehre
LMG
DMR
Bolt-Action:
Shotgun
Sekundär
G57 (Glock)
M44 (Revolver)
Im Quellcode wurden außerdem weitere Bilder zu möglichen Waffen gefunden. Es ist möglich, dass einige von Ihnen im finalen Spiel einen anderen Namen haben werden, sofern EA die Namensrechte nicht erworben hat. Dies ist bereits bei einigen der Fall.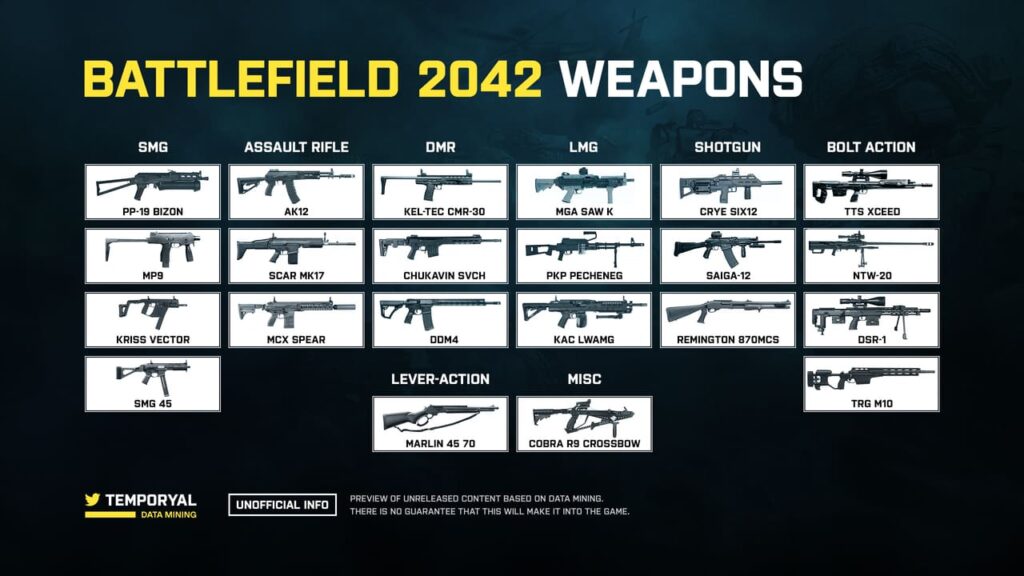 Außerdem standen im Rahmen der Alpha allen Spezialisten die folgenden 7 Gadgets zur Verfügung:
M5 Werfer
FIM-33 AA Missile
Versorgungskiste
Reperaturwerkzeug
Anti-tank mine
NAV Beacon
Medipack
In der finalen Version erwarten euch einige mehr. Zu guter letzt haben wir für euch einen Brandneuen Gameplaytrailer zum Spezialisten Irish. Mehr zu den Spezialisten findet ihr in unserem seperaten Beitrag (hier klicken).
#Battlefield2042 Irish Gameplay Trailer #DICE #EA #BF2042 pic.twitter.com/rUjrokQfLx

— Ed Snow (@ItsEdSnow) August 17, 2021
---
Quellen: Okami, Gameplay, Temporyal, mp1st, reddit
---
---

---
Battlefield 2042 erscheint am 15. bzw. 22. Oktober 2021 auf Xbox One, Playstation 4, Playstation 5, Xbox Series X|S und dem PC.  Der Veröffentlichungstermin ist abhängig von der jeweiligen Edition. Der Titel wird in folgenden Editionen erscheinen:
Editionen' ad
Standard Edition für 59,99€ (PC) sowie 69,99 € (Xbox One, PS4) und 79,99 € (Xbox Series X|S und PS5) 'ad
Gold Edition für 89,99€ (PC) und 99,99 € (Konsolen)
Ultimate 109,99€ (PC) und 119,99€ (Konsolen)
Sowohl die Gold als auch Ultimate Edition gewähren euch einen Vorabzugriff auf zum Spiel am 15. Oktober 2021. Vorbesteller erhalten darüber hinaus Vorabzugang zur Beta.
---
Stay in touch
Weitere Leaks, Patch Notes und Infos zum Spiel findet ihr in unserer Themenübersicht (hier klicken). Folgt uns gerne auf Facebook, Instagram und Twitter, um künftig keine News mehr zu verpassen.