Call of Duty: Modern Warfare 2 Remasterd – Bei Händler gelistet
Es könnte sein, das eine Veröffentlichung von "Call of Duty: Modern Warfare 2 Remasterd" bevor steht. Darauf deutet zumindest die Listung durch "Amazon Italien" hin. Entdeckt wurde der Eintrag von IGN Italien. Der Versandriese listet den Shooter für die Plattformen Xbox One und PS4 zu einem Preis von je 19,99€ und gibt als Release Date den 30. April 2018 an. Wenn es sich hierbei nicht um einen Fehler oder Platzhalter handelt, steht ein Release also unmittelbar bevor.
Solche Leaks durch Onlinehändler sind kein Einzelfall. In der Vergangenheit gab es zudem bereits einige Hinweise auf ein Remaster des zweiten Teils. Auch Activision legte kürzlich in einem SEC Filing  Pläne für das Jahr 2018 offen. Darin sprach das Unternehmen davon, dass noch in diesem Jahr einige Remaster Versionen von hauseigenen IPs aus dem Activision Produktkatalog erscheinen sollen. Um welche Spiele es sich handelt, wurde nicht erwähnt.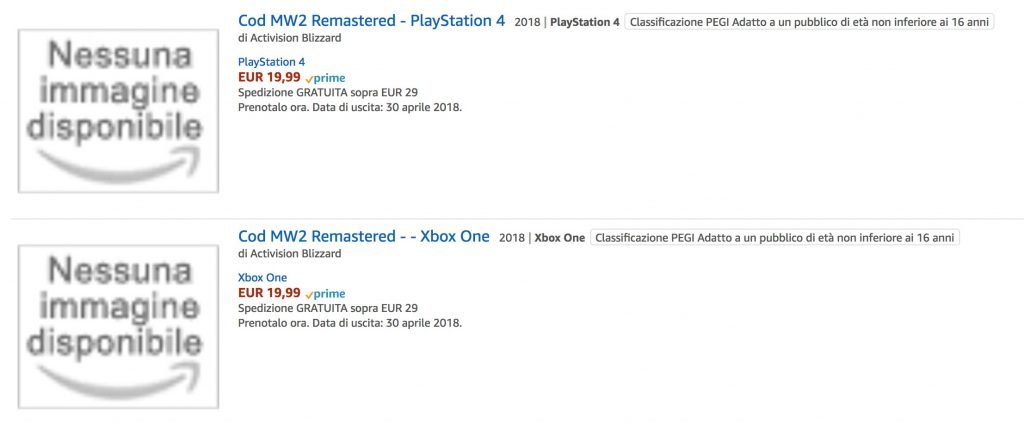 Da eine offizielle Bestätigung seitens Activision noch aussteht, solltet ihr dennoch diese Informationen zunächst mit einem gewissen Abstand und als Gerüchte betrachten, da auch ein Fehler durch Amazon nicht auszuschließen ist.