Modern Warfare / Warzone: Update 1.32 steht zum Download bereit
Raven Software hat Update 1.32 für "Call of Duty: Modern Warfare und Warzone" veröffentlicht. Wie schon bei "Call of Duty: Black Ops Cold War" gab es einen Preload für den Patch auf Playstation 4 am 24. Februar 2021. Dieser fand wie üblich in mehreren Phasen statt. Das Update kann am 25. Februar 2021 um 6 Uhr installiert werden. Darüber hinaus können Spieler auf Xbox, PS5 und PC den Download zwischen 6 und 8 Uhr starten. Das Update bringt euch neue Playlists und neue Anpassungen an Verdansk, die im Rahmen von Season 2 in "Call of Duty: Black Ops Cold War" vorgenommen werden. Die lange erwarteten Inhalte für "Modern Warfare" sind kein Teil dieses Updates. Nachfolgend haben wir für euch eine Zusammenfassung aller Neuerungen und die Patch Notes.
Downloadgrößen:
PlayStation 5: 17.9 GB
PlayStation 4: 17.9 GB
Xbox One Series X / Xbox One Series S: 17.9 GB
Xbox One: 17.9 GB
PC: 16.9 GB (Nur Warzone) / 20.8 GB (Warzone und Modern Warfare)

Inhalte und Anpassungen des Updates
Für das neue Update hat Activision bereits in der vergangenen Woche neue Spielmodi und auch Veränderungen an der Karte "Verdansk" angekündigt. Eine erste Vorschau auf die Anpassungen lieferte zudem der neue Gameplay-Trailer, der im Zuge der Ankündigung von Season 2 veröffentlicht wurde.
Playlist
Beutegeld – Blutgeld 3ER
Rebirth Island – Wiederbelebung Extreme
Verdansk erhält neue begehbare Berreiche
Unter jeder größeren Sehenswürdigkeit, die über einem der Bunker in Verdansk platziert ist, versteckt sich ein Raketensilo. So unter anderem auch bei Bunker 10 in der Nähe der Military Base. Das Monument an dieser Stelle teilt sich in zwei Hälften und öffnet so das Silo. Im Gameplay-Trailer aus der letzten Woche konntet ihr das Ganze bereits bei Zeitmarker 1:42 min sehen. Durch die Öffnung wird es dort künftig neue Eingangsmöglichkeiten geben und zusätzliche unterirdische Bereiche, die ihr erkunden könnt. Heute bestätigte Raven Software darüber hinaus, dass weitere Bunker geöffnet werden.
Folgende neue Berreiche warten auf euch
Jarvdinsk Spomenik über der Arklov Peak Military Base
Zoszni Spomenik südöstlich von Novi Grazna Hills
Styor Spomenik in Tavorsk Park
Schiffswrack bei Zordaya Prison Complex
Darüber hinaus ist ein Schiff vor der Küste von Verdansk aufgelaufen. Es hat biologische Fracht an Board. Das Wrack des Frachters ist zwischen Port und Prison zu finden (Zordaya Prison Complex). Das Schiff hat biologische Fracht geladen. Konterminantionsgefahr!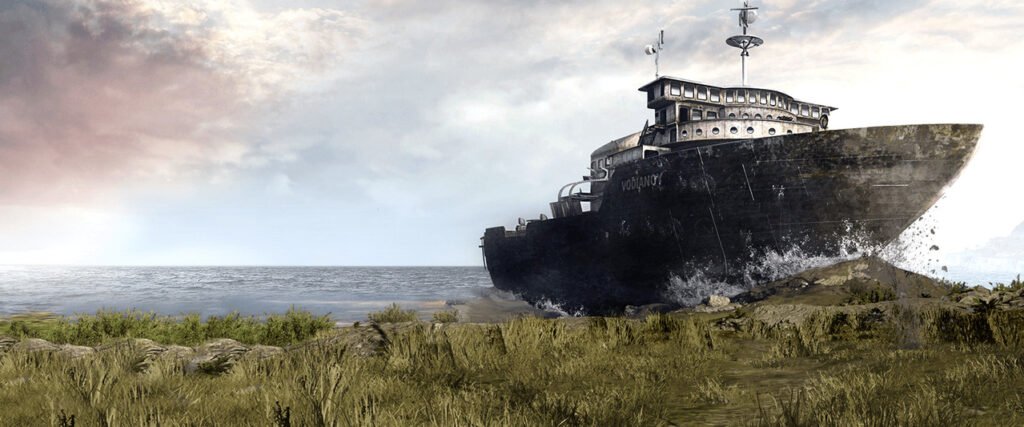 In Folge der Kontermination tritt zudem das Sicherheitsprotokoll in Verdansk in Kraft und es kommt zu einem vollständigen Shutdown bei den folgenden Locations:
Subway
Stadium Garage
Bunker 00, 04, 05, 06, 09, 11
Zombies in Verdansk
Wie man bereits ersten In-Game-Teasern in Warzone entnehmen konnte, befindet sich an Board des Schiffs eine unbekannte biologische Fracht, die zu einem Ausbruch an Board geführt hat. Beweis dafür war u.a.  ein Funkspruch, der von dem Frachter abgesetzt wurde. Dieser ist zwar auf Russisch, konnte aber mithilfe der Community bereits übersetzt werden. In dem besagten Funkspruch spricht der Kapitän des Schiffs von der unbekannten biologischen Fracht und einem damit in Verbindung stehenden Ausbruch an Board.
"Captain Rosental speaking. Russian ship Vodyanoi. … happened. We were transporting strange biological material. What have we done?! There was an infection outbreak. I'm afraid we won't be able to contain it. (Proceeds to scream)."
Nun finden sich Zombies unter anderem an Board des Schiffswracks. Wenn ihr diese eliminiert, lassen sie eine gelbe Karte fallen, mit der ihr dazu passende gelbe Kisten im Schiff öffnen könnt.
Ob sie nur über die Dauer des Outbreak-Event, oder Dauerhaft in Warzone zu finden sind, lässt sich den Patch Notes nicht entnehmen. Wenn sie auch über die Dauer des Outbreak-Events anzutreffen sind, könnte dies der Auftakt des Nuke-Events sein, im Zuge dessen Verdansk zerstört und eine neue Karte für Warzone eingeführt wird. Auf der Karte wird die Ausbruchstelle übrigens in Rot gekennzeichnet. Es könnte passieren, dass diese Ausbruchstelle über die nächsten Wochen immer Größer wird und sobald das gesamte Gebiet in Rot gekennzeichnet ist, erfolgt die Zündung der Nuke.

Die neuen Modi
Exfiltration (Im Laufe der Saison)
In diesem Battle Royale Modus spawned ein Funkgerät irgendwo auf der Karte von Verdansk. Wenn ihr dieses sichert und für eine bestimmte Zeit haltet, dann gewinnt ihr automatisch das Match. Damit es aber nicht zu einfach wird, seid ihr markiert, solange ihr in dessen Besitz seid. Darüber hinaus gelten aber die gleichen Regeln wie auch im herkömmlichen Battle Royale.
Rebirth Island Wiederbelebung Extrem
In dieser Variante des Modus "Wiederbelebung" wurde die Spielerzahl auf 90 erhöht. Ansonsten gelten in diesem zeitlich begrenzten Modus die gleichen Regeln wie in der Standardvariante.
Neue Battle Pass Waffen für den Lootpool
Wie schon bei Saison 1 werden auch in der kommenden Season die neuen Waffen aus dem Battle Pass dem Lootpool hinzugefügt. Bei den Waffen handelt es sich um:
FARA 83 – Sturmgewehr: Verfügbar zum Start der Saison, kann über Battle Pass (Stufe 15) freigeschaltet werden.

LC10 – SMG: Verfügbar zum Start der Saison, kann über Battle Pass (Stufe 31) freigeschaltet werden.
Machete – Special: Im Laufe der Saison verfügbar, kann über Herausforderung freigeschaltet werden.
E-Tool – Nahkampf:  Im Laufe der Saison verfügbar, kann über Herausforderung freigeschaltet werden.
R1 Shadowhunter –  Special: Im Laufe der Saison verfügbar, kann über Herausforderung freigeschaltet werden.

ZRG 20mm – Sniper: Im Laufe der Saison verfügbar, kann über Herausforderung freigeschaltet werden.
Die neuen Operator
Auch die neuen Operator von "Black Ops Cold War" werdet ihr in Warzone nutzen können. Bei den vier neuen Operatoren  handelt es sich um:
Naga: Warsaw Pact (Release Woche)
Maxis: NATO (im Laufe der Saison)
Wolf: NATO (im Laufe der Saison)
Rivas: NATO (im Laufe der Saison)
Neues Outbreak Event in Warzone & Black Ops Cold War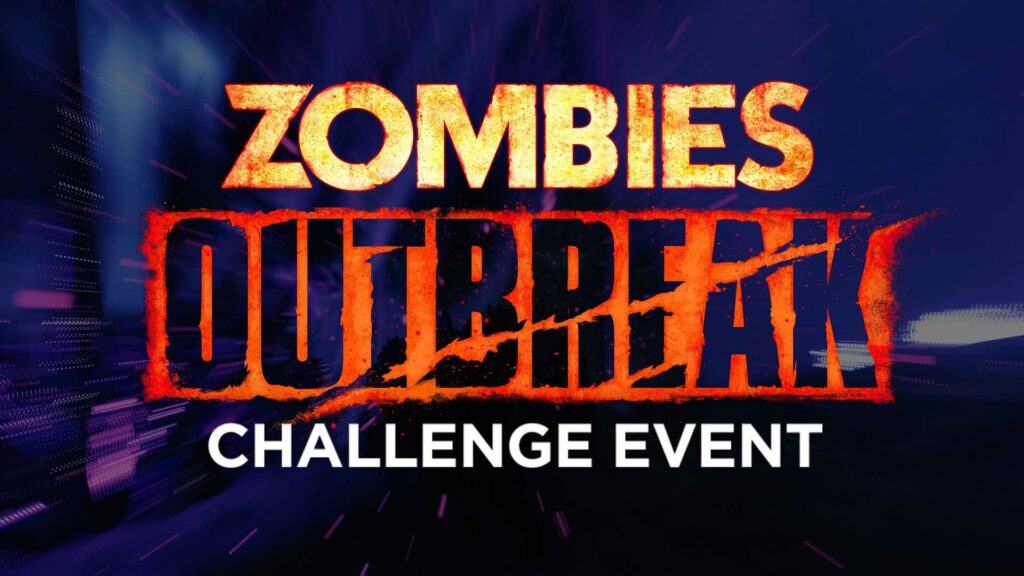 Das Event findet von heute bis zum 11. März in "Call of Duty: Black Ops Cold War und Warzone" statt. Im Rahmen der Free Access Week wird es euch möglich sein, die Herausforderungen des Outbreak Modus ebenfalls abzuschließen. Ihr könnt euch in dem Event diverse Embleme, Glücksbringer, Rufzeichen, Sticker und Embleme verdienen. Dazu zählen:
Gas Mask – Charm: In Outbreak, successfully exfil 3 times
Aim for the Head – Calling Card: In Warzone, kill 20 Zombies with headshots
Amigos – Sticker: In Outbreak, eliminate 250 Zombies
Cleaning Supplies – Charm: In Warzone, eliminate 20 Zombies
Dark Aether – Accessory: In Outbreak, eliminate 10 elites
Strange Emission – Emblem: In Warzone, use lethal equipment to kill 8 Zombies
Grasp for Power – Sticker: In Outbreak, open 25 chests
Skull Survivor – Emblem: In Warzone, use vehicles to eliminate 3 Zombies
Pure Anguish – Charm: In Outbreak, complete 3 World Events
Heads Blazin' – Sticker: In Warzone, eliminate 5 Zombies in a single match 3 times
On the Move – Calling Card: In Outbreak, Wrap 10 times
Shotgun Eliminations – Calling Card: In Warzone, use Shotguns to eliminate 8 Zombies
Special Eliminations – Calling Card: In Outbreak, eliminate 3 Special Zombies
One Punch, Two Punch – Calling Card: In Warzone, rapidly kill 2 or more Zombies 2 times\
Not the Last – Emblem: In Outbreak, use vehicles to eliminate 100 Zombies
Immolation – Emblem: In Warzone, use Pistols to eliminate 8 Zombies
Stitched Together – Charm: In Outbreak, complete 10 objectives
Quick Elimination – Calling Card: In Warzone, eliminate 8 Zombies before the first circle closes
Patch Notes – Update 1.32
Auch Verbessserungen, Balancing-Anpassungen und Fehlerkorrekturen sind ein Teil dieses Updates sein.
GAMEPLAY

Loot that spawns across Verdansk has been updated… and now includes two brand new weapons: the FARA 83 Assault Rifle and the LC10 SMG
Players that are continually in the gas will suffer more damage over time
Previously unlocked Seasonal Challenges will be completable after season ends and during future seasons
Warzone Intel Missions have been removed
Balanced the XP gain of KingSlayer and other unique modes to match the XP of core BR
WEAPONS
Increased bullet velocity of the Tactical Rifle Charlie
New Weapons added:

FARA 83 – AR

Unlocked via Battle Pass Tier 15

LC10 – SMG

Unlocked via Battle Pass Tier 31

Machete – Melee

Unlocked via Weapon Challenge or Store Bundle
New Weapon Unlock Challenges added:
Reactive Blueprints added:

The Reactive property lets Operators display their skill in real-time by evolving their weapon's appearance with kills during a match.

For example, the "Vulture Exo" pulsates a green energy across the skeleton of a bird that wraps around the entire weapon. As an Operator earns kills, this energy shifts from blue to orange and eventually red, signifying how much of a hot hand they have in the match.
Cold War attachments have been updated – pros, cons and stat bar values now more accurately reflect their functionality

The following attachments have also had their functionality adjusted:

Bruiser Grip

Before: Melee Quickness
After: Movement Speed, Hip Fire Accuracy

Mounted Flashlight

Before: Enemy Reveal Distance
After: Movement Speed, Aim Walking Movement Speed

Tiger Team Spotlight

Before: Enemy Reveal Distance
After: Movement Speed, Aim Walking Movement Speed
GENERAL FIXES

Players should no longer spawn outside of the Gulag combat area
Ammo replenishment timing when equipping Stopping Power rounds on Cold War weapons has been addressed
Fixed various issues with reticle streaming
The "Grinch Forest Spirit" Skin now properly renders at all distances
The "Gem Cutter" Silenced Assault Rifle is now properly suppressed
Operator Mission "Unkillable" will now track properly when getting kills with the High Alert Perk active
Mac-10 Weapon Unlock Challenge now tracks correctly when getting 2 rapid kills using an SMG
Operator Missions require now associated Operator to be equipped
Fixed an issue with War Tracks not playing correctly
Fixed an issue causing the Heartbeat Sensor to incorrectly display player with Ghost Perk active on Kill Cam
Prestige banners now include correct text and award stickers
Unbestätigte Inhalte für Modern Warfare
Schon seit einer geraumen Zeit gibt es in den Spieldaten Hinweise auf drei neue Waffen, vier neue Mehrspielerkarten und zwei neue Operator, die irgendwann im Laufe der Saison ihren Weg ins Spiel finden könnten.  Season 2 von "Black Ops Cold War" wäre zumindest eine passende Gelegenheit, den Operator John "Soap" MacTavish ins Spiel zu bringen.
In einer Cutscene von "Call of Duty: Warzone", die man zu sehen bekam, wenn man die letzte Intel Mission "Die Kommandozentrale" in "Warzone" erfolgreich abgeschlossen hat, spricht Capt. Price mit Soap. Dieser befindet sich eigenen Angaben zu Folge auf dem Weg nach Verdansk. Er sagt in diesem Video, er ist kurz vor der Küste. Da sich auch gerade der Frachter mit der biologischen Fracht dort befindet, liegt die Vermutung nahe, dass Soap diesen verfolgt haben könnte. Das Video könnt ihr euch in unserem Beitrag aus dem letzten Jahr anschauen.
Bei den noch unveröffentlichten Waffen handelt es sich um eine SMG, ein LMG und eine Pistole.
CX-9 SMG (Skorpion)
RAAL LMG (Sig Sauer LMG)
Sykov Pistole (Makarov)
Erste Gameplay Videos zu den Waffen wurden bereits im letzten Jahr gezeigt. Diese könnt ihr hier noch ein Mal finden.
Darüber hinaus wurden auch weitere Karten in den Spieldaten gefunden, die für einen DLC infrage kommen würden. Hierzu zählen "Drainage" (2v2), "Al Raab Airbase" (6v6), "Killhouse" (6v6),  und "Townhouse" (2v2). Zu den beiden Karten "Drainage" und "Al Raab Airbase" gibt es auch erste Bilder.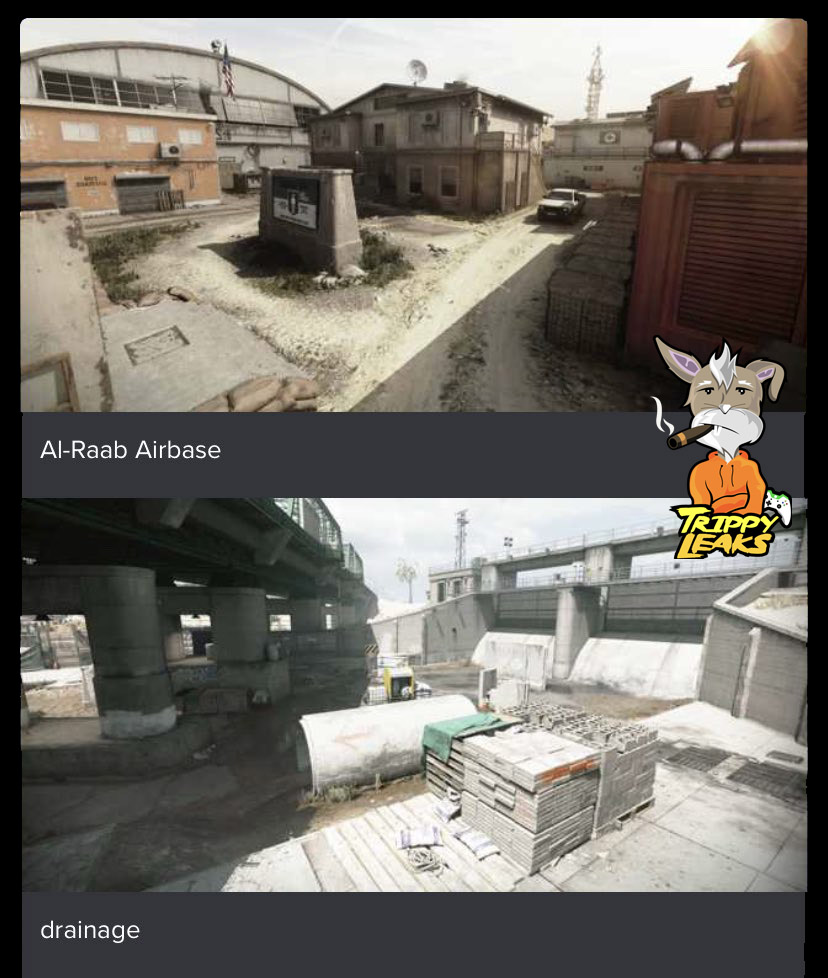 Da jedoch noch keine der Inhalte offiziell angekündigt wurden und Raven Software diese auch nicht in den heutigen Patch Notes für das neue Update veröffentlicht hat, müssen wir uns weiterhin in Geduld üben. Betrachtet die Angaben zu den Modern Warfare Inhalten also zunächst als Spekulation. Auch möchten wir euch darauf hinweisen, dass alle Informationen, die aus den Spieldaten entnommen wurden, den Stand der laufenden Entwicklung widerspiegeln und das es daher denkbar ist, dass einige Inhalte auch wieder verworfen werden könnten.
---
Holt euch eure kostenlose Visitenkarte
Auf der "Call of Duty-Website" könnt ihr euch eine neue kostenlose Visitenkarte abholen. Den Code dazu gab es in einem neuen Entwickler Vlog von Treyarch. Ihr findet ihn nachfolgend.
---
GAMING DEALS 'AD
---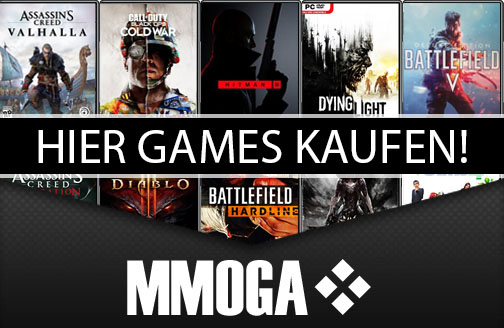 ---
Stay in touch
---
Weitere News, Patch Notes und Infos zum Spiel findet ihr in unserer Themenübersicht (hier klicken). Folgt uns gerne auf Facebook, Instagram und Twitter, um künftig keine News mehr zu verpassen. Wer auf der Suche nach einer Community ist, kann gerne in unserer Facebook Partnergruppe "Call of Duty Germany" vorbeischauen. Hier findet ihr Hilfestellungen, neue Mitspieler und vieles mehr. Wir suchen außerdem Verstärkung (M/W) für künftige Projekte. Wer Teil des Trippy Leaks Network werden möchte, kann sich gerne bei uns melden (hier klicken).